Drama club returns to the stage with 'Robin Hood'
The Chatham University Drama Club returned to the stage over the weekend at Eddy Theatre for in-person performances of its production of "Robin Hood."
The show followed Robin Hood, played by Leo Liotta '23, and his band of outcasts on their mission to keep the Kingdom of Nottingham from being ruled by the oppressive Prince John. The play marks the club's first on-stage production after a year of virtual performances prompted by COVID-19.
Despite the return to in-person events, the continuing pandemic required students to adapt to new safety guidelines. One adaptation was the presence of masks throughout the performance. Wearing masks on stage required students to project more than usual and to come up with ways to incorporate them into their costumes.
"Masks were definitely an adjustment. I've never acted with a mask on before, and I have asthma, so fighting in a mask can make it pretty difficult to breathe," Liotta said.
Returning to Eddy Theatre not only allowed for students in the club to connect with each other more easily but also with the audience.
"It's nice to be back in person," said Nora Robb '23. "Virtual performances felt so impersonal."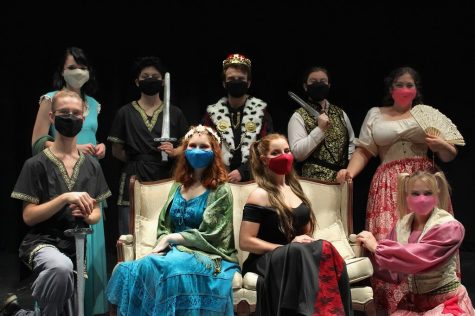 Several other cast members echoed that sentiment.
"This cast has become so tight through the rehearsal process," said Evelyn Fay '25. "The best part of participating has been getting to work with everyone and put on this amazing show."
The cast and crew have multiple performances of "Robin Hood" remaining, including two live shows at 7 p.m. Nov. 19-20 and a streamed performance at 6 p.m. Nov. 21. Tickets for the streamed show can be found at chathamu.booktix.com. Admission to the live show is free.
Upcoming events by the Drama Club include a theater workshop in February and performances of "Monstersongs" in March and "The Revolutionists" in April. Theater classes, including THT149: Play Performance and THT240: Special Topics: Dramaturgy, will be running during the spring 2022 semester.
The Drama Club can be found on Instagram at @chathamudrama or on Facebook at @chathamuniversitydrama.