Season preview: Winter sports are making an icy comeback
It's lovely weather to watch some sports together here at Chatham University. 'Tis the season to come out and support the Cougars in their winter seasons.
Men and women's indoor track and field
Heading quickly into the indoor season, Chatham's track and field team has its eyes set on victory. Leading the charge is newly appointed head coach Eden Bloom.
"The goal is to win. I'm excited," Bloom said. "We have a strong middle-distance crew that's ready to tear it up this year. We also have some great leadership on the team to hold people accountable."
Runners and throwers alike have the intention of creating a culture of hard work and positivity. 
"We need to improve off of last year's performances and, as always, to win both individually and as a team," said third-year sprinter and jumper Justin Desabato '23.
Athletes agree that it's all about hard work and a good attitude.
"We're focusing on becoming legitimate competition at meets," said third-year runner Morgan Heller '23. "We've been working hard in the off-season and are working on coming together during the regular season."
Track and field's first meet is on Dec. 4 in Alliance, Ohio.
Men and women's squash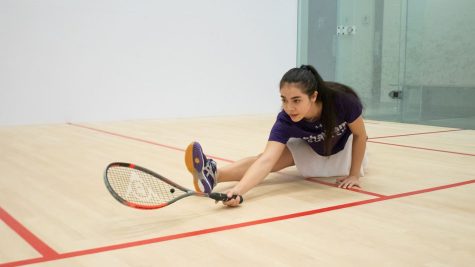 As a diverse unit of local and international players, Chatham's squash team competes against a medley of schools, including Division 1 opponents. 
With this type of high-level competition, the men's team is standing with a record of three wins and two losses. Women's squash, a team with a majority of players who are new to the sport, has a current record of zero wins and five losses.
"We have a strong team, we're up for any challenge," said third-year squash player Alaaeldin Abdelkhalik '24. "Our diversity doesn't divide us but rather [it makes us] a more powerful team."
The squash team faces its next opponent, St. Francis, on Jan. 14 in Massachusetts. 
Women's ice hockey 
This is the women's ice hockey program's 25th anniversary season. Head coach Mike O'Grady wants this season to be historic for the program.
The Cougars are coming off a weekend sweep of conference opponent Arcadia. This sweep brings the women's hockey team's record on the year to 2-4.
O'Grady feels optimistic about how his squad looked in these games.
"We are getting chances. We are just not finishing," O'Grady said.
The women's hockey team is back in action on Nov. 17 at home against Buffalo State College. 
Men's ice hockey 
Men's ice hockey got into the win column for the first time this season with a 5-2 victory over Nazareth. Head coach Michael Gershon considers last season's success something to build off of for this year. 
"We are not surprising anyone this year," Gershon said.
Gershon and his squad are expecting to make a run this season and host a home playoff game.
The Cougars are 1-2 on the season and host Neumann and Manhattanville on Nov. 19 and 20. 
Women's basketball 
Women's basketball is off to a hot start. The Cougars are out to a 3-0 start and begin their PAC play on Nov. 16 against Thiel College. 
Cougars head coach David Saur believes this team is different compared to previous years. 
It's a "really focused and hungry group this year," Saur said. 
With the team's eyes set intently on a ring, Saur sees a championship in his team's future. 
"That can legitimately be a reality," Saur said.
Men's basketball 
Chatham's men's basketball team started its season off on the right foot by winning its first two contests. 
This Cougar team is led by a veteran presence for this season. Head coach David Richards believes this will be the difference in his team finding success. 
"Guys have an edge on them," Richards said. 
Richards feels like his team can win another PAC Championship this season.
Men's basketball has its next game on Nov. 17 when the team hosts Pitt Greensburg.
Men and women's swimming and diving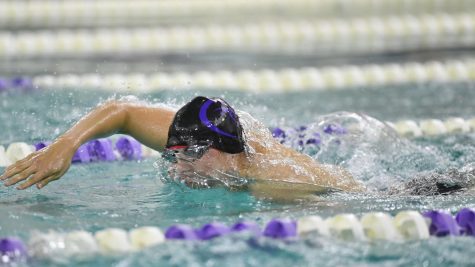 These Cougars have fins! The women's swimming and diving team is off to a strong start with a three win and two loss record. First-year swimmer Amy Jarvis '25 has been named PAC rookie of the week twice in her time so far as a Cougar.
The men's team stands with a record of zero wins and five losses. Second-year swimmer Karl Gangloff has been named to the PAC watchlist after making Chatham history last season as the first male athlete to win a solo championship.
The swimming and diving team's next match will be on Nov. 18 in Oberlin, Ohio.