New NCAA rules prompt updates to COVID-19 vaccine requirements for Chatham athletes
The National Collegiate Athletic Association (NCAA) has released a list of new rules and restrictions for athletes competing this semester.
With a new semester comes an abundance of fresh starts: new classes, new sports seasons and, of course, new COVID-19 restrictions. The National Collegiate Athletic Association (NCAA) has released a list of new rules and restrictions for athletes competing this semester.
Last semester, many athletes found it beneficial to get vaccinated against the virus rather than remain unvaccinated – and run the risk of not being able to compete for extended periods of time. As of last semester, as long as athletes had full doses of any of the vaccines offered, they were considered fully vaccinated. That guideline has now changed.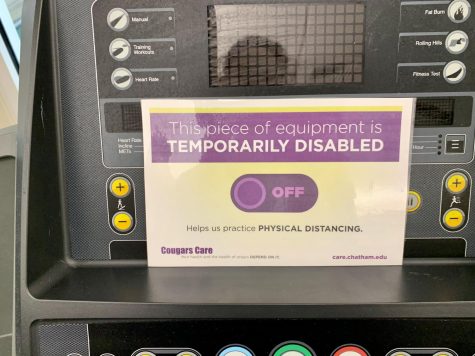 According to the NCAA's official website, student-athletes are only considered fully vaccinated if they have tested positive for COVID-19 in the past 90 days, have received the Johnson and Johnson vaccine in the past two months, have received both doses of the Moderna or Pfizer vaccine in the past five months or if they have received a booster shot in addition to a full vaccination dose. Currently, there is no timeline attached to the booster shot requirement.
Any athlete whose vaccination status is outside of these specifications is considered unvaccinated and will be treated as such in cases of exposure or a positive test. Chatham is adopting these protocols in order to cooperate with the new competition rules.
"There's a lot of negativity around the label 'unvaccinated.' People make it seem like you're purposely trying to kill others if you don't get vaccinated," said cross country runner Maxwell Heller '23. "But now, we have the vaccine but are still being labeled in a way that makes it seem like we don't care about what's going on. Meanwhile, some students just don't have access to the booster or just don't have time to get it and get sick from it."
According to the NCAA website, athletes who test positive for COVID-19 and are considered unvaccinated are required to "quarantine at home for five days with no participation in athletic activities, followed by masking for five additional days." After the 10th day, a negative PCR/NAAT test is required in order to compete again. 
Athletes who test positive for COVID-19 and are considered fully vaccinated "do not need to quarantine but should wear a mask around others socially for 10 days when not actively training/competing," according to the NCAA.
"These new rules are redefining what vaccinated means," Heller said. "It felt like I was following the rules, but now there's a whole new set of requirements that we have to follow."
Chatham coaches at recent practices informed their athletes that, while Chatham University is not requiring students to get the booster, an increase in testing will likely result in students having to pay for future tests. 
So far, Chatham has provided students with required tests free of charge. This includes entry testing, random selection testing, contact tracing and testing for athletes to compete. With free testing potentially no longer an option, students could face extra expenses.
"College students can't really afford to [pay for multiple COVID tests]. That cost adds up," Heller said. "It feels like a student will look at the situation and say, 'Well, now I have to get the booster because I can't afford not to.' I understand where Chatham is coming from, but it just puts everyone in a tough spot."
Similar to a regular vaccine, students can find appointments to receive their COVID-19 boosters by booking with a local pharmacy or through vaccines.gov. Additionally, everyone is eligible to receive free COVID-19 tests from the government through covidtests.gov. 
As of now, no major changes have occurred in the upcoming sports seasons. Chatham Athletics will update any new rules and regulations as the seasons progress. For more news regarding athletics or guidelines, visit gochathamcougars.com or ncaa.org.