Chatham bookstore merchandise sales on the rise
Have you seen Chatham University apparel around campus lately? If so, it's no coincidence; the merch at the bookstore has been selling well. Located at the base of Woodland Hall, textbooks aren't the only thing offered by the small shop. 
While the bookstore could not say the exact number of sales, it turns out the books are not one of the highest selling items. Various attire on racks cover the floor, and sweatshirts hang from the front right wall, making it easy to find something all students will enjoy.
"We sell more apparel than textbooks," bookstore manager Robyn Slinski said.
Even through the cold Pittsburgh months, purple accents – Chatham's signature color –  can be seen in many campus outfits.
"Pretty much anywhere you go, whether it is class, or the dining hall, or the cafe or wherever, you will see some type of Chatham merch," bookstore employee Madi Zarone '25 said. "It's cool to see students representing the university."
Zarone, who has worked at the bookstore since the beginning of the fall '21 semester, has a collection of Chatham merchandise herself.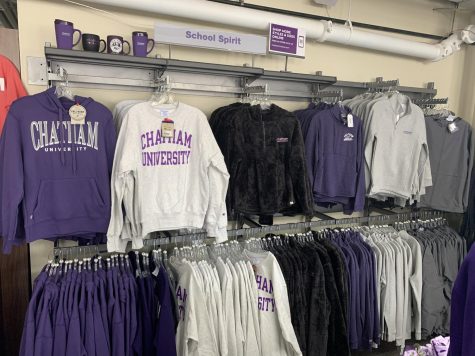 "I do have a lot of Chatham apparel," she said. "I have five sweatshirts, a pair of sweatpants, and about five t-shirts."
Macie Janto '24 also works with Zaronie at the bookstore and has more than a handful of school apparel.
"In total I have 25 items, some of which are from the track team, but the others are from the bookstore," Janto said.
Sweatshirts and sweatpants are easily the most sold items, though the gray crewneck takes the top spot. Slinski's favorite, however, is the quarter zip.
"I like having the pockets to help hold pens," Slinski said.
Along with these products, the bookstore is having an upcoming run of t-shirts that are in limited supply.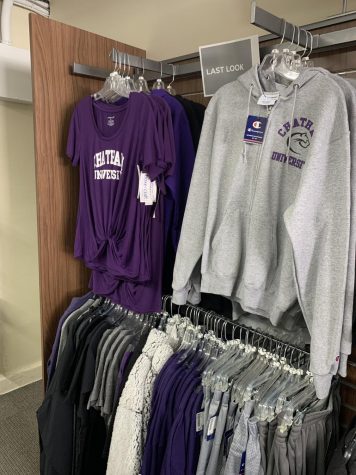 "We should be, within the next month or so, getting a rollout of 2 to 4 different colored Chatham t-shirts," Slinski said. "They are usually under $15 and we will have them until the sizes run out."
The bookstore also has select items on clearance. Students who can't visit the shop in-person can visit the bookstore's website. The website makes shopping even more convenient. It's also a good way to find extra apparel that doesn't make it to the physical store.