Chatham students bring new spirit to Cougar Den
Many know that fan spirit is high at Duke University basketball and Penn State football games. 
Now add Chatham University basketball games to that list.  
The Cougar Den has undergone an overhaul this sports season because members of the student body wanted to bring new energy to campus sporting events. 
Mason Schwartz '24, Sam Helton '25, Quinn Burke '25 and Dawson Morrow '25 wanted to find ways to encourage more attendance at Chatham athletic events.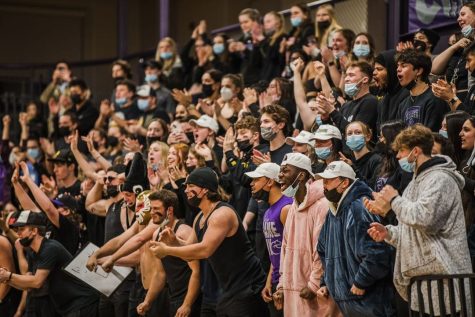 "We wanted that [poor attendance] to change so we got together [and] we started getting creative and we started bringing people together," Helton said. 
The four are all members of Chatham's baseball team and can be recognized at games by their outlandish wardrobe and whiteboard. Their outfits usually consist of an aspect of that night's theme, no shirt and, in Helton's case, his signature Lucha Libre mask. 
We want to "have as much fun as possible, look as dumb as possible … something that the fans are going to enjoy," Burke said. 
"We got something and stuck with it," Helton added. 
Dressing fun is all good, but creating an atmosphere relies on more than just having a large closet. The recent creation of the Instagram account @chatham.cougar.den has united fans of Chatham Athletics. This page keeps students informed on games happening and of any themes for the fans in attendance. 
The men's basketball President Athletic Conference (PAC) semi-final matchup saw such a theme in effect with a blackout. Students showed up at the Athletic and Fitness Center (AFC) dressed in all-black garb. 
The students in attendance did more than just dress up, though. They brought life to the previously dormant Cougar Den.  
We want to "bring the loudest atmosphere, make it as hard as possible for the other team," Burke said. 
This energy does more than rattle the bleachers; it impacts the game. The student section stands the entire game and can be heard cheering, booing and chanting in unison. 
Chants can be anything from "defense" to the lyrics of Lady Gaga's acclaimed song "Bad Romance."
Most chants are led by the shirtless duo of Helton and Burke.
Helton, dawning his mask, brings energy and passion to the front row. He can often be seen belly rolling, flexing or doing his best impression of a goat scream during the opposing team's free throws.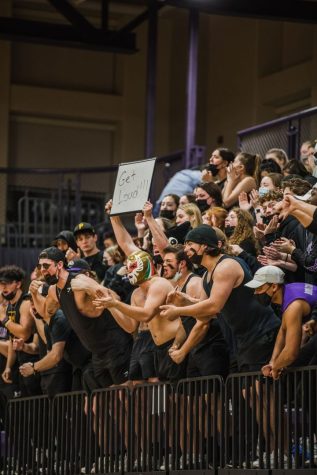 Burke can be recognized by his whiteboard, which he uses to tell the Chatham faithful to get loud or to call players on the other team ugly.
The semi-final matchup for men's basketball saw Chatham host Westminster. The Cougars took a commanding lead early, motivated by the energy in the stands. However, Westminster clawed its way back into the contest with timely shots. Chatham only held a one-point lead late into the second half, and momentum favored the visiting Titans.
That's when the Cougar Den stepped in and willed their team to victory. 
"Our students provide so much energy for our guys. They are by far the best student section in the PAC," said Chatham men's basketball head coach David Richards. "Thank you to all the students that come. It was truly amazing."  
With the spring sports season in full swing now, there are plenty of opportunities for students to continue the growth of the Cougar Den. For updates and schedules, visit gochathamcougars.com.
---
Follow the fans on Instagram: