Beyond Ramen: Students from three universities share perspectives on food
While working on this third installment of Beyond Ramen, one question has stayed on my mind: Why is it so hard to get college students to talk about food? 
Exploring the topic of food in college has proven to be more complex than I anticipated – as most things usually are. I came into this with a somewhat idealized vision of releasing articles frequently, talking to students from across the nation, changing the narrative about what eating in college has to be, etc. 
That being said, Beyond Ramen has been a catalyst for some of my favorite conversations this year. Within and outside of formal interviews, students' stories have continuously given me a better understanding of the role food plays in the college experience. 
Interviews for this article were centered around these guiding questions: What does eating on/around campus look like at other universities? Are there running themes across the nation? Does this change based on university size, location, degree programs, prestige? Here are some students' stories:
Phoebe Brown, Oberlin College
Brown is an environmental studies major and volunteers their time with Oberlin Community Services (OCS). According to the organization's website, "OCS empowers area residents through emergency assistance, food programs, and other services while promoting systemic change." Many students like Brown help carry out drive-up distributions, garden maintenance and pantry stocking that benefit the residents of Oberlin, Ohio. Through Oberlin Food Rescue, students are proactive to redirect surplus food from the college to OCS.
Overall, at Oberlin students demonstrate engagement in the food needs of their community. That being said, Brown says they have not heard many, if any, conversations around student food relationships. 
"There is an assumption that because you are [required to be] on a meal plan, you can access the food you need," Brown says. This has been the case in their experience, and they add that opinions on AVI Fresh – Oberlin's dining service provider – are generally more positive than what Brown has heard from other schools.
Brown is excited by their work with OCS and is interested in what the organization could provide to Oberlin students. Next year, Brown is considering joining the Oberlin Student Co-Op, a model that encourages housing and dining sovereignty and security. Brown is hopeful for a future with more conversations around students and their food.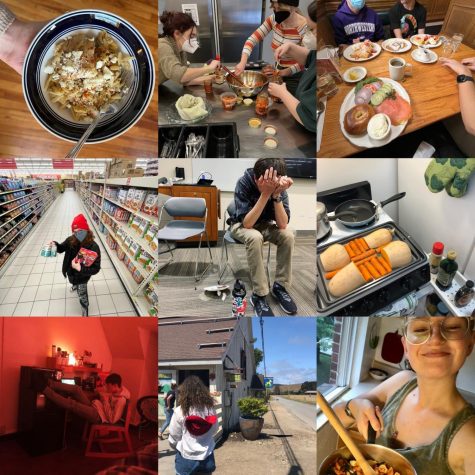 Mia Stanton, University of Pittsburgh
Mia Stanton is a junior majoring in studio arts. She lives off campus with four roommates and does not have a meal plan. In past years when she was on a meal plan, Stanton says she did not mind relying on Pitt's services, such as the dining hall, Forbes Street Market and restaurant venues. She found herself frequenting Forbes Street Market and Las Palmas to supplement her food needs but was generally frustrated by the lack of fresh produce and grocery stores in Oakland. Stanton says she has a "weird hope" that the new construction projects popping up will bring a grocery store to the neighborhood.
In terms of her relationship to food, Stanton says this has changed substantially between her first two years at Pitt and now. Previously, she did not consider the impact of food on her physical and mental health and has recently spent a lot of time reflecting on this. Stanton talked about the infamous "Freshman 15" and how eating in college is tied to circumstance, convenience and making the best out of little means. 
"There's a reality that's hard to avoid," Stanton says. "There's only so much [you can do] unless you set yourself up in a house freshman year."
Food has always been about togetherness for Stanton. She views meals shared with family at home, with friends in the dining hall, and now with roommates in her kitchen as a source of grounding. Stanton's advice to fellow students is to invest thought, time and care into their food. Practices like visualizing what she is going to buy for the week, meal planning and preparing food in her own space has taken away a lot of stress. Eating remains a joyful experience for Stanton.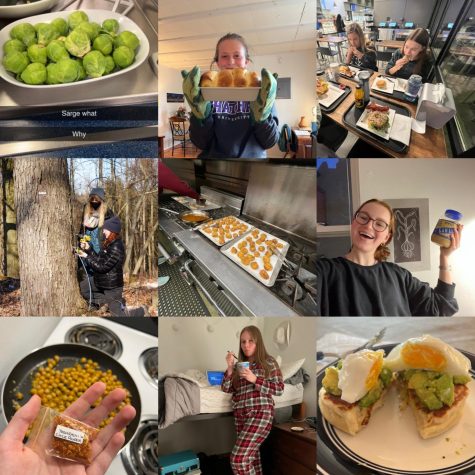 Stephen Nagy, University of Alabama
Nagy is finishing his second year studying management information systems in Tuscaloosa. He currently shares a house off campus with four roommates and is not on a meal plan. His experience with dining services on campus has been mixed, mainly because of scheduling conflicts. Nagy noticed that it is typical to eat dinner earlier in the South and with a work schedule that kept him out until 8:30 p., he missed dinner frequently as a first-year student. He could sometimes convince a staff member to let him take leftovers, or buy a meal off campus, but more often than not, he relied on a box of what he called "just in case" chicken nuggets.
Nagy says students with allergies and certain dietary restrictions often struggle to get a full meal. His girlfriend is gluten and dairy-free and the offerings across campus and within her sorority house are lacking or nonexistent. Nagy tells me last year a specifically gluten-free dining section – confusingly called something like "Glutenous Maximus"– would show up in the dining hall a few times a month. Beside this, there is a permanent allergen-friendly room that students are granted swipe access to based on their student account. His girlfriend is able to use this space but has reported that it is more of a snack room, subject to depletion and not offering prepared food.
Not being on a meal plan and having a full kitchen this year has been a liberating, constructive experience for Nagy. He details his weekend meal prepping with a smile; Nagy and his girlfriend spend most weekends sharing the labor of cooking gluten-, dairy- and red meat-free meals. He is especially proud of the gluten-free hoisin sauce he made recently to accompany chicken wraps. On occasion, Nagy says  he still has to find a way to get a quick meal on busy days, sometimes grabbing food during a shift at his dining services job. He admits this is probably discouraged, but says, "I do it because I'm a college student who needs to eat so of course I'm going to do it."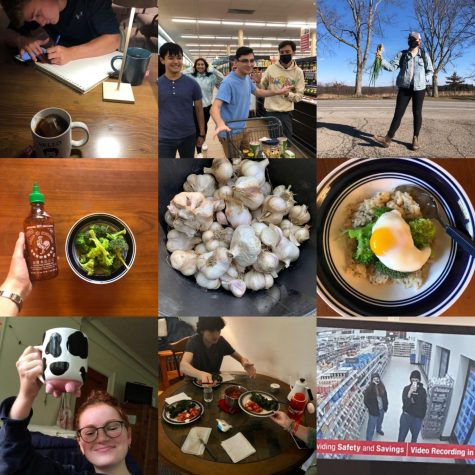 If they are able, Nagy encourages students to "experiment and try new things with cooking." This is usually difficult as a first-year student, but he says being in the kitchen has become a stress-relieving habit. Nagy feels like a more prepared adult and believes cooking meals is a good skill to start building early. He jokes that one of his greatest accomplishments this year has been teaching his roommates how to turn on the oven.