After 50 years of Title IX, Chatham students and coaches praise importance in women's sports
The United States and Universities around the world are reflecting and learning from Title IX, the law passed by congress 50 years ago. 
With the passing of Title IX, female sports programs and organizations have been able to flourish and grow more than most could have foreseen 50 years ago. and coaches at Chatham University have seen the effects of the law and hope to educate and build from it. 
"Title IX of the Higher Education Act of 1972 is only 37 words, and it basically says that no one shall be denied the benefits of or prevented from joining activities on the basis of sex and any institution that receives federal aid," said Chatham Title IX coordinator Sean Coleman. 
The importance of Title IX has been experienced by athletes and coaches alike.
"Title IX definitely impacted my athletic experiences with opportunities to play growing up, going through high school and moving on to compete as a Division I athlete," said women's soccer coach Betsy Warren. "I really don't believe I would have had the opportunity at a career in coaching as a female or coaching a female sport without Title IX."
Women athletes on campus have some security in knowing that they have a right to be treated equally.
"Title IX has helped to create an atmosphere in Women's collegiate sports where women feel that they are empowered, treated as equals, have a safe space to speak and ultimately succeed as both an athlete and student. Personally, I have seen the impact firsthand in the growth of the game in women's hockey at both the youth and collegiate levels. I find this even more important as hockey has historically been a male-dominated sport," said Lila Toczek who is the assistant coach of the women's hockey team.
One of her players Samantha Barret '25 echoed a similar sentiment.
"Title IX is a very important aspect to women in sports and women all over the world. It helps us be tested equally and spread awareness of stereotypes against us," Barret said. "We appreciate all the work that is being done in order to change the lives of women."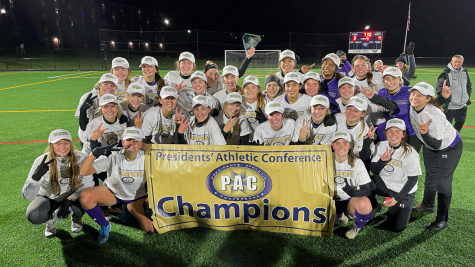 Title IX became a bigger part of Chatham University when the school transitioned to being a co-ed institution in 2015. Before that, Chatham did not have much training or acknowledgment of Title IX.
"Personally I think improvements in this area are slow-moving, and I think maybe they have improved quicker in athletics than they have in other areas," Coleman said. 
While there's still work to be done, Title IX has brought with it a lot of positive changes.
"I can't even picture when I go back and I read stories on what women's athletics was like 50 years ago compared to men. … I can't even picture that now," said Chatham Athletic Director Leonard Trevino. "Women didn't have the opportunities, the facilities, the scholarships and coaches. I think we take for granted what we've seen. We've seen our national women's soccer team win the world cup – that wouldn't have happened 50 years ago. When that happens, little girls see that and get excited because they see they have the opportunity."
For anyone who needs help or is struggling with issues related to Title IX can find Sean Coleman's office on the 2nd floor of the Mellon Center. Coleman can also be reached via email at [email protected] or [email protected].
For urgent, emergency cases, please call the 24-hour emergency Chatham Public Safety hotline at 412-365-1111 or 911.