Chatham students stage walkout for reproductive rights
Students took to the quad at noon on Friday, Sept. 30, to participate in A Day Without Us, a national walkout organized in response to the U.S. Supreme Court's overturning of Roe v. Wade earlier this year. 
The nationwide movement was organized by a diverse group of activists and organizations, including the Women's March, the Movement for Black Lives and March for Our Lives. Residents of Laughlin's Living and Learning Community, or LLC, for Women and Femme-Aligned individuals, worked to organize the walkout on Chatham's Shadyside Campus. 
Chair of the LLC Raine Venturino '26 helped organize meetings in preparation for the walkout. Although the event was somewhat impromptu, creating comfortable boundaries within the group remained her top priority.
"We wanted to make sure not to cross certain lines," Ventarino said. "Conversations about abortion can, unfortunately, turn very dark, so we wanted to make sure people were comfortable in the space."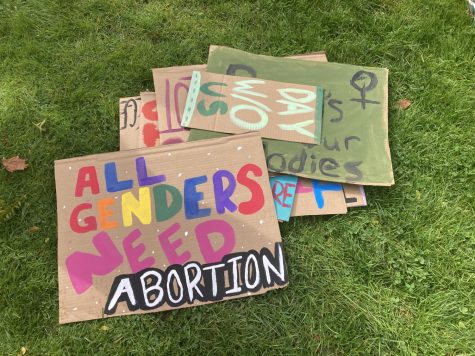 Other organizers of the Chatham walkout included Molly Comcowich '26, Navada Grant '26, Claire Dusek '26, Lexi Heisler '24 and Rachel Coleman '26. Their goal was to bring attention to the reproductive rights of individuals with uteruses and the importance of voting in the upcoming midterm elections. 
"Power is in numbers," Grant said. "They took our rights, and we're taking them back."
Upcoming midterm elections in Pennsylvania was a topic of conversation among students who participated in the walkout. Many expressed concerns about the inaccessibility of reproductive healthcare across the state, depending upon the outcome of some key races in November in Pennsylvania. 
"You have to be an educated voter. Checking a box because it says blue or red isn't enough," Coleman said. "You can't stay silent. When you want change, you gotta make it."
Many students who participated in the walkout shared stories from their own lives or the lives of loved ones illustrating the impact of Roe vs. Wade and the potentially devastating outcomes of if an abortion ban becomes a reality in Pennsylvania. 
"All of us are going to be affected. Even if it's not personal, it can affect somebody that you love. Raise others' voices. Be a platform. Don't speak for other people, give them the microphone and listen and learn," Coleman said. 
When asked what they would recommend to fellow students who want to make a change at the local and national level, all of the walkout organizers emphasized voting as a top priority.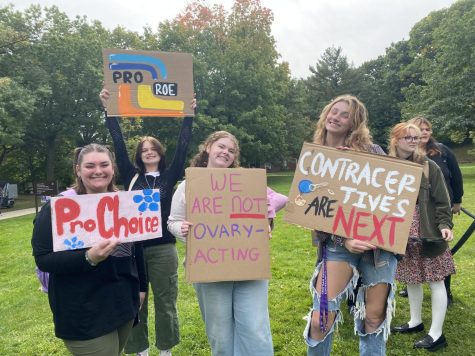 "There are a lot of resources for registering to vote. You can reach out to the Laughlin LLC or the Pennsylvania Center for Women's Leadership," said Arlo MacFarland '26. "Ask around campus, people will be able to give you resources." 
Pleasantly surprised by the turnout, which was around 30,  the LLC commends all participants and supporters and plans to continue campus publicity for their organization in hopes that more will join in. To stay up to date on what the Laughlin LLC is doing, you can follow their Instagram @laughlin_llc.
"We've gauged who is willing to speak out and we hope to get as many people speaking as possible," said Grant
Sonny Butina, Michaela DeLauter, Sara Parker and Carson Gates contributed to this story