Students share frustrations of plant-based dining at Chatham
Even with the upgrades to Anderson Dining Hall, students want to see better plant-based options
With the recent upgrades to Anderson Dining Hall, some students with plant-based diets were hoping for updates to their options when they returned this term to eat at Chatham University's Shadyside Campus. 
Parkhurst Dining, which oversees the University's dining services, strived to make some improvements to the plant-based experience as part of the recent Anderson Dining Hall renovations. While designated vegetarian and vegan options – known as the V2 menu – aren't new, the changes made for this academic year included a designated station for these dishes.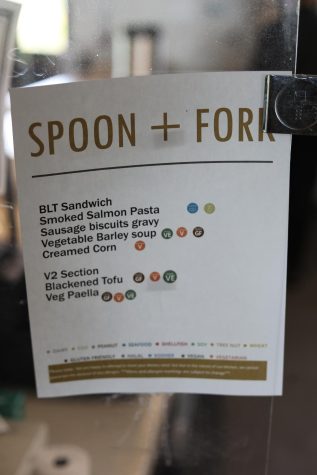 Head Chef Ryan Gregorious intended for the designated space to establish a reliable place for students to find vegan protein, supplemented by the vegetarian and vegan dishes incorporated throughout the rest of the line. Nick Corbett, the Parkhurst general manager at Anderson Dining Hall, hoped that by including plant-based options throughout the line, students who do not follow a specific plant-based diet would be encouraged to try these foods. 
Despite these changes, some students still feel like finding enough plant-based dining options can be a struggle. 
Skye Murphy '22 appreciates the changes, citing that the increased number of options after the renovations made it easier to piece together a satisfying meal. However, the vegetarian and vegan main dishes sometimes run out during meals, leaving students out of luck. While Murphy's meal plan this year gives her unlimited swipes, she observes that the dining experience can be frustrating for students who use one of their limited number of meal swipes, only to discover there is not much left they can eat.
 "As a college student, I expect bad food. That's kind of messed up," Murphy said.
Even at the dining hall on the Eden Hall campus, often lauded by many students for having more variety of food than Anderson Dining Hall, Murphy feels there are issues with the plant-based options. Because there is typically only one plant-based main course served at this location, it can be challenging to piece together a filling meal if this option is unappealing to a student or runs out. 
Before her first year began, Jayden Nelson '25 looked forward to adopting a vegetarian diet when she came to Chatham. However, she said she found the lack of vegetarian options restrictive. Nelson ultimately had to give up on relying on the dining halls for her meals, fearing that she would fall back into her old eating patterns. She also thinks it's easier to navigate the line in the dining hall when non-meat options are grouped together.
"Cutting back [on meat] is a good option, but going full vegetarian can be very difficult. I couldn't even imagine going fully vegan here," Nelson said.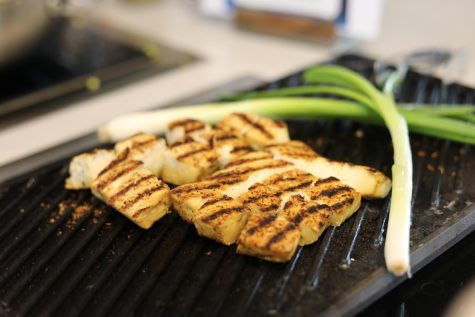 She has concerns about getting enough non-meat protein from her meals at the dining hall. Since she is a student athlete, this is especially worrying. This year, she cooks most of her own food in her apartment in order to ensure she gets the nutrition she needs from a plant-based diet. 
Murphy wonders if providing plant-based options is a low priority. 
"I think a lot of the plant-based stuff is put on the back burner of their minds, and that kind of leads it to be a second thought rather than a priority," she said.
But there are challenges behind the scenes that students may not be aware of, according to Parkhurst. Gregorious said that recent market issues have made tempeh, a common vegan protein, unavailable for months. There have also been times when he has been unable to purchase tofu due to similar availability issues. 
Despite the frustrations students face, Murphy admitted she doesn't know how to fix these issues.
"I think this is why I have such a sympathy for the chefs because I don't know the solution either," she said.
Corbett urges students to reach out with their concerns and suggestions. The napkin dispensers throughout Anderson Dining Hall have a QR code that students can scan to access a virtual suggestion box.