Renovations at the AFC make for exciting times at Chatham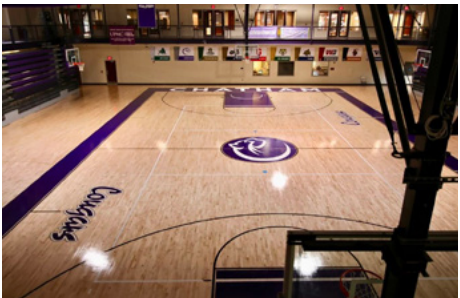 Shadyside Campus summer construction saw more than just Anderson Dining Hall getting a new look. The Athletic and Fitness Center (AFC) updates helped not only the athletes playing but also the students in the stands.
Chatham Athletics has undergone many changes since the University went coed in 2015. There have been major strides, from team success to new renovations and facilities. As Chatham continues to expand, it's making space for more fun athletic experiences.
Updates to the AFC include a new court, two new scoreboards and LED lights on the backboard.
"Those scoreboards that we had in there were the original ones from 18 years ago, and they actually didn't meet NCAA standards anymore," said Athletic Director Leonard Trevino. "If our men's basketball team last year won the conference and got in a home game, we might have not been able to host it just based on the scoreboards."
One of the new scoreboards also has video capabilities to liven up games.
"The court had never been resurfaced since the building opened, and it's gotten to the point where the floor was slippery," said Trevino.
Volleyball head coach Joseph Bortak believes the changes are helping more than just the athletes during games.
"The upgrades to the gym have been very much appreciated. From the brand-new video board to the re-painted and finished floor, the gym has the wow factor that the student-athletes and fans want to be a part of."
Students have been attracted to games with new gym renovations and close and competitive sports matchups. The student section has grown in size, and it seems to make a difference in games played at Chatham, according to many student-athletes.
"We just try to be loud and crazy and make it tough for other teams to come play here," said Sammy Helton '25.
Helton is a prominent member of the student section at home games. You can see him at almost every home game at the AFC in the front row.
"It's all about creating an atmosphere that is hard for others to play in and fun for our athletes," Helton said.
Athletes themselves have taken notice of the effects the student section makes for the University and their team. With the women's volleyball team, for example, many newer athletes had not been a part of that experience during their time in high school.
"The student section kept the energy high, and it kept us focused because with that crowd it made us feel that we had to perform. It made us feel like it wasn't an ordinary game, and we had to show them why they should come back," said Rylee Ritko '23.
Ritko continued that the student section made the first-year heavy volleyball squad feel motivated, and it was heartwarming to have so much student support.
With the excitement and growth of an up-and-coming volleyball team, there was also the new element of gym renovations that have made events even more special.
"It creates an environment. It creates the statement that we are confident and this is our gym," Ritko said.
With the new video capabilities, the AFC can now look to host other events, such as movie nights with Student Affairs, as well as the ability to increase the fan experience at sporting events.
"The renovations are for our student athletes, but it's for anybody that uses the court," Trevino said.
If you haven't had a chance to see the new renovations, Chatham Women's Volleyball has four more home games this season. With their next matchups taking place at 7 p.m Oct. 13. Women's volleyball wraps up their home schedule playing at noon on Oct. 15, Oct. 22 and Oct. 29.