Chatham Cougars tail off their fall sports season
With midterms in the rearview mirror, the Chatham University Cougars tail off their fall season, looking forward to some of their last and most valued matches. Here's a snapshot of the fall sports team standings so far and a look ahead into their last matches.
Women's volleyball
Holding a 9-10 seasonal record in the President's Athletic Conference (PAC), the women's volleyball team praises its success in its five undefeated home games. Fifth-year head women's volleyball coach – and soon-to-be head men's volleyball coach – Joseph Bortak holds high standards for his team. Preaching positivity and productivity, Bortak's coaching philosophy reflects his team's development and commitment on and off the court.
"We want to make sure we get the most out of our kids by developing strong relationships with them to achieve what we want to on the court and in the classroom," Bortak said.
Bortak commends his team on their work ethic, resiliency and team mentality.
"The upperclassmen are finding ways to lead by example and by voice and the first years are sponges, willing to pick up a lot of the mentalities and attitudes the upperclassmen have to offer," Bortak said.
Reaching her 2,000th career assist this season, women's volleyball court captain Shaelah Pepperman '23 understands that the team's mental backbone is just as crucial as its physical resilience.
"We will continue to work on our level of confidence until we feel like we deserve to be winning," Pepperman said. "That's going to continue to be our achilles heel."
With competition biting at the Cougars' ankles, Bortak claims that the team's perspective on their competition this season – particularly Thiel and Bethany colleges – depends greatly on group determination and trust.
"Anyone in the conference is our competition," Bortak said. 
The team's next game is Oct. 19 against Saint Vincent College in Latrobe, Pennsylvania.
Women's soccer
The women's soccer team holds a 7-3-3 seasonal record in its PAC Conference. In her 10th year coaching, head women's soccer coach Betsy Warren shared her holistic approach to student and coach interaction.
"We coach the person and not the player," Warren said. "Soccer should be their release from everything else."
Through their group development and leadership progression, Warren commends her team on the positive environment they create.
"A huge part of our program's success is our team's ability to work as a cohesive group," Warren said.
After a two-year PAC championship winning streak, the team is all but aware of their competition's thirst for retaliation.
"It's hard to have that underdog mentality when you've had back-to-back championships," Warren said. "No matter who we play in the Conference, it's going to be a battle."
The team's next game is Oct. 22 against Geneva College in Beaver Falls, Pennsylvania.
Men's soccer
Approaching the end of the season with a 2-9-2 overall standing in the PAC Conference, head men's soccer coach Keith Danley applauds his team on its improvements over his four years of coaching.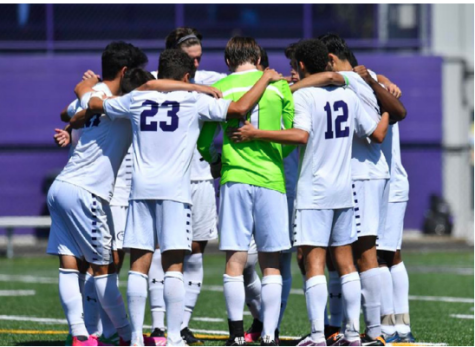 "The depth within our team has vastly improved. We've got a lot of guys from different areas who have extensive backgrounds within the sport," Danely said. "Their strong abilities have helped us grow and evolve over the last couple years."
Though Danely holds his players to a high athletic standard through extensive practice and training, his main priorities lie in his players' mentality
"We want to prepare players to make decisions and make sure they are in a position where they can enjoy themselves and enjoy the game," Danley said.
Through challenging regional games and a rigorous conference schedule, Danley strives for consistency through decision making, execution on the ball and communication.
"We've had a lot of close games. Nine of our games have been decided by a goal or less," Danley said. "We have good momentum and have risen to some challenges throughout the year."
The team's next game is Oct. 22 against Geneva College in Beaver Falls, Pennsylvania.
Women's and men's cross country
After a challenging year of new faces and introductions, Eden Bloom – head coach for men's and women's cross country and track and field – has an athlete-centered coaching philosophy for her incoming participants. 
"If something isn't working for our athletes, we keep communicating to continue to increase our performance," Bloom said. "We want to keep our athletes happy and healthy."
Ranked eighth in both the men's and women's conferences, Bloom understands that a smaller team means less preexisting relationships between athletes.
"It's a numbers game since we have a much smaller roster," Bloom said.
Bloom and Clare Erwin '25 agree that time is the best healing technique. After an undiagnosed hip injury, Erwin was not able to compete in many races in the 2021 season. According to Bloom, some players were advised to sit out of races to restrict further injury.
"A lot of injured players on my team use cross training to help with minor injuries," Erwin said. "My injury didn't affect me too much and healed well."
The team's next meet takes place on Oct. 29 at Saint Vincent College in Latrobe, Pennsylvania, where the Cougars will compete in the PAC championships.
For more updates and schedules, visit https://gochathamcougars.com/