Chatham Women's Soccer does not three-peat, but still finds success
The women's soccer season came to an end earlier this month with a loss to Westminster College, but the team had another strong season. The losing game marks the first loss the Cougars had in its Presidents' Athletic Conference (PAC) tournament since the 2019 season. There has been a lot of success for the women's soccer program, and the team is convinced that it will continue going forward.
The Cougars were coming off of back-to-back PAC championships with a 11-3-4 seasonal record. There were great individual performances, as well, that propelled the team forward. Forward Maggie Toomey '23 and goalkeeper Hannah Ehrlich '25 both took home All-PAC Tournament honors.
"It made me feel like I was making my younger self proud because it was always my goal to become a collegiate athlete, and here I am getting all the rewards too so it is a win-win for my younger self," Ehrlich said.
The athletes feel satisfied but are motivated to win another PAC championship.
"Of course, we didn't get as far as we wanted to, but we always set the bar high," said Hannah Thomas '25. "We still played very well throughout the season and are proud of our work. We just have to come back better next year."
The team had good chemistry and hopes to continue these relationships into its next season, despite losing some notable players.
"We are losing some key players, like Morgan Anderson and she is amazing," Ehrlich said. "That will be rough, but we have the skill to work through it."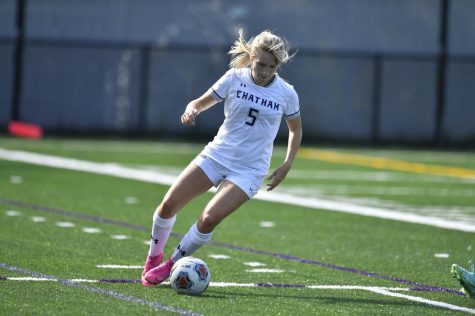 The team had contributors from every corner of the field, and many young and incoming first-year students are expected to have a role going forward for the team.
"I feel like this season we had a lot of strong freshman players, and I think that will be very influential for next season," said Chiara Hutch '26. "I felt that we were pretty solid on defense and offense and we had a balance going there."
Next year, the Cougars hope to keep up the intensity and strive to take back the PAC title. The team talked about areas to improve and hopes to learn from its mistakes this year and fight for its third PAC championship title. With the team having plenty of young and upcoming talent, the Cougars are determined to make a strong run in its 2023 season.
"Even though we didn't get to where we wanted to go this year, we have confidence and believe that we will get back to the championship next year," Thomas said.