Chatham's emerging Black writer-in-residence on race, writing and seeing yourself in literature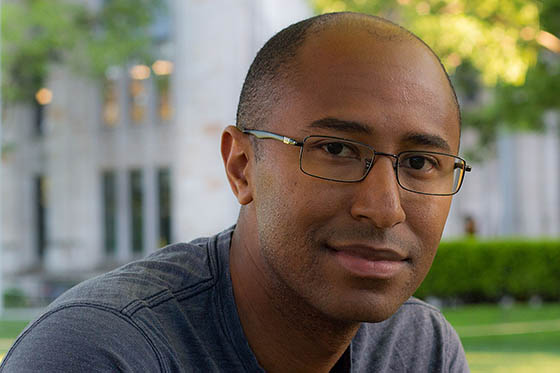 It's the dreaded question for any poet who works heavily in metaphor: what is your poetry really about? 
Cameron Barnett crossed one leg over the other and took a thoughtful pause.
A surface-level reading of Barnett's poetry book "The Drowning Boy's Guide to Water" would lead readers to the obvious conclusion that his work is about race. 
For Barnett, the answer is much more complicated than that. His book dabbles in ideas of intersectionality, the combination of identities. His poetry asks the question: what does it even mean to be Black in America?
"You are Black, you have a Black sort of foundation to yourself, but you also have these other really large spaces in your life that are not predominantly Black or they are majority white," he says. "And so you are of multiple different places … how does that shape who you are and how you see yourself?" 
Barnett is Chatham University's Emerging Black Writer-in-Residence for the 2022-23 academic year. He is working on his next book of poetry, "Murmur," which comes out in spring 2024. 
The program was designed to support the education of young Black writers. The Emerging Black Writer-in-Residence teaches a graduate multi-genre writing workshop, gives a public craft lecture and presents a public reading of work while at Chatham.
He is the third writer-in-residence, following in the footsteps of Caitlyn Hunter and Cedric Rudolph.
"My hope is that it connects with other Black people, especially younger Black kids, and young people who have gone through the experiences that I've gone through and don't typically see themselves reflected in literature," he says.
The program director of the Master of Fine Arts in creative writing Sheila Squillante says Barnett's poetry is inquisitive.
"One of the things I like about his poetry is it's seeking, it's a searching kind of poetics. He's always open to asking questions in his poems and open to hearing what the answer is," she says.
To tackle these questions, Barnett sets aside time in the summer when he is no longer teaching at his alma mater, Falk Laboratory School in Oakland, to have a poetry "staycation." 
"I intentionally choose a week where each day I go to a different coffee shop or library or some cozy space, choose a book of poetry that I've been meaning to get to," he says. "And then I always try to write something or a couple something's based on a piece in the book or something else that's kind of coming to me."
His goal is to leave the staycation with written work, and a few of the poems in "Murmur" are from this technique.
He continued to write in the theme of "The Drowning Boy's Guide to Water" after it was published, and some of that writing became the basis of "Murmur." The book revolves heavily around the motif of the heart, he says.
Barnett was born in California but moved to Pittsburgh when he was 6. He has a unique connection to Chatham: he came here for the summer camp for kids. Back then, he didn't know much about poetry. 
"I don't think if I'd gone back 10 years or 20 years, I would know what being a poet meant. … But it all came together, the older I got and got further into writing," he says.
Now, he teaches young writers at Chatham as the Emerging Black Writer-in-Residence. He is teaching a class called the craft of creative writing. He will be giving a craft talk at some point in the spring term.
Barnett's advice to young writers is to not feel pressured to write in the style of the literary greats. 
"Write what you want to write. … It's really important, I think, to write your truths," he says. "Because not everything you write is for every audience, but everything that you write is a view and therefore it can't be taken away from you or diminished because it is your truth."