Dahlia Saenz brings music and Mexican heritage to Chatham
Dahlia Saenz '25 is in her second year at Chatham and has incorporated her love for music, and her Mexican roots to the Shadyside Campus.
She was a part of the concert that took place inside the Rea Coffee House in the spring of 2022 alongside fellow Chatham musician Benji Keeler '25
"Dahlia brings so much life and energy to the Chatham music scene," Keeler said. "You see her around on campus and it's like she always has her own soundtrack going on in her head and it radiates."
While the fall 2022 term hasn't seen Saenz perform as much as she'd like to, there is a good reason as to why: her work with the Latine Student Association.
She did not want to lose her Mexican roots when she arrived to Chatham. Saenz is the president of the Latine Student Association and takes pride in sharing her culture with the community.
"Having a club where we can all just like congregate and chat. Or even just to listen to our music, speak our language., it's all, it's beautiful," she said.
The group has hosted a salsa dancing class, as well as a Friday Films showing of the movie Coco. 
Saenz's father first immigrated to the United States from Chihuahua Mexico when he was only 12 years old, and permanently settled when he was 21. He spent any time he could inside record stores learning the music and the English attached to it. This love for music was quickly passed along to Dahlia as she grew up.
"That's how it got into music, was through kind of cliche because I think everybody is introduced to music through their dads," Saenz said.
Life for Saenz had two main pillars that were interwound; her family and music.
"You have to attach yourself to some kind of culture when you aren't home, you know. And for my parents, that was music," she said.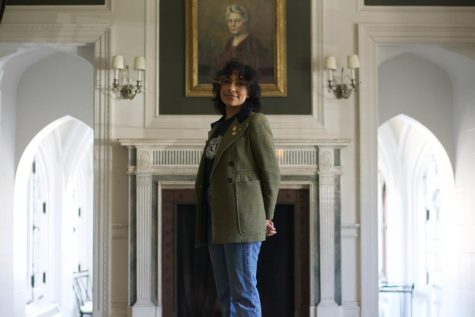 Saenz recalled her family hosting regional Mexican bands to stay with them while they were touring.
"Whenever they were on tour, our house would function as a home," she said. "So sometimes I'd wake up and there's like a 16-piece band in my living room."
While other kids would be upset to be woken with their house being shaken by a band early in the morning, these are some of her favorite memories.
There are still two more years left for Saenz at Chatham, and her goal is to see the University's music scene and Latine Student Association grow.