Athlete of the week: Rachel Leftwich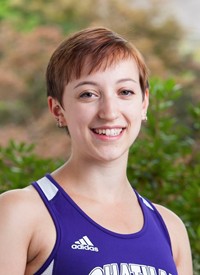 Athletics at a Division III school are often overlooked; however, Chatham athlete Rachel Leftwich stands out. After breaking two records her senior year, Leftwich is leaving Chatham with a bang.
As captain of the cross-country team, she works hard to create a fun, inviting environment for her team. Often acting as a mentor, Leftwich displays time management skills with ease. "Time management is a constant learning process of being able to fit in all the things you want to do at once," Leftwich said.
Running for Chatham has been a large part of Leftwich's career at the university.  When she chose Chatham, the school coaches went above and beyond to ensure her transition from her high school track team to the university's track team.
Chatham coaches contacted her high school coaches and observed her talents.  Looking back to her first year, Leftwich said college athletics are more difficult than high school athletics, and perhaps she was not ready.  However, her readiness became more than apparent this year as she continued to make great strides in the cross-country community.
Named "woman runner of the week" two weeks in a row by the President's Athletic Conference and the Eastern College Athletic Conference, Leftwhich's love for the sport is apparent.   Both conferences honored her for first place win at the Bethany Cross Country Invitational.  Her individual title at Bethany was the first individual title given to a Chatham athlete.
The following week she as again honored by both conferences for her second place title at the Waynesburg Cross-Country invitational.  On top of winning an individual title at Waynesburg, she also broke the Chatham School record for running 6k by 44 seconds with a winning time of 23:20.
Leftwich also ran in the Cross-Country seventh Invitational, which was held on Chatham's campus for the first time.  Placing third out of 100 runners in the seventh Invitational, Leftwich continues to demonstrate herself as a serious asset to Chatham's cross-country team.
Athletics are not the only concern for the environmental science major. Minoring in both French and environmental policy, Leftwich is a member of the Phi Beta Kappa honor society at Chatham.  She has also been on the PAC academic honor roll for the past three seasons she has run.
In September, the PAC Student Athletic Advisory Committee honored her as the woman scholar athlete of the month.  Continuing her commitments to Chatham and cross-country, Leftwich serves as the luminaria and survivorship committee chair for the American Cancer Society's relay for life initiative at Chatham University.
 However, as school nears to an end for Leftwich, so do college athletics.  With plans to continue running, she signed up for her first full marathon in May. After giving herself a small amount of downtown, she will begin preparing for the marathon shortly after graduation. Leftwich said she runs for personal benefit as well, and that long runs act as a stress reliever for her, allowing her to think things over.
Despite nearing the end of her athletic career at Chatham, Leftwich appears strong-willed and ready for anything when she graduates at the end of the year.