Chatham University's School of Health Sciences welcomes new dean Salvador Bondoc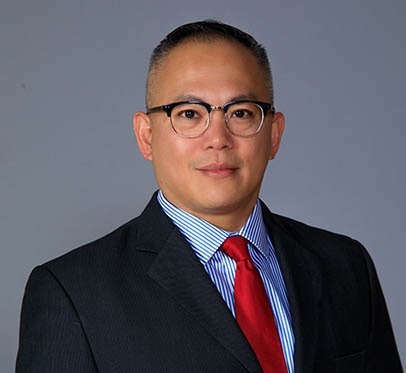 Dr. Salvador Bandoc joined Chatham University as the dean of School of Health Sciences in September 2022 after leading Quinnipiac University's occupational therapy program from 2013 to 2022. His hope for Chatham is to strengthen the sense of unity between Chatham's Eastside and Shadyside locations. 
While much of Dean Bondoc's early career focused on practical work as an occupational therapist, his work in higher education was a natural progression to that profession. 
He was offered an instructing position upon graduation from the University of the Philippines after working as a tutor while he finished his undergraduate studies. He spent the early years of his career as a practicing occupational therapist and instructor before making the switch to higher education in the early 2000s as a full-time faculty member at Quinnipiac University. 
Though he has only been at Chatham for about six months, Dean Bondoc said that he has felt welcome at the school. "Everyone has been very warm and friendly." 
Despite the warmth and strong sense of community that Dean Bondoc has received at Chatham, there is one area of improvement that he has intentions of addressing – inter-campus connections. 
"Chatham is unique in such a way that it's a small institution, but it feels large because we have three separate [locations] and each campus has its own unique identity," he said. "The plus is that it creates a diversity of thought, but it can be difficult to make connections between campuses." 
He observed that despite the short distance between the Shadyside and Eastside locations, there is a lack of travel, or communication, between the two, particularly at the undergraduate level. 
"I want to create the perception that we are a connected campus," he said. "When I talk to undergrad students, it's like they have no idea what's going on at Eastside, but it's only a mile from Shadyside Campus. It's really surprising." 
Chatham's School of Health Sciences has several programs, which are split between the Shadyside location and Chatham Eastside location. Most of the graduate-level programs in occupational therapy, physical therapy and counseling psychology take place at Chatham Eastside, while undergraduate courses in the exercise science and athletic training programs take place on the Shadyside Campus. 
For students in the School of Health Sciences, this disconnect can become an issue as they progress through schooling, especially for those who wish to pursue Chatham's integrated degree program and individuals in the Pathway to Nursing program.
Dean Bondoc acknowledged that even with the lack of travel between Chatham's Eastside and Shadyside locations, the framework for a better campus relationship is in place. 
"The great thing about Chatham is that sense of community, even if it's not happening fully, the design is there," he said. "We can strengthen those connections." 
For him, the first steps to strengthen campus connections starts with how he leads the School of Health Sciences.
"I've learned to lead by example. It's a bit like an inverted pyramid but more like a bowl. There's that space inside and you need the capacity to support everyone that you bring in, including the students." 
Dean Bondoc's ability to support everyone within the school is one of his greatest strengths, according to Mary Jo Loughran, associate dean of the School of Health Sciences who acted as interim dean before Bondoc took on the position.
"He shares his clear ideas of what he wants to do here, but he isn't set in how those changes come about," Loughran said. "He's extremely good at listening and watching and asking questions that allow us to look at what we have been doing, what works and what needs to be tweaked or changed completely."