Tucked beneath a kosher grocery store on Murray Avenue, Steal City Vintage displays over 2000 square feet of curated vintage and modern clothing. Everything from accessories to decor treasures can be found just a ten-minute bus ride away from Chatham University's Shadyside campus. 
The secondhand retailer hosts a wide range of prices, eras and styles. Visitors can find everything from cowboy boots to discontinued Eminem T-shirts to delicate 1950s lace nightgowns. Having grown up working at a similarly eccentric consignment store in my hometown, I was excited to discover the shop on my aimless, hot-girl-summer walks down Murray Avenue.
In today's cultural climate of TikTok microtrends and fast fashion giants, it can be difficult to find pieces that speak to one's personal style and are well-made. Any secondhand store is a great place to start for finding such pieces and for developing your personal style.
The friendliness of its owners, Rob Schwoegl and DJ Lander is what distinguishes Steal City Vintage. I had the opportunity to sit down with them this past July to talk about their personal styles and how they gave rise to Steal City Vintage.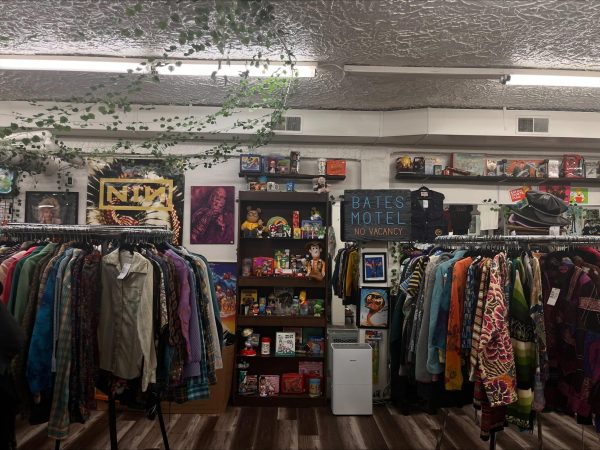 I peered into glass display cases of magazines and band patches. Schwoegl and Lander sat against a backdrop of their one, true love: vintage, often rare band T-shirts, from Mac Miller to Megadeth. 
"T-shirts are the gateway drug for vintage," Schwoegl said. "Then it's crazy pants and beautiful dresses."
Although Steal City Vintage is their first self-owned consignment store, it is built on over seven years of industry knowledge from working as curators for their clients.
"We source clothing directly from clients. Usually, we'll be going through a bunch of old stuff, like an estate sale or an inheritance," Lander said. "Pittsburgh has a huge population of older people with a tendency to hang onto pieces–sheds and garages full of them."
I was not surprised to hear Lander and Schwoegl express their love for early 2000s streetwear, specifically the "marriage" between rock and hip-hop fashion at the time. A single glance at the store reveals walls covered with posters of '90s movies and iconic alternative bands like Nine Inch Nails. The shop owners proudly display rare Megadeth, Eminem and Blink 182 memorabilia beside Thrasher and Mass Appeal magazines. 
Despite the owners' personal interests, their inventory captures a wide range of styles and eras. There really is something for everyone.
On discovering your own personal style, Schwoegl and Lander both stressed the importance of going for pieces you "actually like" –that is to say, purchasing pieces that speak to you, beyond current trends or norms. It takes time, but the result is a wardrobe that feels more "you" than any trending look could. Beyond that, style is a lifelong journey.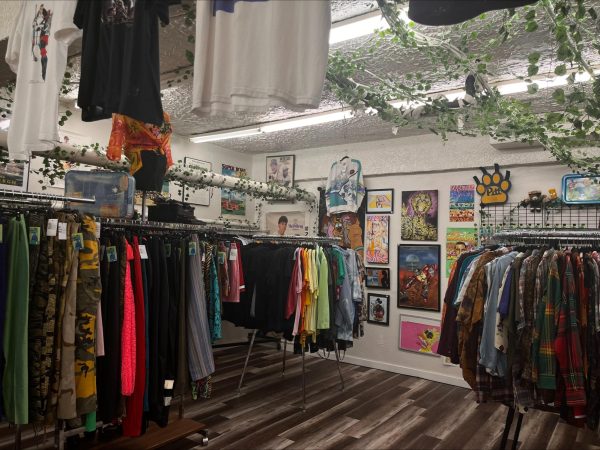 "Yeah, I mean I still get excited. So that's something that's still a plus. There's always something new that we're coming across," Schwoegl says.
You can visit Steal City Vintage at 1918 Murray Avenue. From the Shadyside campus, take the Pittsburgh Regional Transit 64 bus outbound to Murray and Darlington, and look for the glass door between Murray Avenue Kosher and Friendship Circle.