Both the women's and men's hockey teams finished their 2022-2023 seasons with room for improvement. After the women's and men's teams finished fifth and sixth, respectively, in its conference, the teams are unsatisfied with the outcome and looking to the upcoming season.
Each team has changes to their coaching staff, along with a plethora of new players joining the program, and are hoping to improve from the previous season and become United Collegiate Hockey Conference (UCHC) champions.
Women's hockey
On the women's side, besides welcoming 16 new players to the program, the team also welcomed assistant coach Jordan Ott and goalie coach Emily Nettesheim into the Cougar family.
Previously, Ott was the head coach for the past three seasons at King's College, one of Chatham's UCHC competitors. Ott's own hockey career gives her a leg up to lead a successful team.
After receiving multiple opportunities to play Division I and Division III, Ott found her place at the State University of New York [SUNY] Potsdam with the Bears. During her years at SUNY Potsdam, she was a standout dual sport student-athlete, playing both hockey and softball.
Recently, Ott was inducted into the SUNY Potsdam Athletics Hall of Fame in 2022 for her accomplishments and contributions. Ott finished her collegiate hockey career as the program's all-time leader in goals, points per game, goals per game, game-winning goals, power-play goals and shorthanded goals.
During Ott's first year in SUNY Potsdam, she was named her conference's Rookie of the Year and United States College Hockey Organization Division III National Rookie of the Year in 2014.
After earning an all-conference status each season, Ott then took her talents to the professional level for the Buffalo Beauts before discovering her passion for coaching. Now that Ott finds herself in the Cougar Den, she feels welcomed and excited to be a part of the program and school.
"I am really looking forward to joining a competitive hockey program that has been built on strong values and has a chance to contend for a championship. Getting to work with such high-caliber players in an assistant coach role is very exciting and will allow me to grow both as a coach and mentor," Ott said.
Aside from coaching and with the perspective of her own collegiate experience, Ott finds the importance of impacting the lives of the athletes off the ice. She understands that when her players take off their gear, they are young adults trying to figure out the world outside of college and athletics.
"My personal philosophy is to teach life through the game of hockey. I hope that at the end of their career here players can look back and know they had a coach that cared about them as more than just a player, but as a human being," Ott said. "I hope that the team learns to embody this philosophy. We care about one another not because of what we each bring to the ice, but because of the impact we all have on one another as people."
Men's hockey
Billy Connelly is in his seventh season with the men's ice hockey team, however, this is his first year as the team's head coach. Named the interim head coach for the 2023-24 season, Connelly took over after the previous head coach, Michael Gershon, left the University to pursue a coaching career with the Sioux City Musketeers of the United States Hockey League.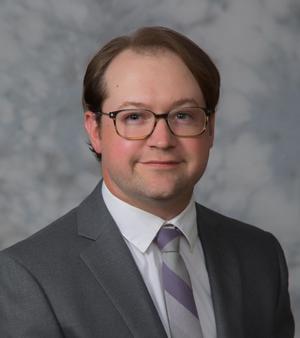 As a player, Connelly knew he wanted to eventually follow the coaching pathway like many other young players. However, his journey started earlier than most, allowing him to develop his coaching skills and ultimately leading him to the position he is in today.
"I began coaching at such a young age at 19 due to post-concussion related injuries," Connelly said. "I always knew that I wanted to get into coaching as a player. It just happened earlier than I expected."
Here at Chatham University, he assisted the team to the program's first home playoff game as well as its first conference playoff win. Further, he has recruited several UCHC award-winning players and helped develop nine Cougar alumni to professional hockey contracts. Under his coaching, the team has received 150 UCHC All-Academic Team selections, 54 All-American Coaches Association Scholar awards, along with several awards on campus, proving his ability to guide his student-athletes to become successful and well-rounded players and people.
"As a coach, my goal is for our team to continue our success in the classroom and out in the community," Connelly said.
Connelly's connection to the team is especially special because he has been a part of the program since its beginning in 2016. He helped lead the team from its first season, finishing 2-20-3 to finishing 14-9-3 in 2023. He is proud of his history with the program and that allows him to feel prepared to take on the new position, adapt and lead these skilled players to success.
"Any role within athletics, I think, is about adaptability. Our team has really been great with accepting that challenge so far.  We have a very deep team talent-wise, but we are also stockpiled with leaders," Connelly said. "The role change obviously adds some elevated responsibilities for me, but I don't think much will change in the development of the men's hockey program.  I've been extremely fortunate to have been a part of our program since its origin, and it's special to think that I've skated with every team member in our program's history."
Connelly's coaching experience as well as the philosophy he developed throughout the years is what guided him and his players to the growth and success they have seen in the recent season. He emphasizes on creating a supportive environment that fosters growth and positivity. Just as he feels grateful for the opportunity to have been with this program since the beginning, Connelly wants to translate that to his team to provide a memorable experience that exceeds the hills of campus.
"I believe my coaching philosophy aligns well with some of our changes and goals for this year.  We want to compete with gratitude," Connelly said. "The opportunity to come to Chatham and to be a part of our program isn't just a 4-year decision, but a decision they'll be grateful for over the next 40 years."
In conjunction with his excitement for the upcoming season, Connelly remarks his interest in becoming closer with the school and campus.
"I'm looking forward to the opportunity to simply be at Chatham more frequently," Connelly said. "I've always enjoyed coming to campus, but in the last 2 months I've been able to work with, learn from, and meet so many great people that I previously didn't get the opportunity to."
Connelly's ability to be on campus will only increase as both programs are moving into the Hunt Armory located less than a mile from campus in late October. The men's program's first home game in the Hunt Armory is Nov. 3 against King's College.
Connelly's goals reflect his and both programs' eagerness to be able to call the Hunt Armory home for the 2023-2024 season.
"For the program, our goal is to host our first-ever home playoff game at Hunt Armory," he said. "While that's six months away, we'll set goals every day and game to help align with our longer-term destination."