Global Citizen LLC hosts annual Cultural Dinner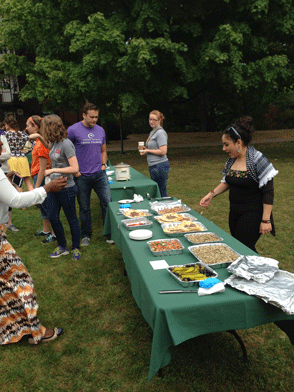 Instead flocking to Anderson for the final meal of the weekend, students gathered on the Quad on Sunday, September 28, for the annual Cultural Dinner hosted by the Global Citizen Living Learning Community of Laughlin House.
Several weeks before the event, the Office of Residence Life invited international and domestic students to sign up to cook a dish from their home country or their country of ancestral origins. The result was an array of foods as diverse as the students at Chatham.
South Korean students Boram Min, Sujin Kim, Hyangmi Park, Min A Jo, and Ahra Kim prepared two dishes for the picnic: Bulgogi, incorporating barbecued beef, onions, and mushrooms in bulgogi sauce served over noodles; and Bibimbap, consisting of white rice covered in sautéed vegetables.
The group chose to prepare these dishes because of their mildness.
"Americans don't eat very spicy food," said Boram Min. "This is really easy to try."
Further along the buffet line, Chinese students Ying Wang, Cuiqin Huang, Chengting Qin, Renjing Fan, Shaungling Tang, and Yuting Mao had prepared Fresh Pork Moon Cakes.
Since the Chinese Mid-Autumn Festival had just occurred earlier in the month, the group decided to make these pork-filled pastries, which are, "the symbol of the Mid-Autumn day," according to Cuiqin Huang.
Nadine Aranki of Palestine and her roommate first-year Emily Gallaher prepared traditional Palestinian food, including Mujadara (a dish with lentils, rice, and spices) and Musakhan (comprised of chicken, taboon bread, and spices).
With the help of her Costa Rican friend Arely Alpizar, Honduras-native Silvia Nunez made two dishes from her home country.
The first was Catrachas, which are fried tortillas topped with beans, vegetables, and cheese.
"If you're from Honduras, people call you 'catrachos' or 'catrachas,' so for me, it's the maximum expression of Honduras," said Nunez.
Nunez and Alpizar also prepared Nunez's favorite dessert, Pan de Pan, which is a kind of sweet bread pudding.
The Cultural Dinner's chefs were not limited to international students.
Junior Sarah Weinschenker prepared Sausage Balls, which are meatballs made from pork sausage, cheddar cheese, and Bisquick.
"It's a family recipe, and it's really quick and easy," she said about her recipe selection.
Weinschenker made the same dish for last year's Cultural Dinner, and, "they went quickly," which convinced her to make them again this year.
First-year student Evalynn Farkas prepared the traditional Hungarian pastry Beigli. The recipe she used for the pastry typically eaten around Christmas time was passed down to her from her grandfather.
Junior Christina Fortunato prepared Lasagna from a recipe that has become a tradition in her family.
"I'm Italian, so I made something true to my heritage," Fortunato said.
Within the first half hour of the picnic, almost all of the food had been consumed. The Pork Moon Cakes were one of the first dishes to go.
The Catrachas, the Pan de Pan, and the Lasagna were the last dishes to remain, simply because Alpizar, Nunez, and Fortunato arrived to the picnic a little after the initial rush to get food.
To supplement the student-prepared food, Parkhurst offered Indian cuisine, like Chana Dal Pilaf, Lamb Vindaloo, and Tandori Chicken. Typical American picnic foods, like burgers and roasted potatoes, were also available.
More students came to the picnic than there were chairs to accommodate them, so festivities spread throughout the entire quad.
At one table, sophomore Denesha Moorfield and international student Ayesha Mahmud of Bangladesh drew henna designs on willing subjects.
Nearby, music from around the world blared from a speaker. At one point, some students formed an impromptu dance circle to Shakira's "Waka Waka (This Time for Africa)."
Sounds of chatting and uproarious laughter filled the air amongst red, gold, and black decorations as students enjoyed food from around the world.