Jessica Hinkle qualifies for ECAC finals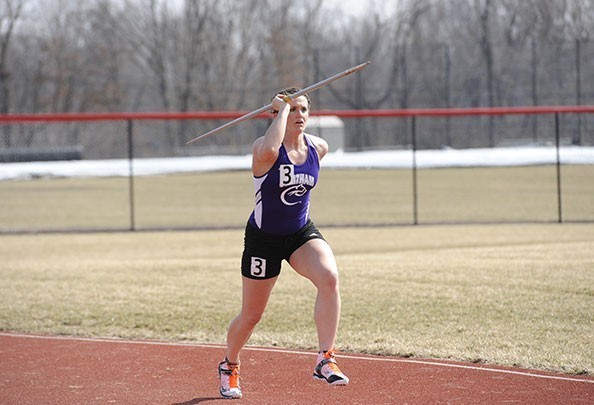 Within just two years, Chatham University's Track and Field team has had an athlete qualify for the ECAC championships. The program started in the Spring of 2013, under head coach David Hodge.
First-year Jess Hinkle qualified for the ECAC Division III championship in javelin at the Grove City College Tri-Meet. The qualifying standard for the championship is 36m. Hinkle placed first at the Grove City Tri-meet with a throw of 37.59m.
Hinkle has had a successful first year season placing first at the California University Early Bird Meet with a throw of 35.05, placing first at Grove City with a throw of 37.59, and placing fourth at the Bethany Invitational with a throw of 35.01m.
From the start of the season, Hinkle set her goals high. "I feel honored and excited about being the first cougar to compete in the ECAC finals! It was one of my goals from the beginning of the season and I'm really looking forward to going," Hinkle said.
As well as throwing javelin, Hinkle also runs the 400m, and anchors the 4X100m relay and the 4X400m relay.
Hinkle's goals do not stop at just making regionals. "My first goal of the season was to qualify for ECACs. My next goal is to make it to Nationals. My goal throughout the entire season has been improving my technique to increase distance."
To reach her next goal, Hinkle hopes to improve on her technique. "I have a plethora of things to improve on! Just a few of the them would be working on my shoulder rotation, improving my plant, driving my knee and throwing through the point!"
Rensselaer Polytechnic Institute in Troy, New York will host the 2014 ECAC DIII Outdoor Track & Field Championships. The dates of the meet are May 15-16.
The Track & Field team has two more meets until the season is finished. On April 16 the team will be competing at Bethany in West Virginia, and on April 25-26 the team will be competing at the PAC championships at Westminster in New Wilmington, Pa.
On being a part of Chatham's Track & Field team Hinkle said, "My favorite part about playing for the track team is how it has the unique quality of being individualized while still being part of a team. I love the atmosphere and the sport is always so fun and enjoyable."