Campus safety: a top priority
---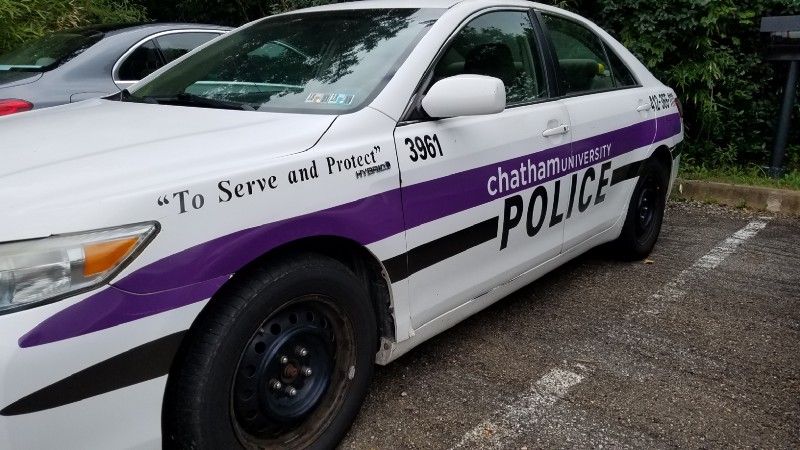 By Clair Fink
Students, staff and faculty recently received an email about a masked gunpoint robbery at Walnut Street and South Highland Avenue in Shadyside. Soon after, news broke about a shooting at Mellon Park, less than a mile from campus.
Should Chatham students and staff be concerned?
"Here at Chatham, we basically have a safety hierarchy," says Doug Blickenderfer, one of the police officers in the University's public safety department. "First the students, then the faculty and lastly the property. Our first priority is always the students."
Even when students are off campus, the Chatham police "still have your back," he says.
The public safety department is required to update students, staff and faculty about crime happenings on campus, in public areas that are adjacent to or run through campus, and certain non-campus facilities, adds Valerie Townsend, Chatham's chief of police. Each year, Chatham University also releases a crime report, known as the annual security report (or ASR). This is an obligation of the Jeanne Clery Disclosure of Campus Security Policy and Crime Statistics Act.
"Colleges and universities that receive federal funding are required to disseminate a public annual security report to employees and students every Oct. 1," according to the Clery Center's website. "This ASR must include statistics of campus crime from the preceding three calendar years, plus details about efforts taken to improve campus."
Despite these recent incidents near campus, many students do feel safe at Chatham University.
"I feel safe on campus. It doesn't really matter where you are, there's always a potential for danger wherever you are," Anna D'Acierno '19 says. "Someone could have a gun pretty much anywhere. You could be in the grocery store in an upper-class area and someone could still have a gun. … I always try to be cautious."
Other students aren't letting these crimes off campus keep them from exploring nearby neighborhoods.
"Personally, on campus, I would have to say I do feel quite safe compared to other areas I could travel about to," Marco Nakich '21 says. "Now that all of a sudden we have a real-life slasher film with a shooter with a 'Scream' mask, I do feel a little more hesitant to wander about Shadyside and Oakland. However, I'm not letting it stop me from going to places like Noodlehead. I just hope for the best."
There are things students can do to try to stay safe on and off campus, such as walking in groups, staying with friends and being aware of their surroundings.
"If you're uncomfortable or in a place you don't know, dial 911 and keep your finger by the button," says Rich Hereda, another police officer on campus. "It's helpful to be prepared at all times."