Ghost hunting on campus with the 'Psychic Sisters'
---
By Reneé Gasber
Happy Halloween, Chatham! In the spirit of the spooky season, the Communiqué decided to explore the reported haunted history of the University.
Chatham University is frequently listed as one of the most haunted places in Pittsburgh and is considered to be home to several ghosts. Some folks from the newspaper and I decided to go on a ghost hunt, joined by "Psychic Sisters" Suzanne and Jean Vincent of Butler County.
The Vincent sisters have nearly three decades of experience working as psychic mediums and profilers. They've even aided law enforcement in criminal investigations.
Our first stop on the late-night hunt was the Coolidge/Falk/Braun building, the site of the original Berry Hall — the first building given to Chatham. There are two versions of ghost stories associated with it. One claims that a nanny was sitting with a baby in the house tower when a storm outside scared her. She jumped, dropping the baby, which then rolled down the stairs and died. Some say you may still see the baby floating around or hear crying. The other version of the story was part of the first-year student handbook in 1948. In this one, the nanny heard the baby crying, only to find the baby missing from the crib. This particular ghost is more mischievous than creepy and is known for draining the soda machine, clanging the radiators and playing the resident organ. Unfortunately, though, we couldn't get inside to investigate these stories.
Next up was Woodland Hall, the location for Chatham's most well-known ghost, the Blue Lady. Legend has it that Woodland Hall was once a hospital for mental health patients. The so-called Blue Lady was allegedly one of them. There have been reports of sightings of her in a blue chiffon dress. Some students say they've seen her hovering above them when they wake up at night. She supposedly resides on the fourth floor with another ghost, a little boy that may pull your hair and leave bruises if you refuse his requests to play.
We set up in the kitchen on the fourth floor. The sisters brought along some equipment: dowsing rods, a flashlight, an EMF meter and a spirit box. (We also had our own EMF meter and a pendulum.) We started with the dowsing rods, which are long bent pieces of metal that move and spin in response to energy. We asked questions, and sometimes the rods moved back and forth or spun in a circle. We also sat a flashlight on a table away from us and continued asking questions. Sometimes it flickered on and off in response.
The spirit box sweeps through radio frequencies and supposedly allows ghosts to communicate by interrupting those frequencies and manipulating them into words and sentences. (You may have seen this on the BuzzFeed series "Unsolved.") Unfortunately, there were difficulties getting it to work, so we couldn't use it. Nothing set off the EMF (electromagnetic fields) meter either.
We did, however, get a lot of feedback with the pendulum, which is a crystal connected to a chain. One of our Communiqué staff members held the pendulum still above the table and proceeded to ask more questions. It swung in a circle for "yes," and back and forth for "no." We got responses to every question with varying intensities.
After Woodland, we visited the Mellon Center. Donated to Chatham in 1940, Mellon Center was originally the home of wealthy banker and industrialist Andrew W. Mellon, who lived there for about 20 years. The room where the pool used to be — now the Mellon Board Room — is where people have reportedly seen his ghost walking around. (It's also been said that you should wave to the portrait of Andrew in the lobby if you have any hopes of passing your final exams.) We repeated our ghost-hunting methods here with similar results. We got the most activity from the dowsing rods and the pendulum.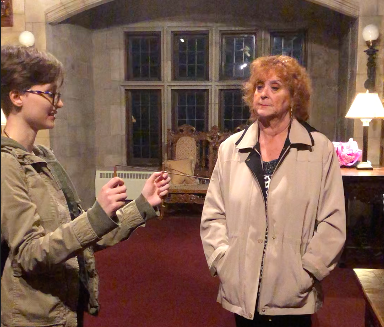 We ended in the Julia and James Rea House. (Supposedly, it had been connected to Laughlin House by underground tunnels for going between them at night without being seen.) The story goes that Julia had been using the tunnels to carry on an affair with James Laughlin. Some say that James Rea committed suicide after a big fight with Laughlin. James Rea, however, had also been in the middle of an affair with housemaid. When she found out that she was going to be fired, she allegedly hanged herself in the Rea's dining room. (There are stories of her having an affair with Mellon.) People say they've seen a ghost appear to be "hanging" there, along with the sounds of slamming doors and baby cries.
So what can we make of this investigation? While I love the fun of the stories and the experience, I personally don't believe in ghosts. Yes, we did get the dowsing rods and pendulum to move without our own interference and the flashlight flickered on its own, but I'm not convinced. (There are different theories about all of this you can research online.)
It's difficult for us to say definitively what is or isn't paranormal. It's possible that we may have had ghostly interference with our devices preventing us from collecting more data. (For example: the spirit box not working, the EMF meter picking nothing up, etc. I had a whole video of us in Woodland Hall that I can't find anywhere in my files.) And seeing is believing, isn't it?
Real or not, it's a lot of fun to pass down stories and take tours like we did. If you missed Chatham's official ghost tour this year, maybe you can take a tour of your own? Or you can tell your own stories to some friends while gorging on candy. No matter what you do, have a happy (and spooky) Halloween.