Chatham mourns loss of Kitty, the campus cat
---
By Maggie Susa
Hearts were broken and tears were shed when Chatham University learned last week that Kitty, a cat the frequented the Shadyside campus, had died.
Kathleen O'Brien, Kitty's owner, messaged the campus Kitty Instagram account @ccampuskitty to share the news.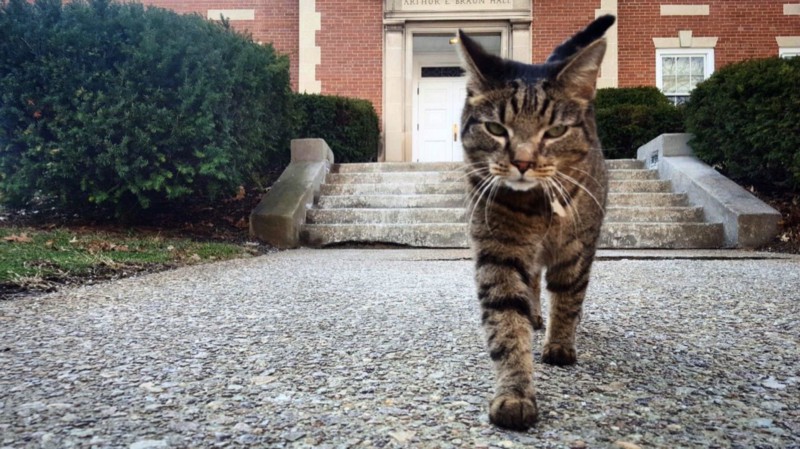 "The O'Brien Family wants to thank the Chatham community for always being so wonderful to our Kitty. He is no longer with us tonight and we are so sad but he had the best life ever thanks to all of you students," O'Brien said in the message.
The family adopted Kitty at the beginning of February 2010, but he was born near Halloween 2009 and was 10 years old at his death.
"He was given to us by our daughter's godfather who got him from a pet store in the Waterworks [shopping plaza near Aspinwall], but Kitty was a shelter pet from the Animal Rescue League," O'Brien said. "He was fine one day, and then as you know he went into hiding for a couple days, unbeknownst to us, and in our very own house as we were looking for him on the campus. This is common when a cat doesn't feel good, they go into hiding."
The cat's veterinarian suspects he got into something that was poisonous, which affected his kidneys.
"We don't have any poison here obviously, so we don't know how this happened," she said.
The O'Brien family wants to offer their appreciation to Chatham University for being so kind to Kitty.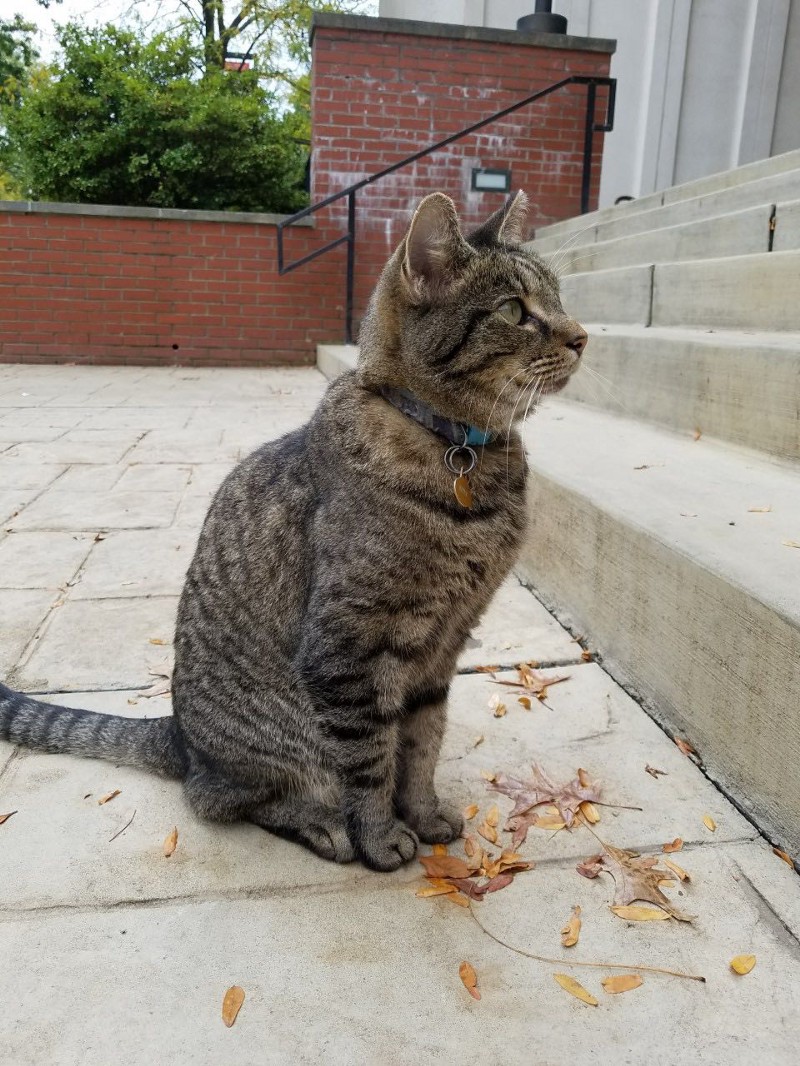 "The Chatham community was his other family. It has been so comforting to us knowing how much he was loved and how much he spread his love around all of Chatham's campus," O'Brien said.
Many students, faculty and staff have memories of how Kitty brightened their day. Kristen Spirl, Chatham University Arboretum Coordinator and Grounds Department manager, said that when her cat passed away in February 2018, Kitty was waiting to comfort her the next day.
"I cried into the fur on his neck and thought I still had him, so I would be fine," Spirl said.
Andrew Handley '22 created Kitty's Instagram account in September 2018 so that photos and stories of Kitty could be shared on one central social media page.
"My favorite memory of Kitty was in the fall semester. I was opening the AFC [Athletic and Fitness Center] at 6 a.m. so I was there at 5:45 [a.m.], and as I was walking up to the building Kitty sprints out of nowhere right towards me and lets me pet him for a few seconds before going on to his next order of business," Handley said. "It made a very early day a lot brighter."
Handley will continue to post photos in Kitty's memory if people continue to send him their photos and stories by direct messaging them to the @ccampuskitty Instagram account.