Men's basketball takes down Geneva, 75–71, on Senior Day
---
By Jack Ridenour
The men's basketball team faced off earlier this month against the Golden Tornadoes from Geneva College. The winning game coincided with Senior Day, during which senior athletes were recognized for their hard work and dedication to the program.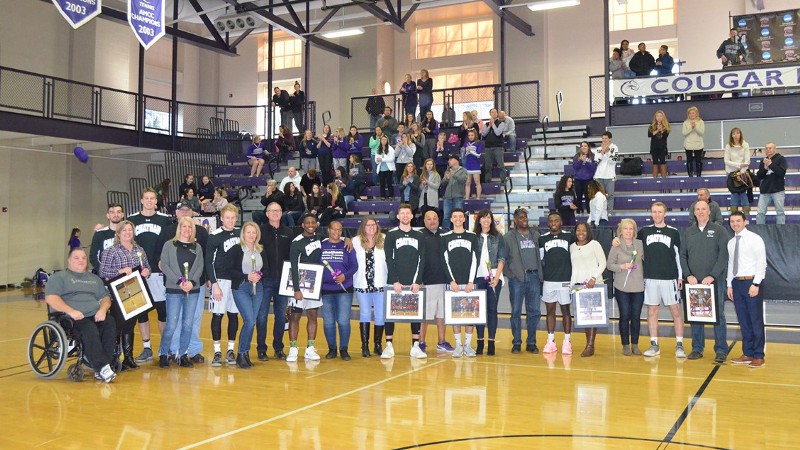 The Cougars entered the game in second place in the conference standings as they headed into the final week of the season before playoffs.
The Cougars played evenly with the Golden Tornadoes for the entirety of the first half. Point guard Isaiah Brown '19 led the Cougars in scoring with eight points. The team shot 42 percent from the field and 30 percent from three. After going back and forth the whole half with Geneva, the Cougars went into halftime down 33–26.
"We needed to execute our game plan to stop certain players, but most importantly we had to make simple smart plays, which give us many scoring options," said shooting guard Alex Schoppen '19. This approach also was raised by Coach Dave Richards during halftime.
The Cougars came out hot in the second half, going on a 10–4 run within the first three minutes. The Cougars took the lead halfway through the second, but the Golden Tornadoes fought back and found themselves down by just one point with six seconds left. The Cougars were able to hold off Geneva and came out victorious, 75–71, on Senior Day. Brown led the team in scoring with 21 points, and Schoppen added 16 points to the victory.
"Felt great winning at home in front of the crowd, and a great way to win the last home game. Gave us a lot of momentum moving forward into playoffs also," said forward Devin Stedman '19.
The team finished its regular season Feb. 16 at St. Vincent College, the №1 team in the conference