TVs in JKM library loading dock dumped by unknown people despite camera
Despite camera, unknown people keep dumping TVs behind JKM library
If you happen to pass behind the Jennie King Mellon Library, you may be puzzled — or not surprised — to see old TVs and other electronics sitting on the loading dock.
Last spring, questions over the old TVs behind JKM library began to circulate. It was discovered in a previous Communiqué investigation that the TVs were partially attributed to the technological innovations that the University library was undergoing in the past year.
Despite this, the renovations could not account for all the TVs. It was theorized that members of the Chatham community and people from the surrounding neighborhood were contributing their old electronics to the collection.
About six months ago, Robert DuBray, Director of Facilities and Public Safety, followed up on a promise to discover who was dumping TVs and installed a motion-activated camera at the loading dock.
"The camera was to see if the neighbors were contributing," DuBray said in a recent interview. The service of ethically disposing these TVs falls on Chatham's shoulders, and DuBray believes that the disposal of these TVs is a "community resource."
"I don't mind the campus community members and students contributing," he said. Ultimately, though, this resource doesn't extend to neighbors who are not involved in the Chatham community.
The difficulty with uncovering if an unauthorized person dropping off old TVs here is that the recently installed camera cannot be watched at all times, he said. This would produce a lot of useless footage. That's why the camera uses motion detection in order for it to turn on. The motion sensor is activated by any moving thing within a 30-foot radius.
This way, if someone leaves an old electronic item at the loading dock, the motion-activated camera will turn on and start recording. Then when footage is viewed, it can be determined if that person is allowed to leave their old TV there or not. A car driving by will not activate the sensor, DuBray said.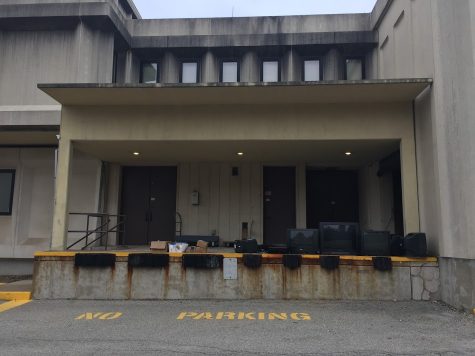 Old TVs sitting in the loading dock in January 2019. Photo by Jennie Piotrzkowski
Chatham works with Republic Service, which provides "non-hazardous solid waste and recycling services for commercial, industrial, municipal and residential customers."
Republic Service collects the TVs per request and comes on average about four times a year. DuBray estimates that the cost to the University for this service is about $100 per pick up (or $8 per unit).
The reason for this deliberate disposal (and not just throwing these devices in the dump) is because of the trace levels of mercury that can be found inside old TVs and electronics.
At this point, nothing of significance has been discovered from the camera, but TVs continue to appear.
People are "abusing the University [resources], and it's not fair to Chatham if we are getting rid of TVs for neighbors," DuBray said.
Even though the question as to who is contributing is still unanswered, he said Chatham's staff is working to act sustainably and dispose of hazardous material conscientiously, he said.
Note: Since this article was reported and written before winter break, a majority of the TVs behind the library are now gone. Only a couple electronics have not been collected. Whether more appear, that remains to be seen.