Chatham sports, recruitment look drastically different this year thanks to COVID-19
There are some obvious changes to Chatham University's Shadyside campus in the midst of the COVID-19 pandemic. One of the most noticeable things is the lack of sporting events and activities taking place this semester.
"All sports are moved to the spring semester," says Leonard Trevino, the University's athletic director. In order to protect students from unnecessary exposure, the National Collegiate Athletic Association, and the universities associated with the program, have decided that later seasons would be the safest for athletes, while also still giving them a chance to play.
One of the biggest challenges of this, he says, is finding ways to keep student-athletes safe while also giving them a chance to participate in their sport.
"While we aren't playing, we do want to allow student-athletes a chance to develop their athletic abilities and engage with their teammates in their respective sports," he says. "The challenges remain in finding the safest way for that to happen."
With competitive seasons moved back, coaches and their teams have had to adjust to the new regulations enacted by Chatham and NCAA.
"We are waiting to get all of our athletes COVID tested [before the team begins working out together]. Then, once everyone is cleared to play, we'll get rolling with practices a bit later this fall," explains Joe Bortak, Chatham's women's volleyball coach. "Our season [will] still be a few months away, but we'll be focusing on individual skill and team development this fall."
Volleyball is typically a fall sport. Prior to the COVID-19 pandemic, the team would have moved on campus in August (before the majority of the student body) in order to begin preseason workouts. The first official match would have taken place sometime in September. Preseason for all fall sports was cancelled, and teams are still awaiting their official start date to be released. It is predicted that they will be able to compete in March, depending upon the state of the pandemic at that time.
Once student-athletes begin actively competing with other teams, the possibility of spectators being allowed at the games will depend on the status of the pandemic.
"I would expect that spectators would be limited or not allowed at all.  That may change, of course," Trevino says. "Allegheny County Health sets the number of people allowed at both inside and outside events, and we will need to abide by that."
Rethinking recruitment
Recruitment for first-year and transfers students commonly takes place with in-person interaction. That's another thing coaches had to adapt because of COVID-19.
"Specifically, for volleyball, the spring is a huge recruiting period for us. That's typically when coaches travel to club tournaments and watch the student-athletes compete in person," Bortak says, "but unfortunately a majority of the club season was canceled this spring, so we had to watch a lot of match play through film. I also relied heavily on phone/Zoom calls with the athlete's families and their club coaches."
First-year and transfer players at Chatham have come into a new school at a challenging time. With seasons pushed back, players are finding themselves with more free time as they await the development of their seasons.
"Well, it's not been the best experience so far. I know I'm not the only one playing a sport. There are many athletes going through the same thing. It's awful having your season postponed or possibly cancelled," says first-year volleyball player Gabrielle Alekson '24. "I know that when I first came to campus I had so much free time on my hands that I started getting homesick and wanting to leave because all I did was sit in my room. Normally, though, I would have a season right now and be playing, hanging out, doing things with my team."
The social restrictions, while necessary, are taking a toll, too.
"I knew coming into this year and, when I came onto campus, that things were going to be very different … but I understand that Chatham is doing its very best to keep us safe," Alekson says. "I just wish they didn't have the rule that says we're not allowed to hang out with students in other dorms."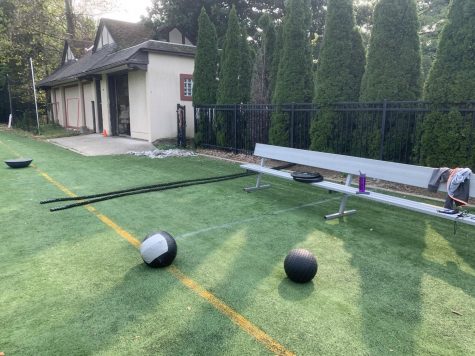 The University is offering options for scheduled gym and workout times in the Athletic and Fitness Center for athletes, as well as other students. There also are workout classes being held on the varsity field that are available to all who want to participate.
Recreational sports in the AFC are continuing, but much like everything else, they are modified and students are required to wear a mask to participate.
All students are able to schedule workout times and reserve spots in the strength and conditioning classes by going to picktime.cuafc.com. They also can keep up with the latest news in athletics by visiting gochathamcougars.com and by following the Instagram page @chathamcougar.