Eden Hall's livestock team rehomes chickens and ducks, will welcome new animals soon
Chatham University's Eden Hall is quieter than normal. You can't hear the rooster crowing. You can't hear the ducks quacking.
After bidding farewell to and rehoming their beloved chickens and ducks, the livestock team at Eden Hall campus currently only cares for its goats.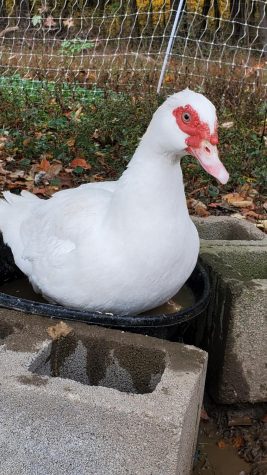 New chickens and ducks will be brought in this semester, which is expected to result in increased egg production. The livestock team is looking for volunteers to care for these new animals, as well as for the goats already at Eden Hall during the spring and summer term.
Interested students can contact Ryan Comella at [email protected], Nadine Lehrer at [email protected] or Chris Murakami, Ph.D., at [email protected].
Chatham had 12 chickens in 2018 because food studies graduate students wanted to add animals to the Chatham experience. There were only five of the original 12 chickens left when they were rehomed to a Chatham sustainability student.
The previous chickens died due to sickness and predation. These incidences were out of the livestock team's control and disheartening for crew members.
"The most challenging part was whenever we lost chickens or ducks," Oliver Jankosky '23 said.
The chickens' egg production had also slowed down with age, which largely influenced the livestock team's decision to rehome them.
By the end of the month, the livestock team will purchase 10 white leghorn hens. In April, they are going to purchase 10 red sex-link hens.
The livestock team is also considering purchasing 10 Ameraucanas hens and a guard goose to protect the flock, but they have not found a local supplier yet. If they cannot find a gosling for sale, they may adopt a red sex-link rooster.
Chatham rehomed its previous ducks to the Garfield Community Farm within the city of Pittsburgh. The ducks were of the Muscovy breed, which is a tropical duck breed primarily used for meat production. They were another graduate student's project within Chatham's Agroecology course.
Without the ducks and chickens, the main responsibility for the livestock team is caring for the goats. The goats were acquired by Chatham in August 2019, after Lehrer, Ph.D., associate professor of food studies, moved into the city and could no longer care for them at her home.
It was the livestock team that convinced the University to house the goats and use them for invasive species management.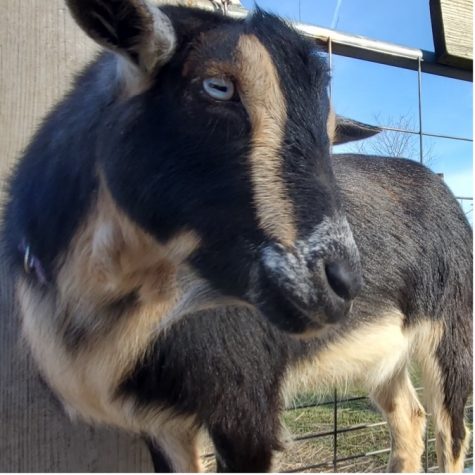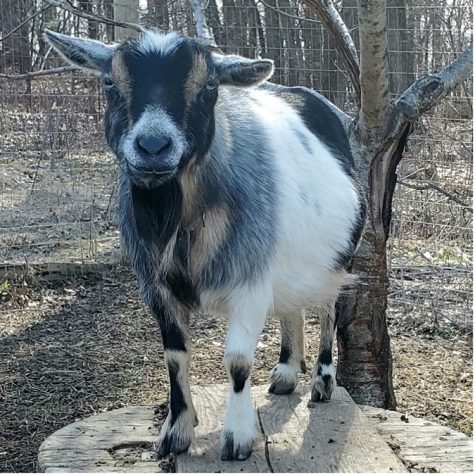 "Goats are actually selective eaters," Eleanor Bacon, former livestock coordinator, said. "They will smell the whole paddock and eat only what they want."
Chatham has been having the goats graze in areas with invasive species at Eden Hall. When the weather is nice, the goats are moved to a rotational grazing area at Eden Hall that is created with a portable, solar-powered electric fence. There, they graze and relax for the day before returning to their permanent pen at night.
The goats stay in the permanent pen and are fed hay from November to March.
"The general sentiment is that animals cannot help the environment, but I think they are an essential part of the food system," Bacon said. "I am more reassured through experience with animals that animals can be managed in a way that is not detrimental to the land and soil."
Jankosky began volunteering for the livestock team last spring. "I didn't expect managing herd health and taking home eggs as part of [a] job," Jankosky said. "It definitely made me want to look into food science and veterinary medicine … it [has been] a big inspiration."
Daily tasks on the livestock team include setting up the electric fence for the goats, giving the animals their food and water and monitoring the health of all animals. This can include checking for parasites or giving the animals their vaccines.
But, being on the livestock team is not easy.
"[So many] things can go wrong," Jankosky said. "Goats are pretty picky and stubborn. You really have to work with them … and be patient. You also work with people a lot. It's a lot of give and take … but it is rewarding and worth it."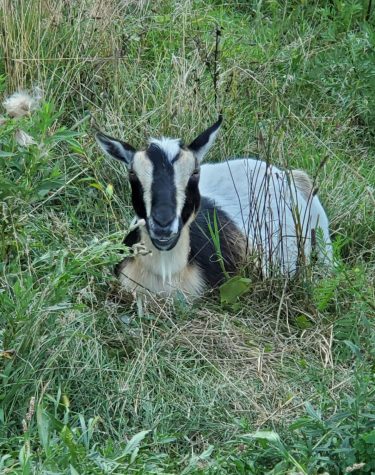 "The best part is getting so much goat love," Gianna Teter '23 said. "Especially from Speedracer. He is like a giant puppy and just wants attention.
"Last semester, I really didn't know anyone," Teter continued. "Animals do not judge. Being around animals has always been very therapeutic for me."
Bacon has since left the livestock team to work on her thesis, but she hopes the livestock team will continue to grow and adapt in the future.
"I would love for there to be more robust food production from the animals," Bacon said. This could involve having a more structured and extensive egg, dairy or meat production. 
Bacon, overall, would like to see Chatham becoming more agriculturally focused.
"I would also love to see the fields [at Eden Hall] better utilized for the animals," she said. The landscape could be altered to make it more suitable and safer for the goats, for example, as well as for potential future animals, such as sheep and pigs. 
The variety and type of animals Chatham can care for depends on student engagement. After all, the livestock team wants to ensure the animals can be properly cared for.
The future of the livestock team is up to what Chatham students want to make of it.
"If you love animals at all, it's really nice to get to know them," Teter said. "If you are even thinking about it, you should 100% join."