Eden Hall to establish new student council
Stemming from past efforts to restructure the Falk School and build a Falk student government, students and faculty are hopeful for Dean Leonard's new collaborative and co-governed councils.
The Falk School of Sustainability and the Environment's (FSSE) dean, Lou Leonard, is creating a student-centered council along with three other co-governed councils at Eden Hall to build community and bridge the gap between administration and students. 
After previous attempts to form a Falk student government and create a better organizational structure for FSSE overall failed, Leonard, students and faculty hope the councils will make decision-making more efficient and cooperative and will realize the full potential of the Eden Hall campus.
Once or twice a semester, the entire Falk community will convene for an Eden Hall "town hall." The councils will present their work and visions for the future and there will be open space for anyone to share concerns and any additional projects or ideas. Date and details of the first town hall are to be finalized.
Plan and progress of Eden Hall's new student council
The student council, which is still in the process of being formed, will have two goals: (1) foster community and connections among Falk students and (2) act as a bridge between students and the administration of FSSE. 
Student representatives are to be elected before the end of the semester. 
The official structure has yet to be determined, but the council will contain both graduate and undergraduate representatives, which will likely be from both the sustainability (MSUS) and food studies (MFS) graduate programs and from multiple tracks within the undergraduate sustainability program.
In the planning meeting that was open to all students last month, it was suggested that student representatives be paid in order to make the positions more accessible and to encourage dedication to carrying out the responsibilities effectively.
The other three co-governed, place-based councils
In addition to the student council, Leonard is forming three other place-based councils, which are each in charge of a different space at Eden Hall. The councils are a collaborative, "shared-governance," in which faculty, staff and student representatives come together to talk about shared issues and ultimately make decisions together. These councils are a way for FSSE to carry out its mission of sustainability.
Eden Hall consists of 388 acres and includes a farm with livestock and crops; forests with hiking trails and ecological research plots; buildings and facilities that run on renewable energy; and students, faculty and staff dedicated to its mission. 
The Forest, Farm and Field Council (or "F3" as some have started calling it) oversees the natural spaces at Eden Hall. The Buildings and Systems Council manages the built or human-made spaces. The last council, the Eden Hall Community Council, is in charge of the "third space" or the social spaces within FSSE.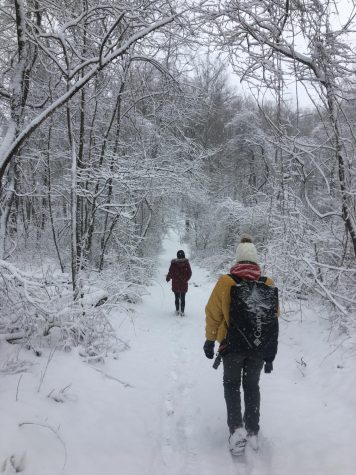 "We've got something really special at Eden Hall and the Falk School, but we're not yet realizing all of its potential," Leonard said. "And in order to realize its potential, especially because we're relatively small, we need to come together. We are more than the sum of our parts."
Each council is headed by two co-chairs and are further divided into sub-groups to manage the more specific aspects of each place. 
Leonard plans to have each council present its findings to the Falk community by the end of the semester. Currently, each council is assessing assets and needs, visioning what their spaces could look like in the future and allocating a budget from funding provided by the Falk Foundation.
Failed previous attempt of Falk student government due to communication issues, pandemic
In fall 2019, Thomas Macagno, Ph.D, director of sustainability for FSSE, recruited a group of undergraduates interested in being student leaders within FSSE. Their goals were the same as the current student council: community building and student advocacy.
The students wanted to act as a governing body, similar to Chatham Student Government (CSG) because they felt that Falk students were not well represented in CSG, which mainly focuses on issues related to Shadyside campus.
"We definitely were not getting anything from the [Chatham] Student Government. Shadyside is very inaccessible to sustainability majors," said Goldie Seddon '22, an undergraduate sustainability major who was involved in the previous Falk student group.
CSG meets at Shadyside Campus on Thursdays from 11:30 a.m. to noon, which is at the same time as many of the classes required for Falk students. Additionally, the limited and long shuttle rides can make it difficult for students who live at Eden Hall to travel to Shadyside campus.
"We felt kind of excluded. And we felt like if Shadyside has one [a student government], why can't we have one that is focusing on our needs?" said Seddon.
The group initially organized some trailblazing events. They hoped the events would encourage Falk students who didn't live at Eden Hall to utilize the trails and ultimately generate more student engagement.
The previous Falk student group wanted to create events and activities that would engage the entire Falk community. 
"The student resources on Shadyside are so much larger," said Macagno. Currently, Eden Hall has only one student engagement and residence life employee, Jess Bartko, and a few graduate resident assistants at Eden Hall. Much of the programming they organize is usually catered to students living Eden Hall's resident facility, Orchard Hall. 
The group drafted a constitution to summarize their two goals and formalize themselves as an official government.
In the beginning of spring semester 2020, the Falk student group presented the constitution to Heather Black, who was the assistant dean of students at the time (currently dean of students) and the former Vice President of Student Affairs Zauyah Waite, Ph.D.
The goals of the Falk student government were unclear to Black.
"What our concern was, the group looked more programming oriented, rather than traditionally student government [which] is more advocacy based," Black said. "And so [we] was trying to understand what they were hoping to achieve."
Upon receiving Black's feedback on their constitution, Seddon said that they felt as though Black was discouraging them from forming a government. Black said that this was not her intention. 
Seddon said that Black encouraged them to "narrow the focus" of their group and call themselves an "association" instead of a government.
"I think that the University has one concept of what student government does, and we had a different need that didn't completely fit that. So there was a mismatch there," said Macagno. 
He explained that because Eden Hall is a secondary campus and has less resources, they needed the Falk student government to do more than what a traditional student government, like CSG, does.
Black wanted to help the students achieve their goal. However, forming a second student government at Chatham would take time and careful planning to make sure that both groups were allocated equal resources.
Black organized a meeting with the then-CSG Executive President Alex Ferrer and the Falk students to see if they could develop a method for giving Falk students better representation in CSG. 
The Falk students suggested changing the weekly CSG meeting time, but since it was already set for the semester, CSG was unable to accommodate that request.
At the time, CSG had already been discussing the possibility of adding a Falk chairperson within its structure. However, adding a new position in CSG would involve a change to its constitution, and it would need to be approved by the entire student body. Additionally, an election process would need to take place to elect a chairperson. 
Ultimately, the Falk student government was never formalized. When students were sent home due to the pandemic, the group did not attempt to reform.
"No matter what happens, we do want somebody on that [CSG Falk] chair," said Seddon. "We want to bridge that gap. But we also think that's not going to be enough."
Potential future representation of Falk students in CSG
In their senate meeting on Thursday, April 4, 2020, the current CSG re-sparked the conversation about getting better representation from Falk students. 
"With there not being a large representation [in CSG] of students who live at Eden Hall and are heavily involved in the Falk School, I think there's not a lot of [those] people in our meetings who are there to voice direct concerns," said Addakin Thomas '22, the executive vice president for student communications in CSG. 
Marianna Touloumes '21, the CSG Executive President, expressed that having Falk student representation in CSG would be beneficial.
"I feel like a lot of the CSG members would agree that they want this collaboration to happen," said Touloumes.
Seddon is hopeful that the new Falk student council will be more successful than the last. "We have a little more power of what we're going to do," she said, "because … we have the dean on our side."
As the new dean, Leonard came in with the intention of listening to students, faculty and staff at Eden Hall to learn about FSSE's assets and areas for improvement. 
"What's become clear to me is that we really need to also invest in our community, internally, in order to make us as prepared and as ready and impactful as we can be to contribute outside of our community, " Leonard said. He hopes the new councils will help fulfill this need for stronger community, especially among students.
Falk student council to build community and bridge administrative gaps
Within FSSE, there are two masters programs — food studies (MFS) and sustainability (MSUS) — and four undergraduate tracks, urban and energy systems, sustainable business, natural resource management and food studies. Students share some core classes, but the rest are specific to each track. These divisions in the program make it hard for Falk students to meet others outside of their own bubble.
Nelson DiBiase '21, a graduate student in the sustainable business program, expressed hope that the student council can bridge the divide among Falk students.
"There's so many projects where I feel like we'd benefit if we collaborated on them," said DiBiase, who is also leading the formation of the student council. 
Falk students often have ideas for projects or ways to improve Eden Hall. However, there is no clear authoritative structure within FSSE from which students might gain approval for their ideas. The student council will be able to direct students on where and how they get resources for their projects.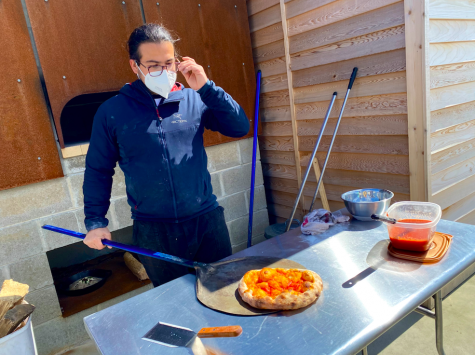 Additionally, some students might (and do) have the same project ideas, but because there is a lack of communication, they may not even know it. At the planning meeting, students talked about creating an online forum or social media page where students could connect and collaborate on projects.
DiBiase also believes the student council could lead to informal mentoring experiences between graduates and undergraduates.
In addition to greater collaboration among students, the student council will elevate student voices to the FSSE administration. 
As the FSSE is relatively new, students have had many frustrations as the program has evolved and made improvements over time. Seddon, DiBiase and other students who attended the planning meeting for the student council, expressed issues in regards to academic programming, class scheduling and access to support services at Eden Hall among other things. 
For undergraduate Falk students, many of the required classes are scheduled on Tuesdays and Thursdays at the same times and often only offered once a year. This makes it difficult for students, especially transfers or double-majors, to schedule all the classes they need in order to graduate on time.
Many students are concerned with the lack of racial and gender diversity in FSSE faculty and administration. Other students expressed a need for more academic and career services at Eden Hall.
The student council will be able to bring up these problems to administration and work to collaboratively resolve them.
Councils to change FSSE's organizational structure
Nadine Lerher, associate professor of food studies, is one of the acting co-chairs for the  Forest, Farm and Field Council. She explained that, similar to what students have expressed, there has been no clear authoritative or decision-making body, which makes it difficult for things to be accomplished at Eden Hall and within FSSE.
In the past, there have been efforts to create a better organizational structure within FSSE. 
"I think that one of the things that's been a little difficult is that a lot of those [past] efforts have dead ended in various ways," Lerher said. 
While past approaches came from the "top-down" and been "rushed" for time, Lerher is hopeful that Leonard's approach might be more successful. "I think that his approach is to try to bring lots of different parties together in the same space, and give it enough time and patience to work on what are complicated issues in terms of how to run a school and a bunch of programs," she said. 
Students are also excited about the collaborative nature of Leonard's approach.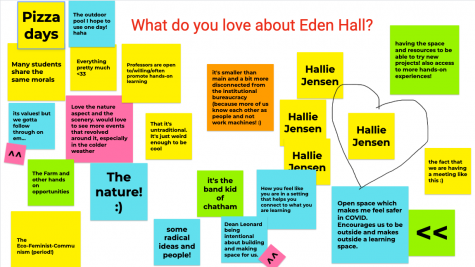 "Dean Leondard's whole view of creating these different structures, I think, once it's in place, it's going to be so efficient and effective," said DiBiase. "It's going to be amazing."
In these initial stages, Leonard has been trying to find a balance between too many councils and too few. With too many councils, students, faculty and staff could be overworked and there might be too much overlap. With too few councils, the structure starts to become less of a co-governance.
Ultimately, Leonard sees this as an experiment and a way to carry out the mission of FSSE.
"This is a way for us to walk our talk. I think in the process we can learn a lot, that maybe we can then apply even as we get out and do more to help the world," Leonard said. "So I'm hopeful that this will make us even better at the sustainability part of our mission."
Leher agrees, but says that it is too early to tell if these councils will be successful. However, she also believes they are worth the extra work and time.
"I think that anything like this, and anything new, has the potential to create new problems and also the potential to create new opportunities," said Lerher. "I think the challenge, within the councils and from the community outside the councils, is to try and make these councils more useful than problematic. Because there's no perfect system."