Student employee wages, pay frequency prompt questions
There are several benefits to being a student employee at Chatham University: supervisors who understand that academics come first, flexible scheduling, relevant career-oriented work experience and the ability to use Federal Work Study funds, to name some. 
Currently, 365 graduate and undergraduate students have worked at Chatham during the 2020-21 academic year. Multiple job postings are still available on Handshake for prospective student workers.
However, the number of student workers at Chatham this year is lower than previous years, with Chatham having 442 and 417 student employees in 2018-19 and 2019-20, respectively.
The ongoing pandemic is likely a driving factor, but national pressure to raise the minimum wage to $15 per hour and retailers like Target and Walmart offering to pay college tuition for employees could also influence this statistic. 
Monetarily, student employment at Chatham isn't always the best decision. Chatham student employees are paid monthly, rather than biweekly, make $9-12 per hour and are capped at working 19 hours a week.
In the past year, students have raised these concerns with Chatham Student Government, but no changes were made as a result of those discussions.
Chatham has explanations for its policies, and the University's Office of Career Development has resources for students who have felt exploited or uncomfortable due to the actions of supervisors.
Student employment opportunities are handled by the Business Office, Career Development and supervisors across campus.
Day-to-day duties and minor conflicts go to a student's employment supervisor, or boss, on campus. 
According to Kate Sheridan, director of Career Development, her department functions like the Human Resources of student employment, handling broader concerns. Their job is to support students and their supervisors. 
The Business Office is responsible for logistical tasks such as distributing the student employment budget for the year, handling the student payroll and applying for Federal Work-Study funds.
Chatham student wages are based on skill, comparable to other schools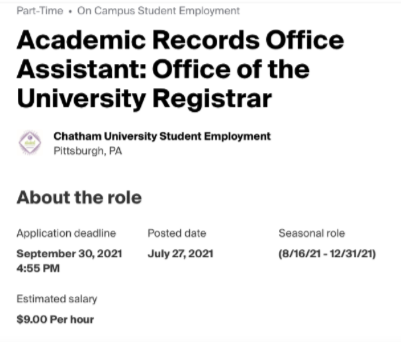 Chatham student employees have three primary wages. Undergraduates are eligible for administrative or skilled positions, which pay $9 or $11 per hour, respectively. Graduate students make $12 per hour. These pay designations are predominately based on the required skillset. 
Student employment positions are approved in late spring for the summer and the following academic year, and proposed changes to position types and pay rates have to be submitted for approval.
Changes in position designation do not typically happen this time of year. If they do, it may be due to a change requested by a supervisor because job responsibilities have changed, or an error in how that position was coded that would need to be corrected.
Josephine Friedman '21 has worked at Information Technology Services (ITS) since 2018, and now makes $11 per hour due to her gained experience. "It's not the $15 per hour minimum wage that people want, but I'm not super mad about it … [ITS] is a pretty cushy job."
Katelyn Nee '23 works in the Carriage House and makes $9 per hour. "Because of inflation and … because we are in Pittsburgh … I feel like all student employees should be paid more. … I feel like, in general, everyone deserves a raise."
Emily Martz '21 has been a student employee for three years and said she couldn't think of any way that student employment could be improved. She currently makes $9 per hour in the Athletic and Fitness Center.
"I can't complain [about the wage]. I have a job. I am getting a wage, someone else might not be," she said. "I'm not making $7.25 per hour."
Some positions on campus are more stressful than others. The stress or emotional burden of a position doesn't help determine pay rates because it is such a hard thing to quantify, according to Sheridan.
This past year amidst the pandemic has brought its own unique stressors on top of those already present with being a college student. 
Nee believes that this added emotional burden should be reflected in student wages.
"I know Chatham is always talking about how we lived through a pandemic and these are troubling times," Nee said,  "but, for … undergraduates specifically, this is our only [college experience]. 
"In 10 years," she continued, "Chatham will still be doing this, and I feel like … they can understand that it was more stressful for students to work and do school work [during the pandemic]."
However, according to Jennifer Hoerster, associate vice president of Finance and Administration, these student rates are comparable or better than neighboring universities within the Pittsburgh area. The last time student rates were increased at Chatham was in fall 2019. 
At Duquesne University, students currently make $8.5-10 per hour. Carnegie Mellon University undergraduate students make $8.25-12 per hour, while graduates can make up to $16 per hour. 
At the University of Pittsburgh, students can make $7.25-10 per hour. Carlow University only has student employment for students receiving federal work study, and they can make up to $1,500 a year, or $50 a week if they worked spring and fall semesters. 
Chatham has an $1.8 million budget for student employment, but Chatham has more requests for student positions every year than it can address. By increasing the student rates without increasing the student employment budget, fewer students would be able to work on campus.
However, campus supervisors do have the flexibility to have student positions funded by outside grants rather than the student employment process. 
If a position is funded by a grant, they have more flexibility as to what their student employees can be paid. Grant funds can be secured at any point in the year, and that may cause student contracts to be amended during the school year and, subsequently, their pay rate increasing. 
Weekly hour limits in contracts are flexible, but students should be able to get their hours
The contracts that student employees receive from Career Development are general. "We oversee [student employment] from an institutional perspective, and we want to ensure that students are signing onto the same experience," Sheridan said. 
Supervisors are then able to set their own more specific position requirements and expectations, like requiring some students to undergo certain training programs or sign confidentiality papers. 
Students have a limit of working 19 hours per week in their student employment positions, whether or not they receive work study. However, the amount of hours allocated within student employment contracts depends on the position and the student employment budget.
The weekly hour limit specified within the employment contract is flexible.
"Supervisors [are responsible for ensuring] that students are not working beyond their allotted hours," Sheridan said. 
While students can work more some weeks than others, it is the supervisor's responsibility to ensure that their student employees are not exceeding their semester or yearly hour limit. 
Likewise, if a student agrees to work a certain number of hours a week, and is scheduled far less than that, "supervisors should be finding alternative work for students to complete," Sheridan said. "In general, a supervisor should have 10 hours of work that needs to be completed for each week if the student contract is 10 hours a week [for example]."
Students can always propose new projects to their supervisor if their core tasks are complete. If student employees are chronically underworked, they should reach out to Career Development.
Some positions responsibilities were combined, informally and formally
Over the pandemic, a lot of employment opportunities on campus had added responsibilities or the general nature of positions changed.
In some cases, a student may have opted to leave a previous position due to pandemic circumstances, and the roles assigned to that student were reallocated to other employees. 
According to Sheridan, other students picking up tasks or the hours of other students that have left can occur informally, without the positions of the past and present student employee being combined. 
However, "If [the] entire role is applied to another student, that should be something that is formalized," Sheridan clarified. 
Depending on the role, that combination of positions may have led to a student making $9 an hour taking on the responsibilities of a past employee that made $11. It may also lead to a student feeling like they have to work over their allotted hours or work without pay to complete all their tasks.
Career Development is here to help
Students should first attempt to solve any conflicts with their site supervisor directly. If there are issues that cannot be resolved by speaking to their supervisor, or if the site supervisor is part of the conflict, students can go to Career Development.
Likewise, if students did feel pressured to work over their hours limit, or have felt taken advantage of in any way by a supervisor, Sheridan encouraged students to come to Career Development and look at the Grievance process on my.chatham. 
Career Development offers a variety of steps students can take depending on their circumstance, from giving them advice on speaking with their supervisor to taking the issue to Chatham's Human Resource department. They can even help students navigate tough situations.
"We've had cases in the past," Sheridan said, "where we have had to [mediate] between a student and their supervisor. We've had to pull a student employee from their position and help them find another role. … There have been supervisors on campus in the past that are no longer allowed to have students because of persistent concerns." 
Students can be confident that, by going to Career Development, they will be protected from retaliation from a supervisor. 
"Our office is here to support [students]," Sheridan said. "We are here to make sure that students feel comfortable in their roles and aren't being taken advantage of. I wish that [students being taken advantage of] never happened here, I have seen a few cases of it, but those are some of the reasons why we have [our] policies."
Students can schedule meetings with Career Development through Handshake. 
Most of the University is paid monthly, but a new app is in development 
Chatham wants the payment process to be consistent across all University employment, according to Hoerster. Faculty, non-union staff and student employees are all paid on a monthly basis. Union employees are paid every two weeks. 
For the most part, one person at Chatham is responsible for all the University's payroll.
"Our student employee population changes every term," Hoerster explained. "There is so much change and so much turnover just by nature that … to increase the amount of work to process a payroll 26 times opposed to 12 times a year would be a big burden on the Payroll Office."
"I understand the reason why we are paid monthly," Martz said. "Would it be nice to be paid more often? Yes, but … [for organization], I understand the reason."
"It ends up feeling like a long time between the paychecks, and I am trying to save up, so the amount I get has to last a while," Friedman said. 
"I am not fully supporting myself," she continued. "I feel like if someone was trying to support themselves without parental help, they might be in a more desperate situation with the monthly payments."
"Whether you are paid bi-weekly or monthly, it's all about budgeting," Hoerster said. "To the extent that there is hardship, the emergency fund [is] always there to help."
Martz doesn't mind that added responsibility of monthly budgeting, but she explained that she also doesn't have to worry about solely supporting herself. 
During the school year, Nee does support herself with her $9 per hour wage. "I feel like waiting until the end of the month constantly to get paid is [hard] … I save a lot of money over the summer."
When the whole campus was shut down, Nee didn't get paid for about a week. That worried her, especially since she pays for her tuition herself.
Nee said that the Carriage House has been good at finding supplemental work opportunities for students, but aspects of it, especially during the pandemic, are uncertain.
This job instability, as well as the low wage ,mean that Nee will likely have to look for other employment opportunities as she looks to move off-campus next year.
Chatham is currently working on a new payroll system, according to Hoerster, that would allow employees to preemptively take out their worked-hours ahead of their paycheck. This process would not create additional responsibilities for the Payroll Office.
The new system, Dayforce, would be able to be accessed through the mobile app, DayForce Wallet. 
The business office began working on this new system with student employment, HR and ITS remotely last summer, and currently is still working through challenges. 
There is no current estimate as to when this new system will be rolled out. However, Hoerster said that once students are put into the system, Dayforce would be rolled out to everyone simultaneously, rather than to faculty and/or staff first. 
Career Development is also developing a student employee satisfaction survey, which is set to be administered early spring. In it, students may be asked questions regarding why they choose to work on campus and how they believe student employment was handled during the pandemic. 
If past or current student employees want to talk about their student employment experience for a future story, they can reach out to Gena Carter at her Chatham email.