Going to school with COVID-19: Testing and the waiting game
In fall 2020, Phebe Kimble '24 got COVID-19 ahead of Thanksgiving break. University policy has since changed, but Kimble said her experience was confusing and frustrating.
This is Part 1 of a 3-part series on Phebe Kimble's '24 COVID-19 experience. Part 2 details Kimble's experience in quarantine and going to class post-COVID.  Part 3 discusses how Kimble is doing today, and what she and another post-COVID student think Chatham can do to improve. 
---
The pandemic has altered lives and forever shaped students' college experience. That experience is particularly challenging for those suffering from "post-acute sequelae of COVID-19," or the COVID-19 long-haulers. These people suffer from prolonged COVID-symptoms four to eight weeks after their initial infection, despite no longer being contagious.
Phebe Kimble '24 got COVID-19 last fall in the time leading up to Thanksgiving break. Her symptoms were flu-like and mild at first, but they eventually developed into severe migraines, body aches and fatigue — symptoms that are still present today, almost a full year later.
"I was shocked at the way [Chatham] handled [my case]," Kimble said. "I don't want to say that I was disappointed because I don't think I had any expectations to begin with. But I was just shocked."
After she tested positive, Kimble had difficulty finding campus resources and navigating her situation. She had a less-than-ideal experience quarantining on campus, and she has struggled to keep up with her assignments for almost a year. 
As Kimble tries to pursue her education with the aftereffects of COVID-19, she believes that there are still things Chatham can do better to support its students.
As Kimble awaited results, she was instructed to 'do things like normal'
According to Kimble, scheduling a COVID-19 test at Chatham was an easy process. Currently, students can schedule one online, and testing is available from 8 a.m. to noon Mondays through Fridays.
Kimble started showing symptoms over a weekend, so she had to wait until Monday to be tested.
"I didn't know where else to get tested [in Pittsburgh]," she said. Because Kimble was feeling symptoms, she also didn't want to get on a bus or walk around the city near other people.
According to Annette Muller, Chatham's nurse practitioner, the University received PCR tests from the county late last October; before that, it sent students off campus for PCR tests. 
Muller said that Chatham's policy is to test students with a PCR test if they are exposed to COVID but not experiencing symptoms; symptomatic but had a negative rapid antigen test or asymptomatic but had a positive rapid test. 
The PCR tests generally take two to five days for results to come back. This molecular test is more accurate than the rapid antigen tests. 
 Kimble said that, when she went to health services in November, she was not offered a rapid test. Instead, she and her roommate only got PCR-tests and had to wait three days to get their results.
 "When we were waiting for our test results, [Health Services personnel] just told us to do things like normal, just don't go to class," Kimble said.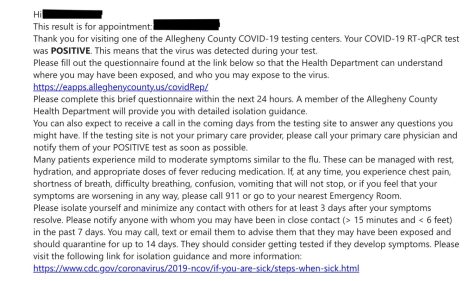 Kimble was still allowed to get food from Anderson Dining Hall.
"It made me incredibly nervous," Kimble said. "At the time, [Anderson] was the only place that you would see more than 10 people in the room. [It was] the most populated place on campus, and we were allowed to go there. It just didn't feel right.
 "We asked them if there was a way that we could get food delivered from Anderson," Kimble continued, "which I know is a lot to ask, but I didn't want to give people COVID."
When that option wasn't available, Kimble said she and her roommate ate what they had in their dorm or got contactless delivery from off campus.
When Kimble's test result finally came back, it was from the lab that conducted her test, not Chatham, Kimble said. She had to inform the University that she was positive, despite being tested on campus.
For students tested on campus, Muller said that she has access to Curative's — Chatham's affiliated testing company – information as an administrator. She checks the account every day, but students can be notified via email by Curative before Muller checks that account. Test results can be emailed out to students at any time, day or night.
It is in violation of the University's Honor Code to not report a test result from on-campus or off-campus testing sites. Since Chatham does not get alerted for off-campus tests, it is the student's responsibility to report that information.
If students do not report a test, they may undergo disciplinary action, as detailed in the Honor Code. Students can report their COVID-19 test results through an online form.
Chatham's updated COVID-19 policies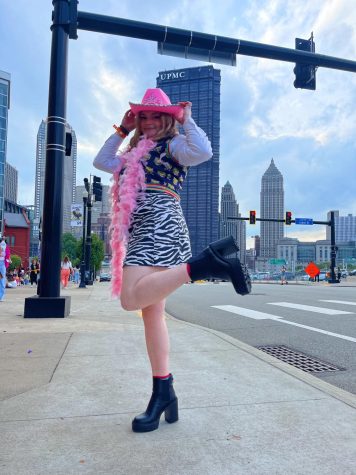 Today, Chatham's policy has changed due to the majority of campus being vaccinated. The University's policies stem from weekly meetings with health officials and other universities.  
Unvaccinated, close-contact students have to quarantine for 10 days and monitor their health. Unvaccinated students are also tested twice a week.
If students are identified as a close contact but are vaccinated, they do not need to quarantine. Instead, they must monitor their health, wear a mask in public and be tested three to five days after their exposure date. If they become symptomatic, students are asked to isolate.
Vaccinated, symptomatic students are now given rapid tests and also given a PCR test. In that waiting period, students can still leave their room and go get food. 
It is only when they formally test positive that they are required to quarantine. The number of days a student is in quarantine depends on their date of exposure.
Students tested on-campus are now immediately told that they test positive if they receive a rapid test. Students are also given instructions verbally and through email as to what they need to do.
The rapid antigen test that Chatham currently has is more sensitive than the one they had last fall. But, "If someone comes to us and … is a close contact and has no symptoms, the best thing is a PCR [test]," Muller said.