A look back at Chatham's Student Holiday Market
The Student Holiday Art Market is slowly becoming another one of Chatham University's many traditions. Originally started by Chatham graduate Jesse Solomon, the Student Holiday Art Market provides Chatham students the ability to sell anything, including photography, jewelry, clothing and 2D art. Now since Solomon has graduated, Chatham`s literary magazine, The Minor Bird, has continued the event. 
Abbi Knuess, editor-in-chief of the Minor Bird, explains that the goals of the art market is to "encourage students to shop local, support student artists and revitalize the art and literary community at Chatham." 
With this in mind, the art market changed locations from the third floor of the Art and Design Center to the Carriage House to promote inclusivity and accessibility for students who otherwise would not have classes in the ADC.
"We want people to see how much talent is in the Chatham community," explained Kneuss. "I hope people can see our dedication." 
The Student Holiday Art Market had no shortage of support this year from the Chatham community. Vendors consisted of digital artists, photographers, jewelers and graphic designers. Jorie Meil '24, a jewelry vendor, explained that selling her work was another way to give vintage jewelry elements life again.
"I started making jewelry over the summer with my grandma`s old pieces," Meil said. "I really enjoy creating."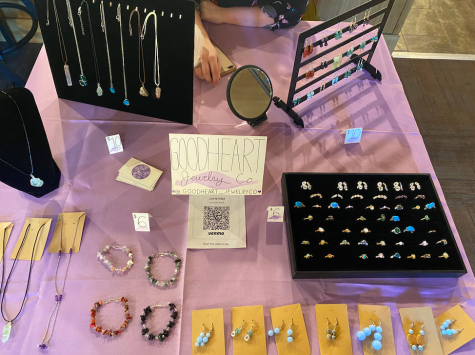 If you are interested in upcycled or crystal pieces, you can check out Meil's Instagram @goodheart_jewelryco where her Etsy page is also linked.
If you are in the market for print highlighting the beauty of the city around us, student photographer Katelyn Nee '23 was also at the market with some nature-based snapshots. Nee, like other Chatham students, loves the scenery of Pittsburgh. 
"I like walking to different places and finding something that catches my eye. I will also return to spots to see if I can capture anything different," Nee said. 
Working with photography for six years, Nee explains that she never tries to edit her photos too heavily, as to not take away from its natural essence. Unlike other media, Nee says that photography gives nostalgia like no other. If you`re interested in viewing Nee's prints, you can visit her Instagram @Katelynanee. 
The Student Holiday Art Market also makes room for former Chatham students, like Walker Orner. Orner, a digital artist, produces portraits from TV shows and other pop culture, as well as his own scenes.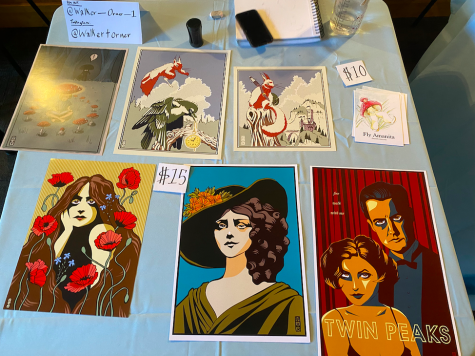 "I get my inspiration from Pinterest, picture books and other things from the literary world," Orner said.
Starting on paper, Orner adds the finishing details of his work on Illustrator and Photoshop. 
Looking at  his work, they all share similar color values and palettes — making them great to display next to each other. If you are interested in seeing any of Orner's work, you can find him at @walkertorner on Instagram.  
If you didn't get the chance to make it to the art market this semester, don't worry! The Minor Bird is hoping to host another market in the spring. If you want to be a part of any future markets, contact @minorbird_cu. Also, don't forget to submit any and all art or writing to the Minor Bird by Jan. 7 for the opportunity to be published in the next issue.