Remembering chemistry professor Nataliya Myshakina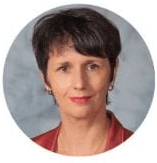 The Chatham University science department is mourning the loss of professor Dr. Nataliya Myshakina, who died Wednesday, Dec. 29, 2021, from cancer.
Many knew Myshakina as either Nataliya or Natasha, depending on their relationship with her. Her formal name was Nataliya, but in Russian, her short name was Natasha. A memorial service was held for her on Friday, Dec. 31, 2021.
She is survived by her daughter, Anastasia, and husband, Evgeniy.
Myshakina, 46, moved to Pittsburgh in 2003 from her hometown of Vladivostok, Russia. She began her teaching career as a lecturer at the University of Pittsburgh in 2008 and became a research assistant professor in November 2009. Myshakina started her job as assistant professor at Chatham in 2013 and was promoted to associate professor in 2020.
During her time at Chatham, she served as the chair of the undergraduate committee, as well on the Diversity, Equity and Inclusion committee.
Many who knew Myshakina described her as intelligent, funny, strong and, overall, as a selfless individual. At Chatham, she made several community impacts, in and out of the classroom.
Kaitlyn (Katy) Reed '22 admired Myshakina for her resilience. 
"I knew she was going through a lot, but for her to just be able to show up and teach her classes while being there for her students no matter what she had going on was something that I looked up to," Reed said. "I really want to be that type of person when I get older and pursue my career."
Emily Shaffer '22 echoed that sentiment. 
"She did her best with the circumstances that she was dealt," Shaffer said. "She explained to us what was going on, but she never really complained about it and was always able to push through."
Others also remember her as being hardworking.
"When I had COVID-19 during her class, she took the time out of her day to have an hour-long Zoom with me to talk about how I was feeling, what was probably going on in my body with the virus, which helped me learn more about biochemistry," said Emerson Ducasse '22.
"She described her workday to me one day," said Chatham professor Dr. Erin Williams-Hatala. "She would leave school to go home, where she would work on assignments and committee work until midnight and woke up at 4 a.m. to come to school since she had a long commute. She was so generous and diligent with her time."
While her classes maintained heavy course material, Myshakina always tried her best to keep her lectures light and funny.
"One of my favorite memories was in Chemistry I where we were learning about cations and anions," recalled Stephanie Spano '22. "She was hysterical because she had a whole slide that was just full of cats, saying you would always remember cations were 'pawwwsitive,' and she thought it was the funniest thing, but it made it stick and I will always remember that."
Outside the classroom, Myshakina was a devoted mother to her daughter, Anastasia, whom she would spend a lot of her time with. She also enjoyed art, knitting and was described as a "classical" person because she liked classical music and literature.
She was also an avid researcher, spending a lot of her time on her research around HIV reverse transcriptase and HIV-1, targeting HIV and looking for a drug that would treat it.
"She's a very prolific researcher, always including students in her research, which she was very adamant about," said Chatham chair of science, Dr. Robert Lettan. "In our department, she was a leader in productive scholars for sure."
Myshakina will be remembered by colleagues for her professionalism in and out of the classroom. She led by example, always ready to step up and help.
"When you lose this friend, you think about the way they made you feel, that emotion, and she definitely has that. Her smile and laugh were infectious, too," Lettan said. "But on the University side of things, we lost a really valuable member at the prime of her career in terms of the contributor and carrying on the ideals of the school."
A Chatham-based memorial service for Myshakina is currently in the planning stage, with both virtual and in-person options. More information will be sent out soon through email to the Chatham community.