Martial arts club wants to give students chance to try something new
Ever wanted to give martial arts a try? There's a Chatham University club for that. 
Savannah (Ava) Meyers '23 created the club to meet other students interested in martial arts – regardless of their experience level. Meyers specializes in at least five martial arts, including judo and Brazilian Jiu Jitsu.
"Martial arts is an inclusive sport, so I want it to be as inclusive as possible. Then, everyone can bring out the best parts of themselves," Meyers said. 
Meyers  tapped her friend Tanner Kim, or Coach Tanner, to help. He has a background in martial arts, as well, and has won medals at the national level. He earned a black belt in both Judo and Taekwondo and has coaching experience from his family's gym in Brentwood.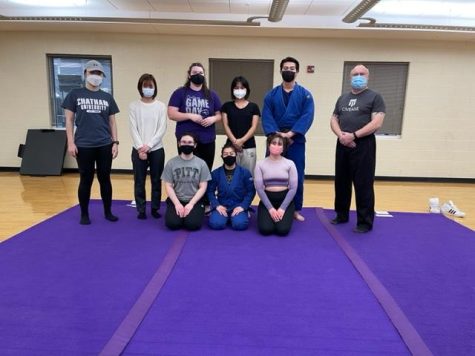 Meyers said that Kim seemed excited to introduce martial arts to a new group of people.
"I want to spread the real spirit of martial arts. By making martial arts more accessible to people, I hope students will take the opportunity to try something new that they have never attempted before," Meyers said.
Within this inclusive environment, she wants students to feel good about who they are and what they are accomplishing. Officers of this club include co-captain Makenzie Galley '24 and treasurer Regis Wintermantel '23. Dr. John Stakeley, a business professor, veteran and highly skilled martial arts practitioner, is the club's faculty adviser. 
"I was immediately impressed with Ava's energy and drive. She has stepped up to the plate," Stakeley said about his first impressions of Meyers.  
In his 33 years of training, Stakeley earned two black belts in American Freestyle Karate and Isshin-Ryu Karate, one brown belt in Kenpo Jiu-Jitsu, two green belts in Judo and has experience in mixed martial arts (MMA). Additionally, at his former university, he was able to create a similar martial arts organization with more than 50 students.
 "This is one of our eventual goals for the club," Stakeley said. "Currently, we are focused on attracting more students and promoting the club in a future event."
Galley added that "martial arts is an even playing field. No matter who you are and where you begin, you can still participate in this fun experience. So, it was a natural progression to join this club and meet others like me."
Stakeley hopes the martial arts club will encourage "servant leadership."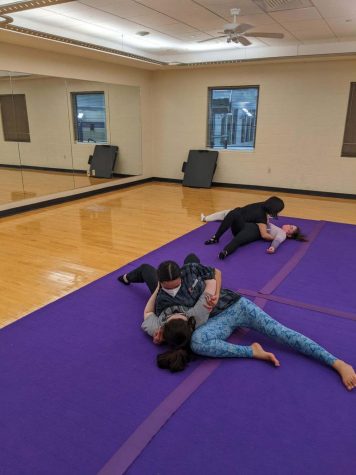 "A dojo can be any place – from a gym to the lawn in the park. An important aspect of martial arts are people coming together in their individual journeys," he said. "People need help in gaining these skills, and by learning and teaching each other, then there is progress for each person's journey."  
For students interested in gaining self-defense skills or bonding with others over this shared interest, the martial arts club has practices from 3-4 p.m. Fridays in the Athletic and Fitness Center dance studio.