Graduate student Alexia Paige-Boyd throws for new records in final year
Hammer, discus and shot put – oh my! These are just a few of the events that graduate student Alexia Paige-Boyd dominates as a member of Chatham's track and field team.
Paige-Boyd began her competitive field career in seventh grade. While playing basketball, soccer and a medley of other sports, she quickly discovered her love for throwing.
"I don't run. It's just not for me. … At my very first track practice, the team was doing a running exercise, and one of the seniors walked up to me and said, The throwers are over there.' I walked to the pit and never looked back," Paige-Boyd said. "As a seventh-grader, I was picked to go to every meet, and I realized I loved doing it. … It's become my whole life."
Paige-Boyd began her collegiate career as an undergraduate student at Heidelberg University in Tiffin, Ohio. She graduated with a degree in environmental science and sustainability and began looking for a graduate school to attend.
"During my senior year, I was casually looking for grad schools that offered studies for sustainability and aquaculture, and then the world shut down," Paige-Boyd said. "I realized that I was losing my senior season and that Chatham was offering me an opportunity to continue what I loved while the other universities that I was considering weren't."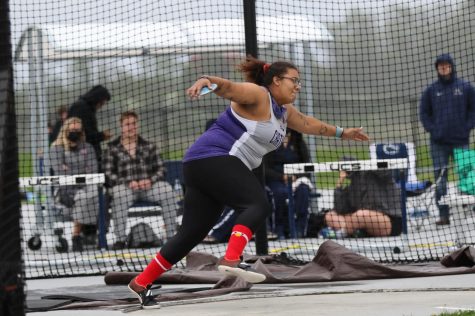 Competing on Chatham's track and field team has given Paige-Boyd the unique experience of watching a smaller program grow. During her first year on the team, there were only three throwers in the program. That number has doubled in a year and continues to increase with incoming recruits.
"During my first year here, there weren't many of us and we were seen as the team that couldn't do much at meets. Now we have more throwers and jumpers for field events, and we walk into competitions with a presence," Paige-Boyd said. "We have the mentality of 'we don't have to be here, we get to be here.'"
Paige-Boyd has a special relationship with each event that she participates in. She currently holds the school record for weight and discus and is ranked second in the President's Athletic Conference for discus.
Throwing "weight is a love-hate relationship. I hate it because it's heavy, but I love it because I'm decent at it and it's rewarding. Hammer, I love throwing hammer," Paige-Boyd said. "You feel like an ancient warrior getting to throw this metal ball on a chain as far as you can, and field is the only place that you're able to do that. I've always loved discus. It's been my top event since junior high."
Paige-Boyd has set her sights on some impressive goals for her final season. She hopes to break 40 meters in both discus and hammer. Her personal records are already measured centimeters above 39 meters, and she can see success in her future. Not only does Paige-Boyd love her events, but she has also expressed her love for the team and culture that she has been a part of at Chatham.
"This is a lot more accepting of a community than where I have thrown before. There's no divide between event groups and everyone gets along really well," Paige-Boyd said. "Our coaches work so hard to help us get better."
After graduating this spring with a master's degree in sustainability with a concentration in ecology, Paige-Boyd hopes to work in urban farming, a program dedicated to providing fresh, healthy and accessible food for city residents. She has the dream of being able to work closely with animals in a zoo or an aquarium. She intends to continue training and competing after she graduates, with the hope of one day reaching the Olympics. Athletes such as Michelle Carter and Gwendolyn Berry serve as personal inspirations to Paige-Boyd.
"I have found someone to train with after Chatham. It doesn't hurt to keep training or stay in shape," Paige-Boyd said. "Seeing women of color being so dominating as athletes and activists is what keeps me going. It means so much seeing women that look like me accomplishing so many things. I want to be able to inspire people like they do."