With deadline for RA applications approaching, students share their experience
Chatham University has started the process of hiring Resident Assistants (RAs) for the 2022-23 academic year. 
The Office of Residence Life is seeking five more RAs, and the deadline to apply is April 22. 
Students who've worked in this role said they've had their share of ups and downs.
Hayden Acker '24, an RA for Tower A in the Chatham Apartments, is leaving the position due to roommate requirements. He said the social environment is one of the benefits of the position. 
"Helping people out, meeting new people, helping my residents out, it makes me talk to people that I wouldn't normally talk to and I enjoy that," Acker said. 
Kayla Taylor '22, an RA for Fickes Hall who is in her last semester at Chatham, echoed that sentiment.
"It's really amazing to meet new people and build those close relationships. RAs have the most insight into what really happens on campus with students," she said. 
RAs are provided with free housing and a textbook scholarship that increases the longer the RAs stay in the position.
According to the 2022-23 New RA Applicant Resource Guide on the Chatham website, RAs are required to limit additional employment to no more than 10 hours, on or off campus.
"It's like the best job you can get on campus in terms of compensation," Acker said. 
Taylor, however, argued that at times the pay didn't seem like it was enough.
"I think RAs are grossly undercompensated," she said. "Last year was the first year where I felt like 'OK, this isn't terrible.' We had free meal plans as well as free housing." 
Associate Director of Residence Life Angela Delfine-Mechler noted that this was specific to the fall 2021 semester and will not continue. 
"The meal plan was included as compensation due to the additional responsibilities and stressors of the pandemic," she said. "Right now, we are not able to offer that to our students."
Chatham RAs are expected to be on call once a week from 8 p.m. to 8 a.m., as well as for one weekend a month – although these hours depend on staffing size, Delfine-Mechler said. Additionally, they must keep an on-call log that summarizes every night spent on-call.
RAs do administrative work and attend staff meetings with their supervisor, the graduate residence director. They're also responsible for designing monthly decorative bulletin boards, which Taylor said is a frustrating job.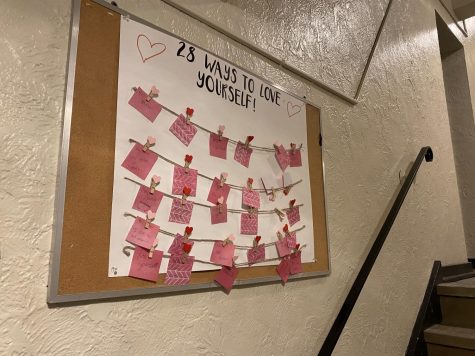 "We also have to make bulletin boards, and it's exhausting and tedious, and honestly the students tear them down," Taylor said, "but some students really appreciate them and laugh at the jokes and memes you put up."
To prepare for the responsibilities of the job, incoming RAs are required to complete two training sessions and a variety of online training modules prior to the start of their work. 
RAs are also required to take IND245: Fostering Inclusive Communities in Residential Settings in their first fall semester as an RA. The course teaches students the skills to develop a positive community in their residence halls and is included in the student's tuition, according to Delfine-Mechler.
Acker said he felt the training was inadequate. 
"You feel like they hire you and kind of just put you off to the side," Acker said. "I think I had one training day. I luckily haven't had to deal with anything, but if I do have to deal with anything, I usually have to call someone because I don't know what to do because they didn't invest a lot of time into me."
Taylor said she felt some of the limitations she experienced were due to the pandemic and the need to train over Zoom.
"The trainings that were really beneficial to me were not Zoom-oriented," she said.
Delfine-Mechler said that some RAs have left their positions prior to graduation.
"I will say some of our students have made the decision not to continue as RAs," Delfine-Mechler said. "If a student needs to step away from a student leadership position or wants to live off campus and have that experience, they need to do what is best for themselves."
For those considering applying to be an RA, Taylor said "there are so many new faces in Residence Life, and people are so open to change and creating a better Residence Life community, which I think means it's the perfect time to make the system better. It's a prime opportunity to impact the campus and shape it the way you want.
For those interested in becoming an RA, applications can be found on Chatham's website. Contact [email protected] with any questions.