Neighborhood happenings: A Fair in the Park celebrates local artists
Three artists share experiences from annual art fair.
Despite gray skies and scattered showers, Mellon Park was bustling on Sunday, Sept. 12, for the third and final day of A Fair in the Park. The event drew a crowd of local residents eager to brighten a gloomy day with exciting work from the 85 featured artisans and craftspeople.
Located on the corner of Fifth and Shady avenues in Shadyside, Mellon Park has been home to the fair for more than 50 years. A Fair in the Park, put on by the Craftsmen's Guild of Pittsburgh,  happens annually for three days in late summer. The Guild includes 95 artists who seek "to preserve excellence in craftsmanship and artistry" and remain "strongly dedicated to education and mentoring in the arts community."
I was introduced to A Fair in the Park last year as a sophomore Chatham University student. I was wowed by the featured artists, all working with diverse 2-D and 3-D mediums. I visited the fair three separate times in 2021 and still felt I had not seen everything. This, I believe, is what makes A Fair in the Park special. Like the best works of art, one look is not nearly sufficient; every time you return, you notice something you missed the last time.
I returned to the event this year and met three participating artists to get a sense of their experiences:
Joshua Hoffman | Joshua Hoffman Art
Joshua Hoffman is a painter working in oil on wood panels. He made the switch from canvas about a year ago and has not turned back since. Though Hoffman has been painting for upwards of 10 years, he began gearing toward a professional practice – selling and showcasing work – just six months prior.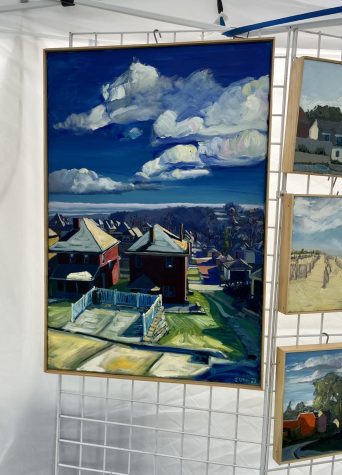 Hoffman's urban landscapes are full of expressive brush strokes, light and color. His process consists of setting up in real life and trying to paint at least one smaller piece each day. Hoffman sums up his inspiration concisely and passionately: "Light and color over location." The painter's works reflect a colorful Pittsburgh with simple beauty to be found around every corner. 
Maria Paul Kyros | Maria Paul Kyros Jewelry
Maria Paul Kyros's jewelry is unforgettable. As I spot her tent, I instantly remember the joy I felt seeing the colors and shapes of her non-precious pieces last year. Since 2000, Kyros has worked primarily with glass beads to create fresh, fun representations of someone who knows jewelry and how to play with it.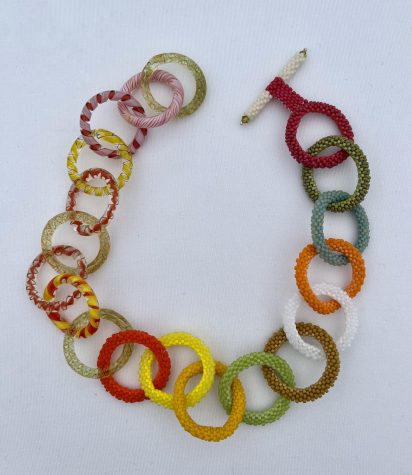 After 13 years at A Fair in the Park, Kyros believes the event is distinguished by the Craftsmen's Guild of Pittsburgh. The long-running event is run by artists for artists. Theirs is a community where needs are understood and voices are represented, she said. With artists showing their own work, this fair is personal and allows for artist-to-artist and artist-to-buyer connections. 
Her favorite piece this year happens to be a collaboration with fellow Guild member and Carnegie Mellon University graduate Michael Mangiafico of Forms in Glass (FiG) Studios. Mangiafico created nine cane glass rings for a necklace when Kyros found herself without components she usually sources from Europe. The result is a cohesive integration of two artists into one piece that happens to be metal-free and allergen-friendly. 
Kathryn Carr | Go Carr Go
In January I bought two of the
coolest greeting cards from Amazing Books and Records in Squirrel Hill with no idea that they were the work of Kathryn Carr. Carr creates detailed 2-D pieces, including cards, from hand-cut paper silhouettes. She has been at the fair for about 10 years and draws a large crowd with everything from her Pittsburgh-themed messages to her whimsical, story-like pieces. Carr's personal favorite this year is an elegant piece titled "The Bees and the Bleeding Heart." She adds that a crowd favorite is a paper cut of an octopus in a jar.
Carr appreciates the history surrounding the fair, particularly the neighborhood where it takes place. Because of how well-run the fair is and the high quality of the work featured, A Fair in the Park is a must-see event and not simply another market. Carr says she's met many people who grew up coming to the fair and now attend with their own kids. A Fair in the Park is an integral part of Shadyside and Pittsburgh history.