Lightning Rod: Sleeping Witch & Saturn
The Lightning Rod series showcases Pittsburgh bands performing in the steel city.
Inspired by Joy Division and Talking Heads, Sleeping Witch & Saturn carries a complex intensity that holds their audience for one hell of a show. I was fortunate enough to attend their release show for "The Divine Madness of Spring", their debut album. On Friday, Sept. 30, 2022, Sleeping Witch & Saturn performed at Thunderbird Café and Music Hall in Lawrenceville, quite the intimate venue for such a personal show.
About the band
The band is composed of Matt Vituccio playing guitar and vocals, Anna Shaw on bass, Rowdy Kanarek playing synth and guitar, and Alex Nelson on drums. The group formed in 2017 over Facebook, and the other members were admirers of Vituccio. 
When the group was formed, it made a point to be an inclusive platform within the Pittsburgh music scene.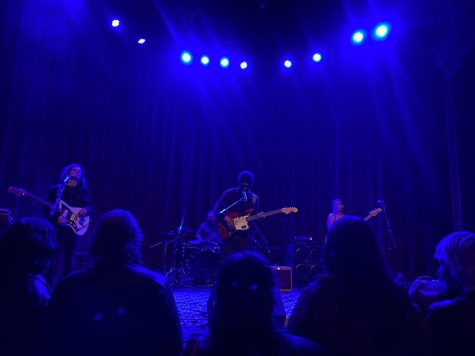 Shaw felt as if they did not have the same opportunities as cisgender boys growing up and wanting to learn music.  
"This band was my first opportunity to [play music and get into the scene],"  Shaw said. "You know there have been a lot of shows in which I feel like people talk to everyone but me… it has been kind of a lonely experience. I think being the person who's not a man in a band is 'eyes are on you' in a certain way." 
To make shows more accessible to everybody, Shaw intentionally books the band's shows at accessible venues.
As for the frontman, Vituccio he faced isolation with being one of the only black people in punk scenes growing up. 
"There is kind of a level of 'will I be accepted? How are people looking at me?'" 
Sleeping Witch & Saturn aims for ethical performance and diversity in their shows as a band.
"I've had people that are not men come up to me and tell me 'you make me want to learn how to play bass or feel like I can learn,'" Shaw said.  
This sentiment comes out in their music.
Meaningful music
Their main single off of "The Divine Madness of Spring" is called "Knife." It's a piece about not feeling like yourself and the guilt and shame that comes with it. It reflects on the aftermath of what it's like to not act like a different person. Similar to the single, much of the album talks about mental health and guilt. During their creative process, the music normally forms through jam sessions, and that was how most of the album came to fruition.
Sleeping Witch & Saturn hoped for a show that captured the audience and made them feel welcome. They hoped that their music resonated with the people and it most certainly did. Every person in that crowd held on until the very last note played.
Sleeping Witch & Saturn feels that music is a way to connect with each other and the audience. 
"You can make connections with people that you really can't with anything else," said Nelson.  
Music is a universal yet diverse art form unlike anything in the world. We are able to evoke emotions and tell stories that otherwise may not be communicated. With a band like Sleeping Witch & Saturn, it is evident through their songwriting how passionate they are about music. Once again, this was channeled in their performance.
The first opening act was Le Siren (they/them), a solo performer that channels desperation through their melodic songwriting. The name was inspired by the Haitian goddess of love, intuition, and the sea. However, they chose the masculine French pronoun "le" alongside the feminine "siren." The two paired together symbolize gender fluidity and divinity.  
Le Siren's music discusses mental illness and depression, and they featured an unreleased song about their relationship with their husband.  It was a heartfelt piece about the dreams the two shared before they ever met in person.  Closing out the show was a cover of My Chemical Romance's "I Don't Love You," and they teased another concert this Halloween. It's said to be a My Chemical Romance cover concert featuring Rowdy Kanarek from Sleeping Witch & Saturn.
Rex Tycoon was the second opening act. They are an indie rock group focused on spoken word lyrics with heavy music breaks. I particularly noticed their most recent single "Bad Habits." It was an internal monologue courtesy of frontman Austin Reesman (he/him) recalling several bad habits and anxieties he faces. Rex Tycoon is a highly guitar-driven band, and they notably have quick transitions from strong, moving rock to a more gentle storytelling style. Their next show is Friday, Oct. 14 at Preserving Underground.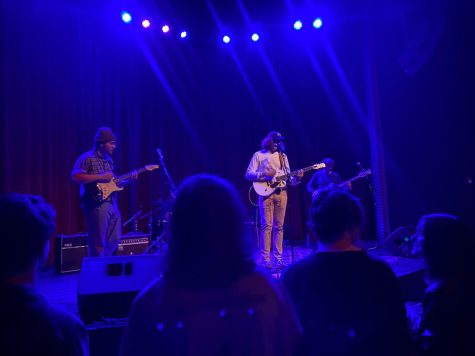 Finally, Sleeping Witch & Saturn took the stage. By that time, the Thunderbird Café was packed, and the audience had their own story to tell. From the opening song to their closing encore, Sleeping Witch & Saturn gave one of the most intense performances I had ever seen. Vituccio is a highly introspective performer, he really thinks through his lyrics as he sings, and it's a thought-provoking perspective as an observer. Their songs are lyrically powerful, and very few concerts have made me get lost in their world as much as this show. The crowd knew the songs, and they even demanded an encore at the end. I was in shock at the community that Sleeping Witch & Saturn have created for themselves.
In general, I found this show to be one of a kind. The energy held in the venue is unmatched and I cannot wait to write here again. If you've never been to the Thunderbird Café and Music Hall, their upcoming performances are linked [here] https://thunderbirdmusichall.com/ . If you enjoy post-punk and new-wave music, go ahead and give Sleeping Witch & Saturn a listen. "The Divine Madness of Spring" is a unique exploration of the psyche. No matter who's listening, I think it's worth your time to check them out.
Look into your local music scene. Scroll through Spotify and Instagram. Don't be afraid to listen to something new. Who knows, you might discover something new you love.