Lightning Rod: Water Trash
The Lightning Rod series showcases Pittsburgh bands performing in the steel city.
About the band
When I first heard the name "Water Trash" I was confused to say the least. The offbeat style characteristic of their discography was intriguing. Looking around for shows to attend, I was told the place to be on Oct. 14 was, coincidentally, the Water Trash show at Bottlerocket Social Hall. 
Water Trash is composed of: Ryan Hartman singing and playing guitar, Ryan Killen on keys, Cheyenne Raithel on drums, Victor Tonti with bass and Carter Vannoy on guitar and vocals. 
Vannoy and Hartman met around 2008, while the rest met at music school a few years later. Water Trash was officially formed in 2013. The eclectic quintet defines itself as a "Pittsburgh rock and roll club."
"We did the whole 'covering Zeppelin' thing to figure out who we are in life and [now] here we are," Killen said. 
Water Trash began playing basement shows and writing songs on the side. Some of those songs eventually made it onto their first self-titled album, released in 2017. Since then, the group has put out four albums and two EPs.
Spanning a variety of genres, their sound is nearly impossible to pinpoint in the best way possible.
"It's just taking a little bit of everything and whatever we think is cool. There's a lot of weird new-wave-y sh*t that I think most psych-rock bands that we get bottled up with don't really have. You can tell we still like pop music and like to dance," said Hartman.
"We kinda steal from a bunch of rock bands and make it poppier than usual, but also funny," added Vannoy.
They take influence from King Gizzard and the Lizard Wizard, Pink Floyd, The Doors and Osees. On the most recent record, "Trash is Always Greener," the listener can pick up on notes of Pink Floyd's style. However, Water Trash's next album, "Serotonin City," set to release in 2023, is reminiscent of The Doors.
Their album art reflects their psychedelic genre-jumping style. From the hand-drawn covers of their self-titled album and "Pleasure Palace," to the group photographed in trash bags for "Trash is Always Greener," there is no predicting what Water Trash will do next. 
When asked about their aspirations in the music scene, I was given some answers I can only describe as appropriate to the group's nature. Hartman hopes to play in the silver cloud room at the Warhol Museum. Vannoy, who claims to be motivated by coffee and good music, wants to stay prolific and put out a record every year.
The concert
Water Trash took the Bottlerocket stage around 10:30 p.m. They opened the show with their jazz-pop song "Sweet Butane" off of the 2019 EP "Jazz Feet." "The Mission," a tune played later in their show, featured the notorious theremin, giving an electronic feel to the otherwise indie rock piece. 
I was not alone in dancing to their set's catchy beat and synthesized funk. At one point, I let out a laugh after noticing Killen striking the keys with his nose. Water Trash has a distinctly fun and energetic presence. You can really tell that everyone in the band are great friends, and it comes through in their performances.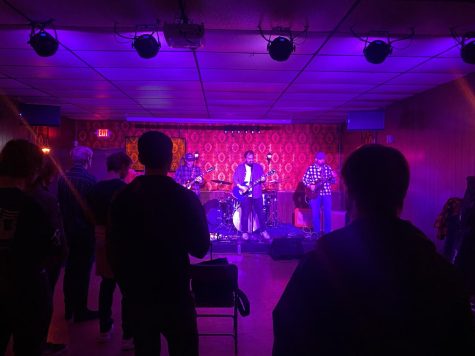 Perfectly summarizing the nature of the group, Hartman said, "We're just a group of friends that do what we do and that's about it."
You can listen to "Trash is Always Greener" here: https://open.spotify.com/album/14Y6x0l7o1wxAY8XozhaRG?si=-350nYzATH6fSgaFGwyP6Q 
And you can follow the group's Instagram here:
https://www.instagram.com/watertrash