November and December CSG brief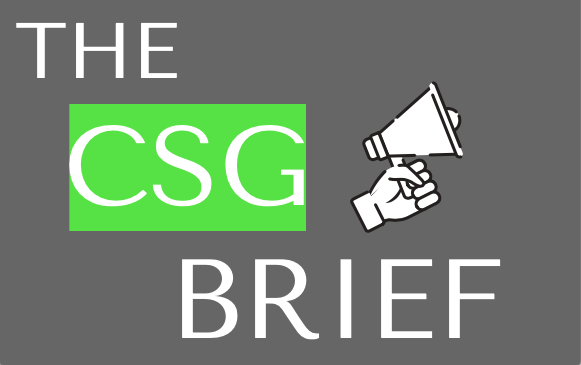 November CSG Brief: 
Nov. 3:
Open Forum: 
Class 2024 Vice President Ashanti Lopez discussed with Nick Corbitt the racial issues at Café Rachel, and she asked members if they have any concerns that she can bring to him. Class 2025 Vice President Nathan Tebay brought up inconsistencies with food which could be a concern for students with allergies. 
Vice President of Student Communications, Elizabeth Ruszoski '23, brought forward issues concerning night classes. For example, there are some professors who cancel multiple meetings and do not provide proper educational assignments or test material. Dean of Students, Chris Purcell, stated that these concerns should be brought to the chair of the department. 
Nov. 7: 
Unfinished Business
CSG members discussed the training for LLC residents. Executive Vice President Leo Liotta '23 stated that making the training mandatory could make the residents less engaged about learning from them because it seems like a punishment rather than an opportunity to learn. Additionally, they mentioned that the transgender community may become tokenized for educational purposes, especially if a non-transgender person is teaching the course. Not speaking as a staff of resident life, Vice President of Communications Elizabeth Roszkowski '23 stated that these types of programs could be beneficial because some activities are not entirely educational like pumpkin painting.
Open Forum
Class 2024 President Sophia Boyle and Vice President Ashanti Lopez suggested to Class 2025 Treasurer and Head of the Academic Auditing Committee, Aiden Bobik, that the Academic Auditing committee should expand its duties to the interdisciplinary degree program issues because it falls under academics. Bobik stated that these issues cannot be addressed by the committee because it is an ad-hoc committee which means it is temporary committee to deal with unreasonable assignments that professors impose on students. 
Boyle '24, Class Representative Anna Betar '25, Liotta,  Executive President of Diversity, Equity, and Inclusion Melissa Redding '23 recommended that there should be an amendment to the constitution to include an Academic committee that could expand upon more academic issues like homework being assigned over break. Then, the Academic auditing committee can be a sub-committee within it to address unreasonable assignments. 
November 17: Meeting with Nick Corbett to Represent Parkhurst
Inconsistency with Food Quality: Why has the food quality decreased as the semester has gone by?
Corbett stated that he had not heard about poor food quality. He said he has checked the QR scans, and he has seen compliments. Finally, he suggested that if there are concerns or complaints to scan the QR codes on the napkin holders at the tables so that he can address the issues by finding consistent responses. 
Inconsistencies with Listed Calories: Who decides the caloric value of these items?
Corbett stated that Pankhurst staff does not change the caloric value. The recipes are sent by the company who decides the calories. Once they receive the recipes, they have a nutritionist look over the recipes. Also, he stated that he could recommend the company that is responsible for the sushi if they can list the calories for it. 
Get-Mobile App: Can there be an Increased Variety of Preordered Material?: 
Corbett stated that they wanted to combat Covid-19 Concerns, but there may be less mobile ordering because they do not want to take-away the dining experience in Anderson. Also, they do want to provide variety, but there are limitations such as how many people would order that food item because they do not want to waste resources or staffs' hours for a product no one wants.
Vegetarian Options: Will there be other meat substitutes besides rather than just Boca Burgers:
Corbett stated that the head chef is looking into options. 
Kosher Options: Why do we not have kosher options when we have a high Jewish population?: 
Corbett said that they do not have a kosher kitchen, but he suggested that they could collaborate with a kosher corporation. 
Extended Breakfast Time: Could breakfast be extended to 10:30 a.m. to account for students that have morning classes around that time?: 
Corbett suggested that it could be incorporated, but there needs to be accommodations for staff preparing for lunch. CSG members suggested that the omelet bar can be offered because it is a fast option for students to get breakfast, and staff to prepare for lunch. Also, the waffle iron, fruits, and cereal can still be available for students to take. students needing to go and staff preparing for lunch. 
To-Go Breakfast Items: Can there be more options besides the bagel, fruit, and juice option?: 
Corbett admitted that the lack of to-go breakfast items is an operational error. However, it is difficult to implement a breakfast sandwich due to this semester's turnover rate. If things are fixed, he mentioned that would make a breakfast sandwich, fruit, and juice combination. Also, he would create lunch and dinner to-go options that come with juice and salad. 
Meal Swipes: Can we start utilizing options for students to just go into the Anderson if they do not use a meal sweep?: 
Dean Purcell said that is an issue to allow students that do not have meal swipes to go into Anderson because there have been instances when some students still get food even if they say they are not going to get any. "It is not fair to Parkhurst staff to be in a position where students lie to them," Purcell stated. Also, he said that if there are more students that are eating food without using their meal plan, then that can drive up the price for the students that do use their meal plan for food. 
Café Rachel Prices: Can we stop charging extra for dairy free milk? 
Corbett stated that the prices that we have are like Coffee Tree Roaster program, so the higher prices are meant to cover the cost of the more expensive product. 
Discrimination issues in Parkhurst: Where are we in resolving issues about discrimination in Anderson and Café Rachel?
Corbett stated that they will be hosting DEI training on a quarterly basis. Additionally, he stated that there will be a cashier information list with the pricing of all the items for the cashier to correctly ring out items. Once again, he emphasized students scan the QR codes to report any incidents to address them. 
Appointments and Resignations:
Maggie Vargo '25 was appointed as the Class 2025 Representative.
Savannah Carusso '26 resigned as the Class 2026 Treasurer. 
December 1st: 
Officer Reports:
Ruszoski '23 discussed the following issues brought to their attention in the Town Hall events: a student said that they were hit by an intoxicated driver and the police were unconcerned, there needs to be more DEI resources for transgender persons and African American women dealing with microaggressions from professors or students, concerns that CSG is not representing BIPOC students, and that period products are not routinely stocked. 
Unfinished Business:
CSG members decided that the Academic Auditing ad-hoc committee would become a standing committee and be referred to as the Academic Advocacy committee.
 Additionally, Class 2025 Treasurer Aidan Bobik resigned as Committee Chair of the Academic Auditing committee, and Class 2026 President Morgan Rapsky and Betar became Chair and Co-Chair of the committee. 
Class Reports:
Rapsky requested CSG members for an additional $110. 29 to pay for 100 reusable cups. Due to not hearing back from the Green Fund, the class decided to use their budget of $300 and requested an additional $110.29 to pay for the rest. They want to pay for the cups as soon as possible because they want to get them in on time for the start of spring term for its promotion. Class 2025 Vice President Nathan Tebay suggested that to Rapsky '26 to increase the cup amount from 100 to 200, and they could still use their $300 budget and an additional $432.53 can be provided. Additionally, Rapsky '26 announced that there is a vacancy for the Class 2026 treasurer, and an application process will occur from Dec. 8 and end on Dec. 16 
If interested, contact Class 2026 President Morgan Rapsky: [email protected].
Open Forum: 
CSG members discussed the 24/7 accessibility issues on campus such as Anderson's or Eddy theatre's doors not being unlocked to allow students to go the restroom. Additionally, Betar suggested that these and other study areas should be accessible toward students in stressful times like midterms or finals. 
CSG addressed the petition about extending winter break from two weeks to a full month. Students created the petition because they felt that two weeks was an inadequate amount of time to recuperate from the burn-out of finals or spending time with their families or friends. Not speaking as a representative of Residence Life, Ruszoski stated that it is a shorter break for RAs because they cannot leave campus until all students leave, and they must return to campus on Jan. 1. Unfortunately, CSG members stated that it would be difficult to change it now because the academic calendar is already set. However, they said that it is not impossible for it to change in the future.