Records broken by Chatham's track and field team
Recent successes of female student-athletes on the track and field team have caught the Chatham community's eye. Holding a Division III mid-atlantic ranking of 12th place after its most recent meet, the team is humble in its success this season.
The Cougars were ranked 15th in the country earlier in the season, which was the first time the program has ever been nationally ranked.
Head coach of the cross country and track and field teams Eden Bloom has been with the program for four years now and has followed her athletes' journeys through athletics and academics. Her coaching strategy consists of support and encouragement throughout.
"I want our athletes to be happy. … It's a long season so I think it's important that we are cognizant of the track that we train for seven months," Bloom said.
Graduate student Carlee Domke took home first place in the 100-meter hurdles and 400-meter hurdles at the April 5 meet at Grove City. Domke has had an interesting running journey as a competitor on Chatham's track and field team since 2017.
After earning her undergraduate degree from Chatham, Domke enrolled in the graduate program to earn her doctorate in occupational therapy. Although COVID-19 regulations restricted the team's success from meet cancellations, Domke's passion for the sport brought her back onto the team in 2023 to compete in her last semester at Chatham after three years of hesitation.
Since joining the team again, she has beaten personal records she solidified years ago in her undergraduate journey.
Shaving off seconds each time she races in her "bread and butter," the 400-meter hurdles, Domke hopes to hone in on her and her team's racing technique and strives to win the Presidents' Athletic Conference (PAC) Championship.
Committed to Chatham as a basketball player and quickly blending in with the track and field team, Aurielle Brunner '25 is leaving dust in her footsteps.
Balancing a biology concentration and two sports, Brunner holds the first place spot in the PAC for the high and long jump events. During the season, Brunner has been ranked nationally third in long jump, tied for fifth in high jump and 14th in triple jump.
Juggling studies, work and racing, Domke and Brunner are humble and introspective in their success at Chatham. Both athletes recently won PAC weekly honors at the end of March and Brunner won PAC field athlete of the week.
"They're both very similar athletes," Bloom said. "They're very coachable, they ask a lot of good questions, and they work hard at practice. They're both just very inviting people. I think that is one thing that has really been a big difference on our team."
Both competing in the 100-meter relay and 400 relay races, Brunner looks up to Domke as an academ ic and athletic role model.
"I think it's also very inspiring since she's a graduate student getting her doctorate… and she's still finding the time to come and be successful on the track," Brunner said.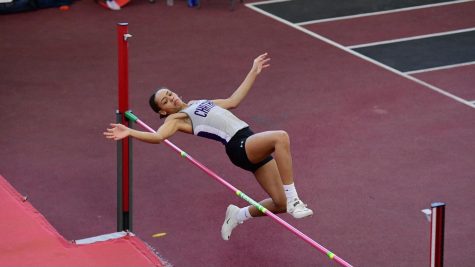 Throughout her years at Chatham, Bloom has watched the team dynamic change. Because of complications from the pandemic, there is a steady split between undergraduate and graduate students on the team.
"I really think there is some beauty to having some age gap on the team. … It provides a lot of opportunities for mentorship and leadership on the team,"  Domke said.
Thanks to its coaching staff, this individual sport focuses on its team dynamic within each race. While the men's 400 relay team broke both its indoor and outdoor records, the women's 400 relay team recently broke its indoor PAC record and is looking forward to its outdoor races.
"They've [coaches] been such a critical piece to building our confidence throughout the week and just helping hone the technique," Domke said. "They've all contributed to that team environment and that atmosphere and made it just really exciting to show up to practice each day."
Clare Erwin '25 earned a title as the all-region selection in cross country and came in sixth place in the PAC conference and Kendall Sirignano '25 recently broke her own record for the outdoor 400-meter race. Athletes must be ranked around 22nd place in the nation to qualify for nationals. The team continues to build upon its team support of each athlete and each race.
"We all try to run back and forth to cheer each other on so I think we're a pretty close team," Brunner said.
Hoping for clear spring weather and a competitive meet, the team's next event is at 3:30 p.m. April 13 at Carnegie Mellon University.
"We figured out what our racing strategy is going to be in the next couple of weeks knowing that we have a lot of quick turnaround," Bloom said. "This will be a good meet for us."