Oscar Singer's daughter tries to help him with the buttons on his sleeve, but he shoos her away as a hush falls over the crowd. Singer rolls up his sleeve to show the letters "KL" tattooed below his wrist, a remnant of his time in Mielic, a labor camp during the Holocaust. 
Singer and his daughter Lee Fischbach came to Chatham University on Sept. 18 for an event hosted by the Holocaust Center of Pittsburgh.
Fischbach informs the crowd that only 2,500 people have the KL tattoo, an abbreviation for the German word for concentration camp. Nazis specifically branded Jewish prisoners to make it easier to find them if they escaped. While they were being tattooed, the prisoners were threatened with German Shepherds. 
Singer tried to get his KL tattoo removed but it was too deep. As a result, his daughter said, he often wears long sleeves to avoid having to tell the story behind the letters. Growing up, her father often had night terrors about the events of the Holocaust that left him screaming. Now, with the help of his daughter, Singer shares his story at educational events.  
Singer was born in Radomyśl Wielki, a small town in the south of Poland in 1925. Around 75% of the townspeople were Jewish, and his family were the kosher butchers of the village. He had three brothers and a little sister. He lived a modest life until the Nazis invaded in September of 1939 when he was just 14. 
His brother, Jacob, was killed by the Nazis. The Nazis brutalized the village and forced the young boys to work, Singer included. One time, the Nazis caught his father praying and assaulted him. 
For years to come, Singer would pray silently. 
In 1941, Singer and his brothers were separated from the rest of their family and brought to Mielic, where they worked on airplanes. Singer, a large man, struggled to work with the small airplane parts and was often accused of being a saboteur by the Nazis.  
One day, the other prisoners told Singer that one of his brothers had been injured and the Nazis had killed him.  
Escape seemed nearly impossible. After a year and a half at Mielic, Singer and his surviving brother were taken to Wieliczka Salt Mine. As he was being taken into the mine, Singer felt certain that the Nazis were going to kill him too. 
After about six weeks, Singer and his brother were brought to Auschwitz. The Nazis selected workers, and the rest were killed. Singer's brother was sent to the nearby Plaszow concentration camp, but Singer was sent to Hujowa Górka, a hill where prisoners were shot. Singer's job was to take the gold from their bodies.  
Eventually, he and his brother were both sent to a tank factory where Singer worked in the kitchen. He would smuggle food to his brother and their cellmates, but he was caught with a potato one day and a Nazi soldier had a dog maul Singer's leg. His leg is still scarred from the attack. 
As the Nazis were losing the war, the Nazis sent Singer and his brother on a death march to Theresienstadt. Some of the villagers they passed would through rocks at them, but some villagers threw potatoes and beets for the prisoners to eat.  
His brother died before they arrived in the Theresienstadt Ghetto.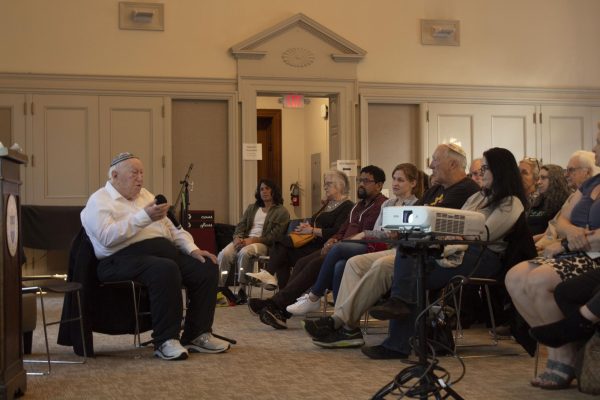 On May 9, 1945, the Russians came and freed Singer and the other prisoners. He and his friend Max went to Max's hometown of Radgoszcz, but Max's house was taken by one of his former employees. Max asked if his father had left him anything, and the former employee came back out with a shotgun and killed Max in front of Singer. 
After that, Singer swore he'd never return to his own hometown. Instead, he went to Landsberg Displaced Persons Camp in Munich. He spent time in Germany and Italy before getting a visa to the United States. 
During the Q&A portion of his talk, an attendee asked him if he had any moments of light or happiness during the Holocaust. His answer was a quiet and resolute no.  
His happiness came in the years after the war. He opened an Italian restaurant in Denver, and Fischbach insisted that no one can make a better pizza than her father. 
He also had a knack for bowling. At a bowling convention, he met another Holocaust survivor who introduced him to Singer's future wife. They had two kids together before she died in 2019.
The years of darkness he spent in labor and concentration camps never destroyed Singer's kindness and love for humanity. Even at his restaurant, he refused to let anyone go hungry, even if they couldn't pay.  
"They can take away your hair, they can take away your food, they can take away your family, but can they take away your humanity?" Fischbach said. "My dad spent the rest of his life not letting them or letting anybody take away his humanity."