Foodie on the Half Shell: Come as you are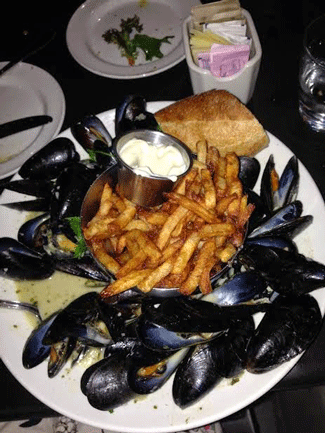 I love Highland Park in Pittsburgh. It is a cozy neighborhood with beautiful houses and a sleepy vibe. It is quiet, and you will most likely see at least five people walking their well behaved dogs. Not only is it lovely, but it is beginning to develop boutiques, cafes, and restaurants. Looking adorable on the corner is our main attraction in Highland Park, which is Park Bruges (not to be mistaken with Point Brugge, their sister).
Park Bruges has its own dining experience different from that of their café sibling. Park serves fresh comfort food with affordable prices. It is family friendly, and the wait is never too long. Come and enjoy their service during brunch, lunch, or dinner. It is no wonder why Park Brugge was voted one of Pittsburgh's best restaurants in Pittsburgh Magazine.
Park Bruges has a very "come as you are" feel to it. You have the option to sit outside when the weather is nice, sit indoors, or sit at their small, but well stocked bar. Their cocktails are inventive, especially their own "Pathogin." It is a twist on a gin and tonic, except their gin is infused with kaffir lime leaves. It gives the entire libation a tart and herbal flavor.
After you try one of their cocktails, start with either their mussels or their Mediterranean Platter. Although these dishes are under "small plates," they are not small. They are big enough to share with about three people.
If you try the pound of mussels ($12), definitely try it with their curry sauce. It is beautifully flavored, with a perfect amount of spice. This comes with four big pieces of crusty baguette.
Their Mediterranean Platter ($14) comes with an array of delicious foods that include hummus, walnut dip, greek salad with salty olives, bread, and warm pita chips. This can be shared with up to four people. It is large and delicious. The last time I was there I even considered making it my entree it was so tasty!
They have all types of food when it comes to considering an entree. If you want fish, order their special of the night or their fresh fish of the day which comes with Moroccan style veggies and couscous ($27).
My mom got their special salmon when she was there, and she had mainly good things to say about it. She mentioned that some of their compositional elements were a little off, and that their fish was a little dry. You need to ask for the salmon cooked medium rare to get that moist piece of fish that you want.
I ordered their Bruges salad with salmon ($16) before, and the fish was cooked to order, and the fresh veggies were delicious. An element that really added pizazz to a simple salad were their "dilly beans." A great component that made the salad taste a little more like a Nicoise salad with the salmon.
The time before that, I ordered the Moules Frites ($18) as an entree. This time it was a pound and a half of mussels that came with crispy french fries. It was so good, but I would have to say the mussels were not properly cleaned during my first experience, which left them gritty. The second time, though, absolutely no grit. I was happy I gave them a second chance.
Another option that you can add as either an appetizer to share or an entree is their Tarte Flambee ($11-14), which is pretty much a flatbread. It is nice and crispy, and there are options to what type of flatbread you can order.