Movie review: 'To All the Boys I've Loved Before'
---
By Reneé Gasbarre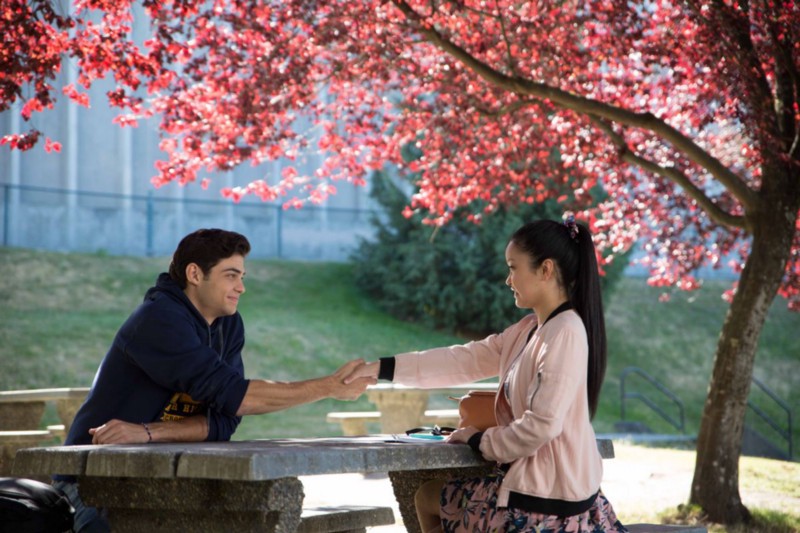 Released this past August, "To All the Boys I've Loved Before" (by director Susan Johnson) is the new Netflix Rom-Com lots of people have been talking about. For those not familiar with it, here's the rundown.
Lara Jean (Lana Condor) is starting her junior year of high school without her older sister, Margot (Janel Parrish), around for the first time. With Margot in college, it's up to Lara Jean to clean up the mess when a box of letters to all of her previous crushes suddenly goes missing. Used to being the quiet book jockey, Lara Jean now has to face her feelings directly after all the boys accidentally receive their letters. There's a lot to unpack here. (Warning: massive spoilers ahead.)
I'm going to rip off the Band-Aid and start with the problems. First question goes to the story's centerpiece: the letters. Each of the five letters are written whenever Lara Jean has an all-consuming crush and she wants to remember how "intense" her emotions are. Now, maybe it's just me, but I try my hardest to forget anything about myself from before 10th grade. Middle school me was embarrassing! The idea that she didn't burn every single one of those letters in disgust doesn't strike me as realistic.
It's also hard to believe that her younger sister, Kitty (Anna Cathcart), is so invested in Lara Jean's love life. It's Kitty who criticizes her sister for being single at 16 and mails the letters out herself in an attempt to force Lara Jean into getting a boyfriend. Kitty is just starting middle school, giving the two a five-year difference between them. Having much younger siblings myself, something so personal and potentially awkward isn't something we've ever discussed. The age gap is too wide to relate, and it doesn't make sense that Kitty is even more anxious for Lara Jean to date than Lara Jean is herself. I understand a little teasing, but this goes a bit too far for me to just accept.
Then there's the real plot. It's wild that Lara Jean decides that, to avoid Margot's ex, Josh (Israel Broussard), from thinking Lara Jean is still in love with him (as his letter clearly states), she kisses one of her other past crushes and current Most Popular Boy in SchoolTM Peter (Noah Centineo) on the race track out of nowhere. She even proceeds to fake-date Peter, all the while ignoring Josh for almost the entire movie. Then the whole fake relationship goes back and forth between a this-is-totally-fake-and-there-are-no-feelings-whatsoever and why-don't-you-realize-I-actually-like-you-for-real on both Peter and Lara Jean's end.
It feels forced, especially when Lara Jean explicitly expresses that she is no longer interested in Peter and hasn't been for some time now. Josh and Lara Jean used to be best friends, as well, so it's a little cruel to almost drop him completely just because she doesn't want to explain that she didn't actually send him the letter. The amount of miscommunication for the sake of drama in this story is over the top.
Despite that, there are several things that this movie did well. The obvious one is the use of an Asian-American protagonist. Though her father, who is white, is the one present in the film, Lara Jean's Korean roots are acknowledged and accepted multiple times throughout. Not once was it acknowledged with the intent to mock or jab at the identity. The inclusion is natural and seamless so that it doesn't feel like it's just about her being Asian-American. Neither Lara Jean or either of her sisters are stereotyped or fetishized at all, and it's refreshing to see non-white characters treated so normally.
In the same vein, let's be grateful for the way Lucas (Trezzo Mahoro), another of Lara Jean's old crushes, is portrayed, as well. Lara Jean is almost unfazed when Lucas tells her he's gay, and she never asks him any weird or invasive questions. The few times he returns to the story are just as casual, with no typical hyper-feminine language or behaviors whatsoever. Like Lara Jean, he is treated like any other person, not just the gay, black guy.
Peter's character is surprising, too. Typically, with this type of popular-teen character, he's depicted as insensitive, immature and somewhat of a jerk. While Peter is still very much a teenage boy, he is much more in touch with his emotions and doesn't flinch away from talking about them with Lara Jean. He puts in visible effort to understand her as an individual, even when they're just beginning their rouse. So rarely do we see male characters behave so shamelessly realistic. He never gets aggressive or physical when he is upset, and he makes an earnest attempt to articulate his thoughts and emotions (for the most part; he is still 16, after all). Not once does this cause his masculinity to be questioned. This is such a wonderful thing to see, and I can't be more overjoyed about it.
Even if the plot isn't all there, the characters absolutely make this movie worth watching. They're real, funny and relatable for anyone who went to a public high school. Rating-wise, I'll have to agree with IMDb's score of 7.4/10. It's still a cheesy Rom-Com, but it's modern and honest in ways we should be demanding from any other story about teens.
"To All the Boys I've Loved Before" is still streaming on Netflix, so check it out at some point between work and classes. It's totally worth it.