---
By Iris Marzolf
From Italian ice and frozen yogurt to ice cream and milkshakes, there are many frozen dessert places to visit near Chatham University's Shadyside campus. This semester, the Communiqué has set out to uncover some you may not know about.
Ice cream in winter? Such a treat may not seem appealing when the temperature is in the single digits. But what about enjoying rich Italian gelato while seated next to a toasty brick oven?
Our first stop on the ice cream crawl was Mercurio's, a cozy Italian restaurant at 5523 Walnut St., in Shadyside. It's about a 10-minute walk from campus or a three-minute drive.
Mercurio's is known for its pizzas — which you can watch being made nearby, depending upon where you're seated — and homemade gelato.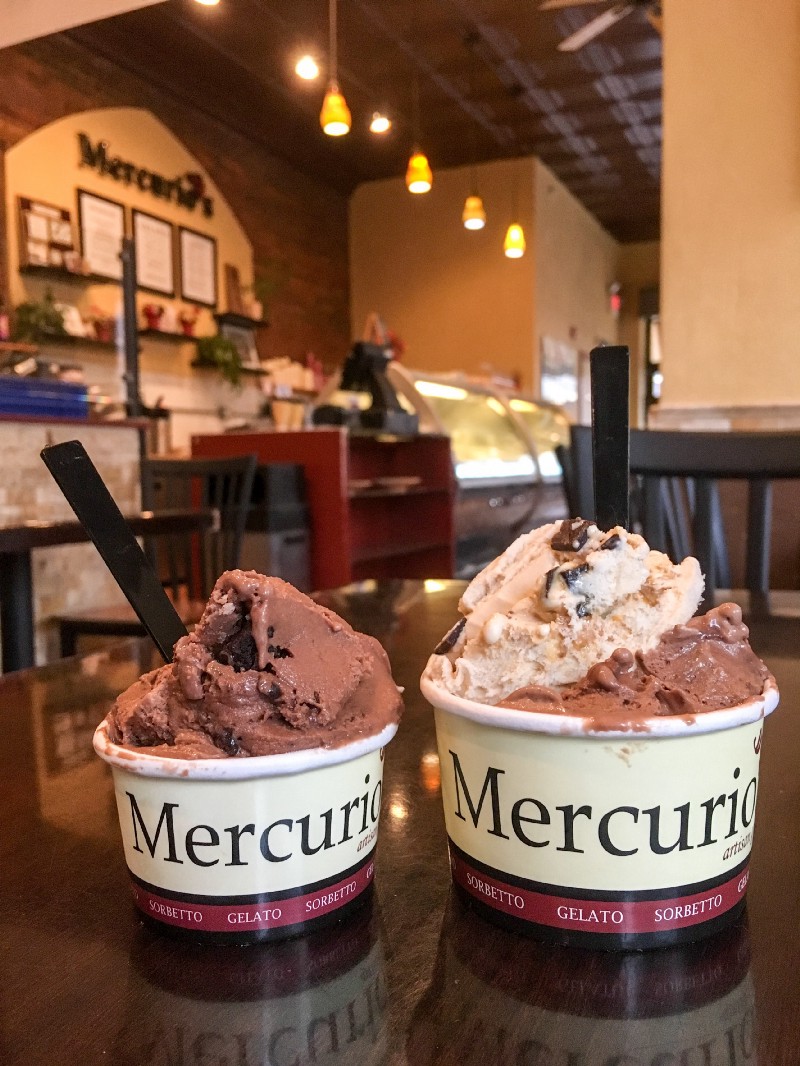 For those unfamiliar with gelato, it's similar to ice cream. The primary differences are that it's lower in fat and silkier in texture. (You could say then that gelato is richer than ice cream, but without the extra calories.)
Mercurio's may not be perceived by many as a go-to place to satisfy your frozen dessert craving, but it has plenty of customers who visit purely for the gelato. There's a divider set up allowing "gelato only" customers to bypass any lines for those waiting for a table and proceed straight to the gelato case.
Mercurio's makes 30 daily flavors that are typically always available, along with several other special flavors that are changed periodically.
We tried the Death by Chocolate, Peanut Butter Cup and Dolce De Leche. For chocolate lovers, the first two flavors were a delicacy — those were our favorites.
A notable distinction between Mercurio's and a more traditional ice cream shop is that the prices are determined by weight. You pick the size you want, the server fills the bowl with gelato and then it is weighed.
A small size was about $4, and a large was about $5.
In comparison to serving sizes at Cold Stone Creamery or other popular ice cream shops, it might seem like you're not getting very much. (The large looks like a small.) However, the quality makes up for it.
Mercurio's gives you a small spoon that helps you to take smaller bites so you can savor the gelato longer. Despite the smaller portions, we were still satisfied.
For those looking to visit a new eatery or enjoy a quality frozen dessert, Mercurio's is an ideal place to go.
There's street parking available and a nearby pay-to-park lot. Restaurant hours are 11 a.m. -10 p.m. Tuesdays through Thursdays. On Fridays and Saturdays, it's open until 11 p.m. Hours on Sundays and Mondays are 1 -9 p.m.
Information: mercuriosgelatopizza.com or 412–621–6220.