---
By Jade Marzolf
Imagine spending the Thanksgiving holiday hiding in a warehouse outside your city, displaced from your home because a raging wildfire burned it down. That's the situation hundreds of people in Paradise, Calif., faced when the Camp Fire forced them to flee their homes in recent weeks.
The Camp Fire in Northern California is the state's deadliest and most destructive wildfire in history. It has decimated entire towns and destroyed approximately more than 150,000 acres of land and 13,500 homes. As of late November, the death toll has reached 88.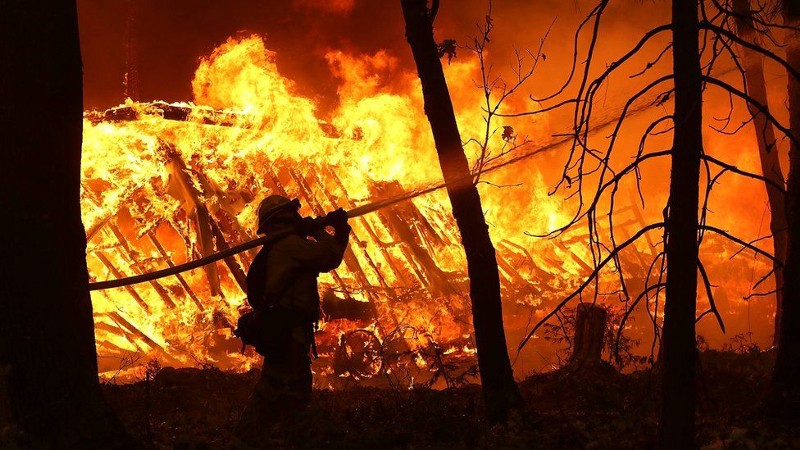 In Southern California, another massive blaze that ignited around the same time as the Camp Fire added to the destruction. The Woolsey Fire burned nearly 97,000 acres and is responsible for multiple deaths. However, the inferno had been declared contained as of Nov. 21.
Ashley Marchant '22, a biology major from Tustin, Calif., has experienced first hand what wildfire evacuations are like.
"I have been evacuated twice, once in 2007 and again just this last fall. In '07, I was only 7 years old and … it was quite a shock," Marchant said. "My job was to take a bin and fill it with clothes and anything else I thought was special to me. I ended up getting sick and crying. … We could see the flames from our backyard."
The second time the Marchant family got an evacuation warning, they were told they had 20 minutes to pack and leave. "We left our house, thinking we might not see it [again]," she said.
While hundreds of volunteers and police officers comb through the devastation in California, people not directly affected by the fires may wonder how they can help.
"As students here at Chatham, we could always fundraise and aid the relief efforts that are currently being enacted," Marchant said.
"I have not personally had to deal with a wildfire, but I know family friends who have lost their homes from previous fires, specifically the one in Santa Rosa last year. I think any form of donations would help like food, clothes or a money fund," said Julie Swedberg '21, a biology major from San Bruno, Calif.
According to the Center for International Disaster Information, sending money is the most efficient way to help during a disaster. Otherwise, volunteers would have to sort through a mountain of donated goods instead of immediately buying them.
If you would like to help, visit the American Red Cross website at redcross.org or the California Community Foundation at www.calfund.org/wildfire-relief-fund to donate to its wildfire relief fund.