Sanger Hall at Chatham University ongoing controversy
---
By Maggie Susa
The Margaret Sanger Lecture Hall at the end of Coolidge Hall has been a hot-button topic on campus for a while. After receiving an undisclosed amount of money as a donation 25 years ago, it was named for the late Margaret Sanger. In addition to being a reproductive rights activist and the founder of Planned Parenthood, she was a eugenicist, a scientist who attempts to breed out qualities of the human race that some deem to be lesser than others. Today, it's a science that's recognized as racist and unethical.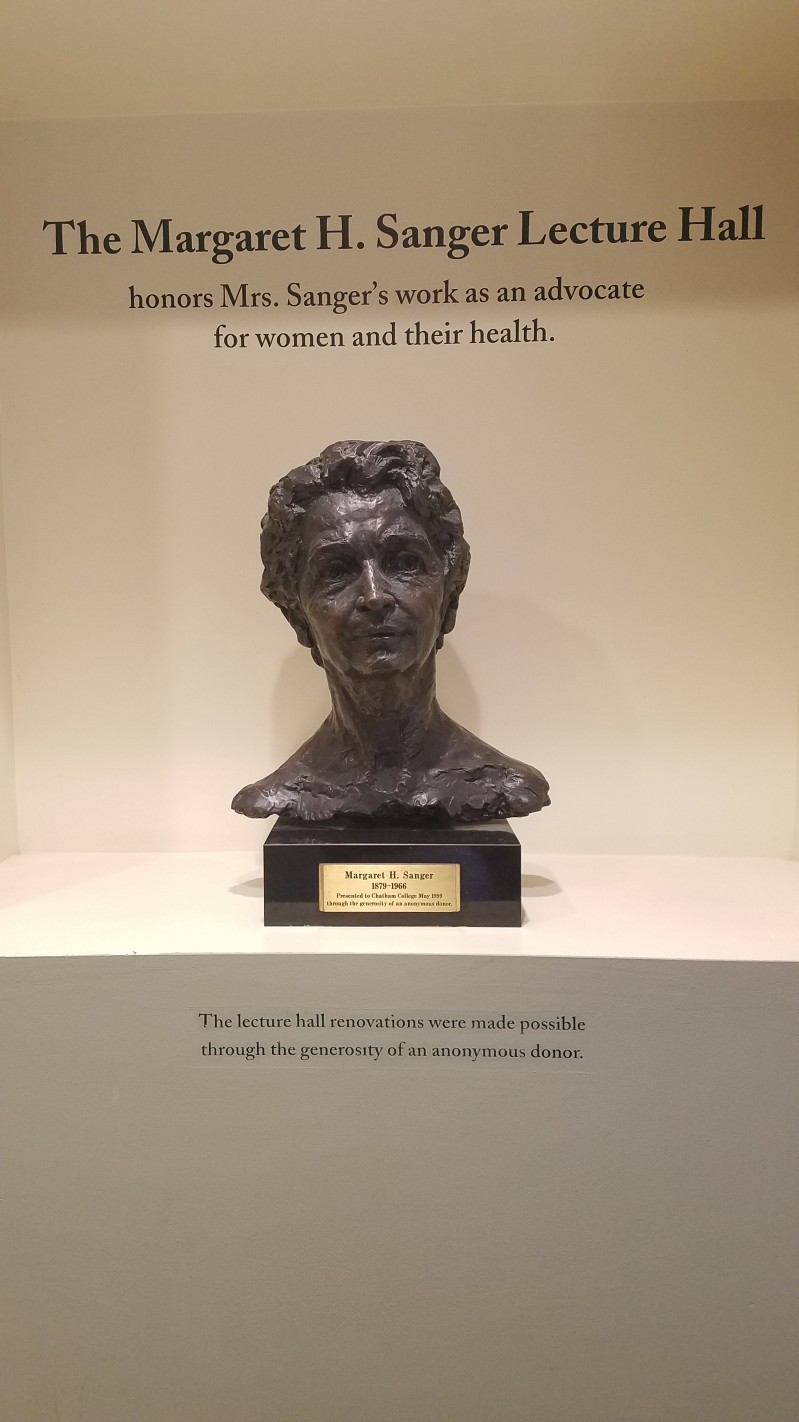 Because of this, many people in the Chatham University community argue that the room's name should be changed.
On Thursday Sept. 12, at the Chatham Student Government (CSG) monthly meeting, President Dr. David Finegold provided a history of the controversy surrounding Sanger Hall. He also outlined four options for dealing with it.
Those options include:
Nothing will change.
Sanger's name will be completely removed from the hall.
The name will not change but will be treated as an "educational opportunity," which means that "historical context is provided on the person and issues."
The name will be changed to The Sanger Hall for Reproductive Rights and there will still be opportunities for education.
Dr. Finegold stated that Option 1 is off the table — something will happen with the hall's name no matter what, he explained.
Option 2 seemed to be the most favored choice among the students who attended the meeting. However, the University would be required to return the money it received to Qualcomm, the company that donated the money. While Dr. Finegold declined to share the amount of money given, he did say that "Chatham does not have that amount of cash readily available."
The organization that the money would go back to has expressed strong anti-immigration views and has given money to President Donald Trump's efforts to build a wall along the Mexican-American border.
According to Dr. Finegold, this organization was new when it donated the money to rename the hall. It also wasn't funding anti-immigration groups and efforts at the time.
In his presentation, Dr. Finegold called Sanger a "flawed hero." While she stood for a lot of things that don't align with Chatham's mission and ideals today, he explained, she still was a powerful advocate for women's reproductive rights.
CSG Executive President Alex Ferrer '20 will represent students' opinions on the issue at the Chatham Committee on Recognition and Memorials (CCRM) meeting. The committee will then vote on a decision that will be turned into a proposal to be presented to the Board of Trustees. The board will ultimately vote on what it feels is the best way to address Sanger Hall.
Ferrer thinks that Option 3 is the best.
"By acknowledging our faults we can build on our strengths," he said.
Ferrer also recognizes that everyone who spoke during the CSG meeting is in favor of Option 2, and he plans to convey that to the CCRM as the student representative.
Students at the meeting were insistent about Option 2 for a number of reasons.
Elissa Ridenour '21 said that Option 4 would still continue to glorify Sanger and what she represents.
"It would be like putting a Band-Aid over a wound," Ridenour said. "We can educate people about Sanger but in another form other than having her name as a hall."
Avery Belenos '20 pointed out that the University should be more intentional about the circumstances under which it receives money.
"Accepting donations like this puts us in the pocket of a corporation," Belenos said.
Multiple people also brought up that students of color, immigrants and LGBTQ+ students have stressed that they don't feel comfortable taking classes in this room or being in there because of Sanger's work with eugenics and many of the hateful comments she said.
Timeline of events surrounding Sanger Hall
An organization run by the Scathe family donated an undisclosed amount of money to Chatham 25 years ago to name the lecture hall after Sanger.
Three years ago, students brought up her controversial past.
In 2016, there was a forum between the Black Student Union, Chatham Student Government, Women's Institute, an expert on Margaret Sanger and any other members of the Chatham community who wished to attend.
The idea to change the name was proposed in 2017.
About seven months ago, the Chatham Committee on Recognition and Memorials (CCRM) was formed to better address this issue. They met multiple times during the summer.
Rachel Rossi '21 was hired during summer 2019 to work under Dr. Lou Martin doing research on Sanger and her controversial work.
During the summer, the class gift of 2018 was added in the form of a mural honoring impactful women from history in the entryway to Sanger Hall.
A Chatham Student Government (CSG) meeting was held Thursday Sept. 12 for Dr. Finegolf to present a history of Sanger Hall and the controversy surrounding it, as well as a variety of possible solutions.
A CCRM meeting was held Monday Sept. 16 so the committee can vote on a decision that will be made into a proposal and presented to the Board of Trustees.
The final decision about what will happen with the hall will be made at the upcoming Board of Trustees meeting.