Little Red Riding Vogue: Balenciaga: the new "Karl Who?"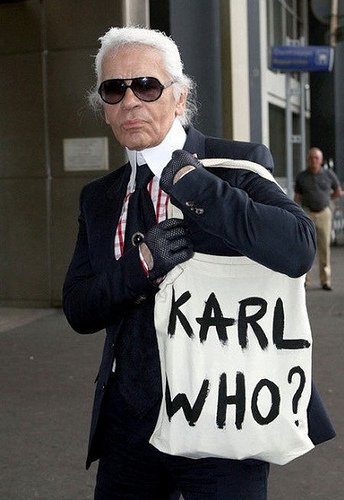 For those of you who haven't seen the season finale of "American Horror Story: Coven", stop reading. Now. Unless of course you want to know what happens. What I'm talking about is Myrtle Snow—the show's patron saint of fashion.
Clearly modeled after fashion's beloved Grace Coddington, former model and creative director of American Vogue magazine, Snow graced "American Horror Story: Coven" with fashion the likes of which Frances Conroy has been denied in the past. In seasons one and two, Conroy was trapped with basically a single outfit throughout. The first season had her stuck in a maid's uniform and the second had her in a black ensemble to represent her character: the angel of death.
Season three, however, gave Conroy the outfits she so greatly deserved. Among my favorite trends were her multiple pairs of Gaspar Gloves—absolutely flawless. But even beyond the fashion she styled, Myrtle Snow was a character that was so deeply rooted in fashion that it came out in her conversations. At one point, Snow claims to have had a relationship with Prince Egon von Fürstenberg, stating that she forgave him for leaving her because he ended up marrying Diane Simone Michelle Halfin.
Snow said, "I had a love like that once. Egon Von Furstenberg. He dumped me, but everything worked out alright in the end. You know why? Because he went on to marry the divine Diane. And without Egon's support, Diane Von Furstenberg never would have created the greatest invention of the century, the wrap dress!"
All of that was of course said in Snow's unforgettable voice, reminiscent of fashion legend Diana Vreeland. In fact, Conroy has said in interviews that Ryan Murphy, the show's creator, asked that she model Snow's voice after Vreeland.
Now that the season has ended, it is impossible to write about Snow and not cover her final words as she burns at the stake for the second—yes, second—time. As she approached the desert setting in a floor-length crimson gown, Cordelia Foxx asked Snow if she had any last words. Snow responded, "Only one…Balenciaga!" And, with that, she burst into flames.
Meanwhile, of course, I was live-tweeting the episode—this scene spawning tweets about the French fashion house, famous for protégés such as Oscar de la Renta and Hubert de Givenchy. Then, to my horror, I received tweets from people who did not seem to know Balenciaga. It was a fashion nightmare.
Founded by Cristóbal Balenciaga, a Spanish designer, Balenciaga is known as one of the greatest fashion houses of all time. Christian Dior once said of Balenciaga, "Haute couture is like an orchestra, whose conductor is Balenciaga. We other couturiers are the musicians and we follow the directions he gives." Coco Chanel said, "Balenciaga is a couturier in the truest sense of the word. Only he is capable of cutting material, assembling a creation, and sewing it by hand. The others are simply fashion designers."
Today Balenciaga is owned by the French multinational company Kering and run by its Creative Director and fashion prodigy, Alexander Wang.
All of this unfamiliarity originally produced horror, but now, in hindsight, I find it resonant of the ongoing fashion joke "Karl Who?". It began with a tote bag from designer Naco-Paris. The bag was a plain tote bag with the phrase "Karl Who?" crudely painted on it. It raised the notion that those unfamiliar with fashion might not immediately know who Lagerfeld was if he were referred to by his first name.
Witty and snarky, the tote bags rose to fame, were picked up by Colette and eventually graduated to t-shirts. Not to mention, Lagerfeld himself began sporting the tote. Both the t-shirt and tote are still available on Naco-Paris' online shop for €65 each.
With all of this in mind, is it time to start producing a line of "Balenciaga Who?"