Chatham Board of Trustees makes final decision on Sanger Hall
Based on a student-drive report and movement, the Board of Trustees decided to remove the bust of Margaret Sanger and treat the situation as an educational experience.
The Chatham University Board ofTrustees voted at a meeting Feb. 14 to accept three recommendations for the future of Sanger Hall proposed by the Chatham Committee on Recognition and Memorials (CCRM).
As part of these recommendations, the room will "retain Margaret Sanger's name but treat it as an education or learning opportunity," according to the CCRM's report.
This means the bust of Sanger will be replaced with text, most likely in the form of a plaque contextualizing her work as a women's activist and her involvement in the eugenics movement, which the University does not condone. The text stenciled on the wall above and below the sculpture will remain as it is as part of the University's agreement with the Colcom Foundation, the lecture hall's donor.
This course of action was selected because it "best acknowledges Sanger's positive principal legacy while presenting an opportunity for Chatham to acknowledge and disavow the negative elements of her past; and presents a learning opportunity for the Chatham community now and in the future," the CCRM report stated.
For years, Chatham students have rallied for the University to rename
the lecture room inside Coolidge Hall because some of Sanger's beliefs don't align with the University's mission statement. In response, Chatham Student Government (CSG) proposed in a bill last fall that Sanger Hall be referred to as Room C-134 on course listings and forms for student meetings. That request was adopted into the CCRM's report.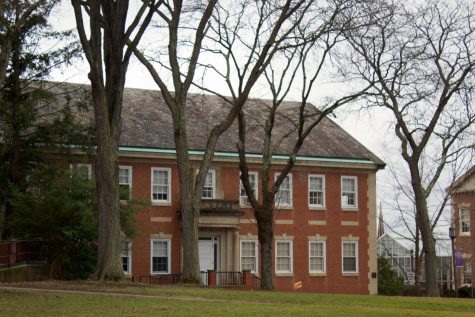 The front entrance of Coolige Hall. Photo by Emily Howe.
Another recommendation accepted in the meeting is that the CCRM's report will be posted on Chatham's website once it's approved by the board for transparency and as an example for other institutions facing similar issues.
In its third proposition, the CCRM recommended Chatham engage members in its community when choosing individuals to honor with memorials in the future to ensure they value diversity and inclusion.
The plan is set to go into place this week.
Related stories:
Sanger Hall donor the Colcom Foundation in discussion with Chatham about renaming room