Vegan Crawl: Adda Coffee & Tea House has great vegan cream cheese and kombucha
Located just a hop and a skip away from Chatham University is a chic, vegan-friendly cafe called Adda Coffee and Tea House.
Adda, located at 200 South Highland Avenue, isn't necessarily widely known among the Pittsburgh vegan community, but the aesthetic and convenience of the location made us curious to take a peek.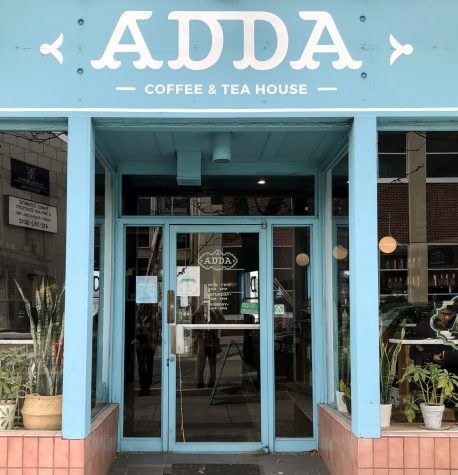 Upon entering, we couldn't help but notice how sustainable the shop was — not only with its choice of cutlery and utensils but also the dining space itself. All the cups, plates and spoons for dining in are reusable, while the cups and spoons for takeout are compostable (the spoons are actually wooden). Instead of plastic chairs, most of the seats are wooden pallets made into benches, paired with floral cushions for comfort.
Though the cafe specializes in internationally sourced coffee and organic teas, it also offers small bites, including bagels, doughnuts and oatmeal. Adda was out of vegan doughnuts when we went, so we decided to go with two plain bagels (because it also was out of other bagel flavors), one berry bowl, a bowl of oatmeal, two wild water kombuchas and a vanilla almond milk latte. Juliette ordered a bagel with Adda's house-made vegan cream cheese, while Jesse opted for almond butter.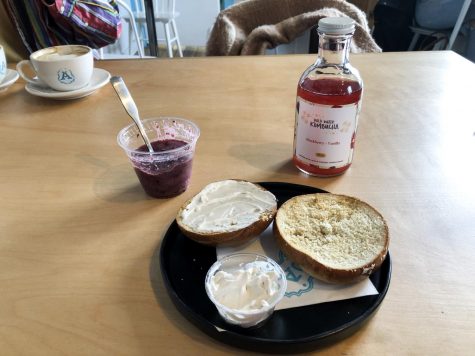 The atmosphere was relaxed and calm, which made it perfect for us to study and work on class assignments while we waited for our order to be ready. The employees were incredibly friendly and were quick to prepare our order. The presentation of our food also was pretty, which made our experience all the more enjoyable.
All the food was delicious, but the real showstoppers were the bagels. They were thick-cut and the vegan cream cheese was deliciously creamy with a hint of nuttiness. The almond butter was a bit thicker and harder to spread, but still a yummy mixture of sweet and salty.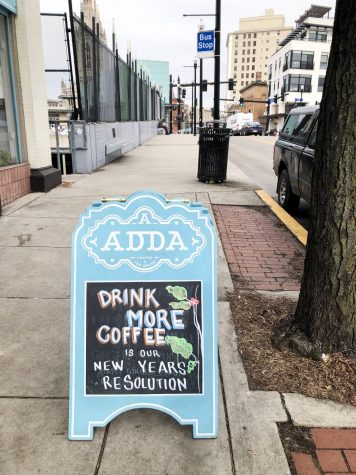 Adda Coffee and Tea House is an affordable and vegan-friendly option for anyone in need of a small bite to eat and a caffeine fix. For more information, give the cafe a call at 412-404-8403 or visit the website addacoffeehouse.com. If you're on the North Side, stop by its other location at 926 Western Avenue.