Chatham lowers operational alert level from 'high' to 'raised,' but guest policy remains limited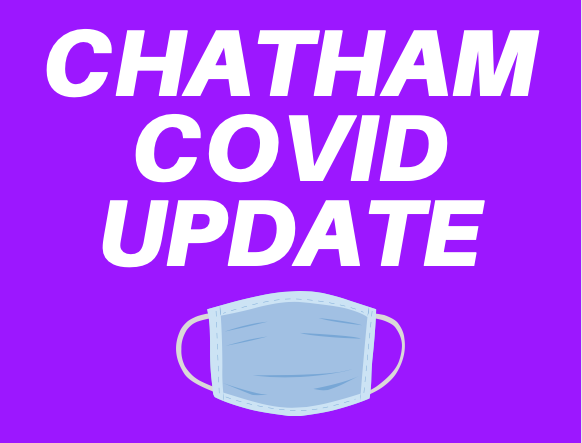 Chatham University announced that it will reduce its operational alert level from "high" back down to "raised" at 5 p.m. Friday and allow professors to return to in-person class delivery on Monday.
The administration announced a week ago a temporary shift to virtual learning and other strict safety measures during the week of Oct. 19 because of a recent spike in positive COVID-19 cases.
The latest decision to lower the operational alert is in response to Chatham's low COVID-19 case count for the week of Oct.18-23 and the associated mitigation measures. These measures included limited student activity, suspension of the shuttles, closures of campus buildings, stricter guest policy restrictions and random sample testing.
News of the decision was sent out in a University-wide email on Friday from President David Finegold, Dean of Students Heather Black and Vice President of Academic Affairs Jenna Templeton.
"While we are pleased that our collective efforts have worked to bend the curve back down, we also believe these past two weeks clearly show that we must not take this virus — and its direct or indirect impact on each other and our community — lightly," the email read.
The only decision to not be relaxed involves the guest policy on campus. Before the alert level was shifted from "raised" to "high," Residence Life started permitting as of Oct. 5 on-campus residents to be guests in other residential buildings. (Previously, resident students were not permitted to visit residential buildings where they did not live.) On Oct.16, that decision was rolled back, and residents were asked to limit activities on campus to essential needs.
Now, that more relaxed guest policy has been indefinitely revoked, and students once again can only visit others who live within their same building.
According to Chatham's COVID Dashboard, as of Oct. 22, the University has only added four new cases of COVID-19 since last week's update. In total, Chatham has reported this semester 45 COVID-19 cases and has conducted 845 tests. It also has recorded 50 self-reported tests from students and employees.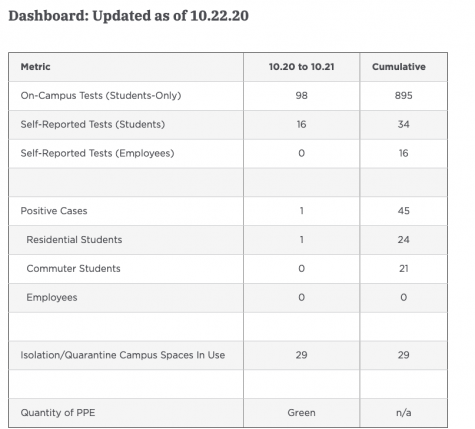 Despite this reduction in the alert level, Chatham stressed in the email that students and employees must continue to follow individual mitigation measures. These measures include staying home if you feel sick, wearing masks, practicing physical distancing, limiting small gatherings, avoiding large gatherings and parties, washing hands frequently and cleaning surfaces.
More highlights from the latest email be found below. The changes will take effect 5 p.m Oct. 23.
Reopening schedule
Saturday, Oct. 24: Campus dining locations resume in-person dining services.
Sunday, Oct. 25: The Athletic and Fitness Center reopens. The Jennie King Mellon Library reopens at 5 p.m.
Monday, Oct. 26: Café Rachel reopens. Shuttle service resumes. Campus events and activities are permitted to resume.
Housing and guest policy
In a separate email sent Friday, Residence Life staff elaborated on current policies and reiterated room occupancy guidelines.
"While we applaud the work so many have done this week during our shift to High Alert and in recent weeks to mitigate the spike we experienced, we must remain dedicated to practicing mitigation behaviors and holding each other accountable," the email said.
Effective Oct.26, residents are only permitted to have guests in their dorms or apartments who also reside in the same building. Guests from other on-campus buildings, from off campus and commuters are prohibited.
Current community area limits remain in effect, and students are expected to follow the associated occupancy limits. Residence Life provided a graphic in the email about different living arrangements and their associated occupancy limits to ensure students maintain physical distancing.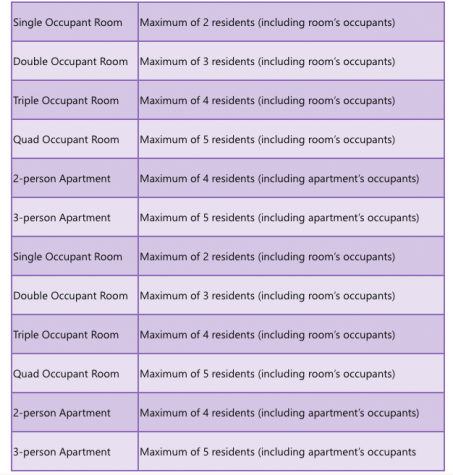 The email from Residence Life also stressed that students should still mask up indoors and limit the number of people they have close contact with to minimize risk of exposure to COVID-19.
Residence Life concluded the email with the statement: "We would like to take this moment to recognize and thank all of you who strive every day to make Chatham a healthy place. Your willingness to mask up and stay physically distant is proof that we have an exceptional community. Let's keep that community safe by pulling together, stopping this cluster, and showing each other through our actions that we truly care. We will continue to communicate with you to provide updates throughout this month and beyond."
Campus employment and internships
Chatham students are permitted to return to on-campus jobs and off-campus internships once they've been cleared by a supervisor.
Departments on campus are permitted to return to their previous work arrangements under the "raised" alert level. Details will be communicated from supervisors to their departments.
More information on the different alert levels can be found on Chatham's website. The campus dashboard is updated each Tuesday and Thursday with the latest testing data.